Yeah you got it right, here's more MAC swatches for yall!! :D MAC decided to have a collection party and launch several collections at once over here (or it could be that i'm just late!! XD)! :D To non-MAC lovers, this is the last one for now, i promise!! :D
Lets start with the Riveting Collection! :D
This rocker chick inspired collection definitely has a few bold items! And the repromoted Bubbles, which i paid good money for on eBay because the
Sugarsweet
collection did not make its way to India and i thought i'll never be able to get my hands on this lipstick ever again!! ARGH!! *tears hair out*
Oh well, with that rant aside, lets go straight to the swatches! :D
Lipsticks (US$14.50 / RM63):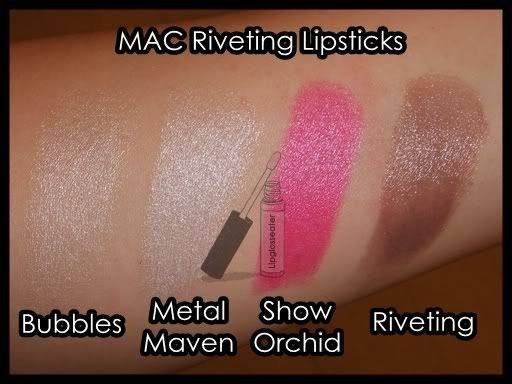 Bubbles (Glaze)
- Shimmery warm white. Sad case story!! T_T Hahaha!! :P Ok enough self- pity for now! This one looks amazing when layered over other lipsticks! :D
Metal Maven (Frost)
- Pale frosted silver. This one looks ALOT like Bubbles, just more pigmented and frostier!
Show Orchid (Amplified Creme)
- Vivid hot pink. This one is definitely not for the faint hearted!! It's a permenant PRO colour! :)
Riveting (Glaze)
- Mid-tone dirty mauve taupe
Lipglasses (US$14.00 / RM63):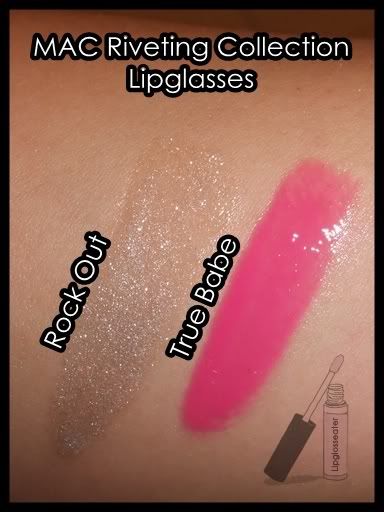 Rock Out (Frost)
- Light icy silver with pearl. This one reminds me alot of the She-Zam Dazzleglass minus the red sparkles! :D
True Babe (Cream)
- Creamy mid-tone light blue pink. This one's pretty pigmented as well, and it compliments the Show Orchid lipstick perfectly! :D
Blushes (US$18.50/ RM75):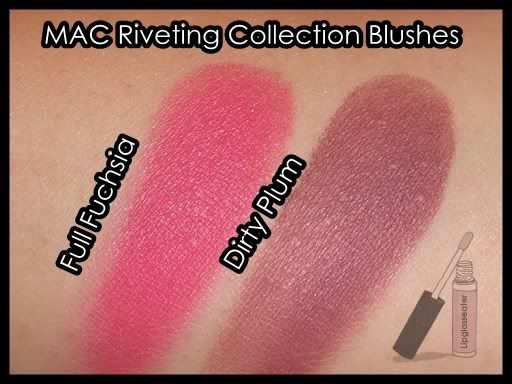 Full Fuchsia (Frost)
- Very bright iridescent fushsia. This is very pigmented, and could look VERY scary if you don't dust it on with the lightest of hand! :S This is a permenant PRO colour.
Dirty Plum (Satin)
- Deep plum. This one looks scary as well, but with a light hand it looks quite lovely! :D
Just in case you're wondering how this Dirty Plum compares to the one in the
Give Me Liberty of London collection
(which happens to be a matte finish), here's a side-by-side comparison on both: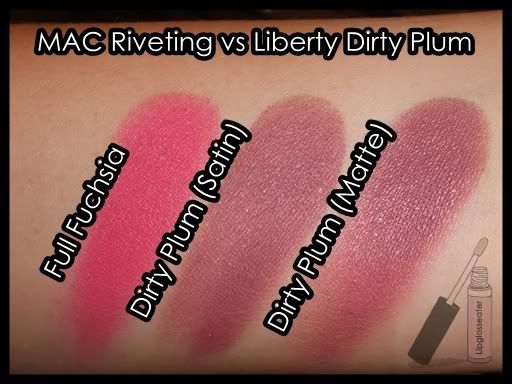 To the naked eye, the one from the Liberty collection has just a weebit more red in it. Texture wise however, i think i prefer the one from this collection because it goes on smoother! :D
Nail Polishes (US$12.00/ RM42):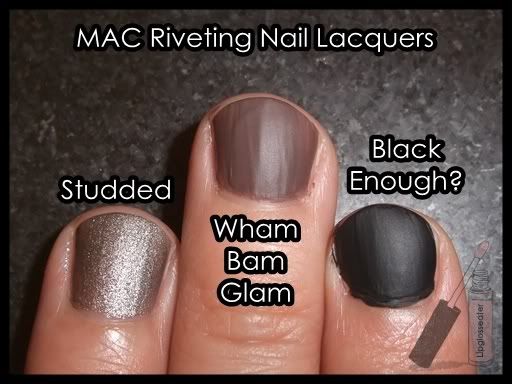 2 coats each.
Studded (Matte)
- True silver with pearl. This one is SUPER GORGEOUS!! *hearts*
Wham Bam Glam (Matte)
- Cool dark taupe. This one looks like poo! What a color, yuck!!
Black Enough? (Matte)
- Black. This one looks quite nice too, but it goes on streaky! :S
Next, lets take a look at the Prep for Colour collection! :D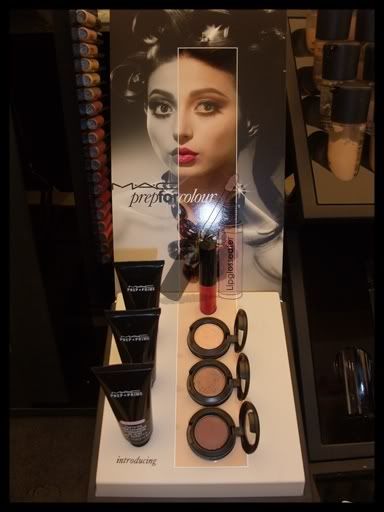 This tiny collection introduces the new Prep + Prime Skin Enhancers, which works similar to the current ones except these are more creamy!
Prep + Prime Fortified Skin Enhancers (US$30.00 / RM128):
These can be used to correct a sallow complexion, neutralize redness or brighten up skin accordingly! :D
Lipglass (US$14.00 / RM63):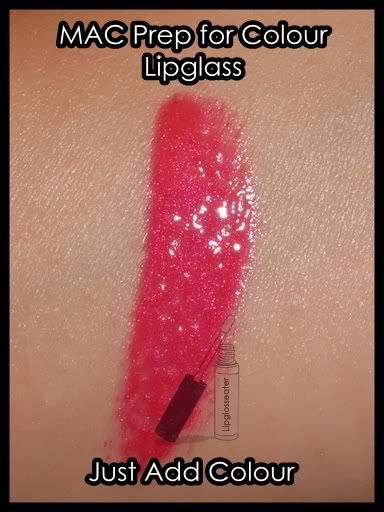 Just for Colour (Frost) - Fuchsia pink. This one is not for the faint hearted as well!! I think Fuchsia is the IT colour of this season! lol!! :D
Eyeshadows (US$14.00 / RM58):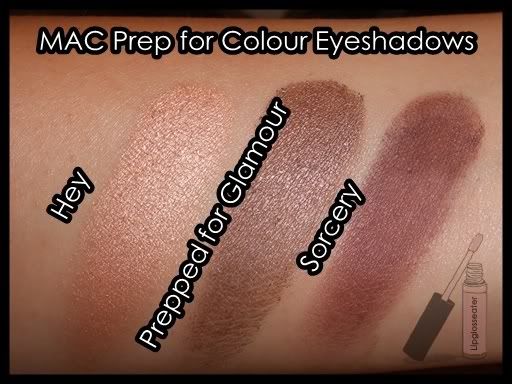 Hey (Veluxe Pearl)
- Warm mid-tone beige. This one has really nice texture!! :D It's a repromote from Fafi.
Prepped for Colour (Frost)
- Ashy / Dirty brown. Not a terribly unique color, but its beautiful nevertheless! :D
Sorcery (Satin)
- Reddish mid-tone brown. This one has much better texture than the one from last year's
Devil May Dare palette
! :D
Last but not least, let's look at the Viva Glam From Our Lips collection, featuring Lady Gaga and Cyndi Lauper! :D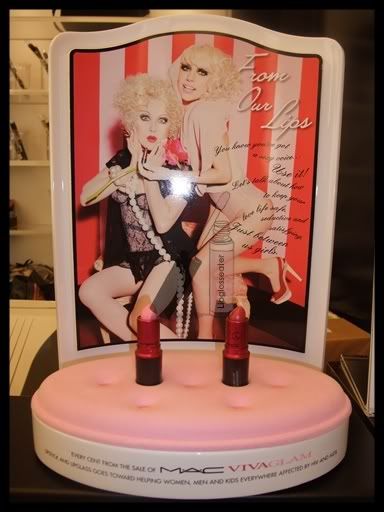 I'm totally digging the poster pic, especially the expression on Cyndi's face! hehe!! :D As most of you know, 100% of the price of MAC Viva Glam lipsticks go to the MAC HIV Fund (which goes to people living with HIV irregardless of sex, race and age), so you're actually doing charity whilst looking pretty! :D
Gaga (Lustre)
- Light blue pink. This one is surprisingly quite opaque despite it being a lustre! :D
Cyndi (Lustre)
- Light reddish coral. This one is alot less scary once applied than it is in the tube! :D
That's all for my swatches! :D Curious to know what i got from these collections? :D
In their boxes!! :D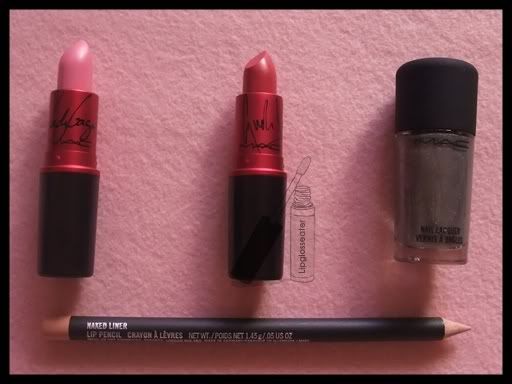 Open sesame! I got VG Gaga, VG Cyndi, Studded nail lacquer and the Naked Liner lip pencil from the
Too Fabulous Collection
! :D
As you can probably tell, i'm not a nail polish person at all, but Studded is too pretty to skip!! I also influenced my colleague to buy this one! hehehe!! :P
That's all for now!! It's Friday once again already! I've had a horrible week, so i'm actually quite glad that it's over already!! Hopefully next week will be better!! :D
You girls (and guys) have fun too!! Take care!! :D