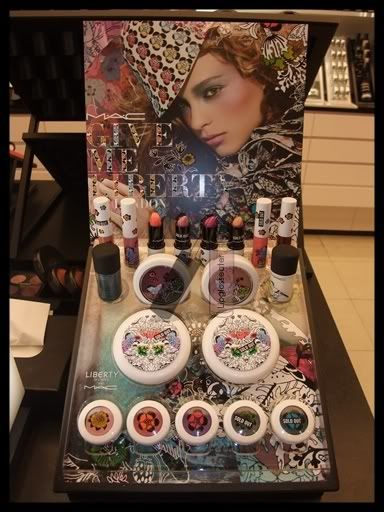 I've been looking forward to this collection ever since i first heard about it on Specktra.net! :D And i'm happy to report that this looks even more beautiful in person than in pictures! So glad that the prints are actual prints on the items instead of stickers! *unlike koff Fafi kofff Dame Edna* Some of the stuff in this collection costs a little more than the usual items, but its well worth it! :D
Eyeshadows (US$14.50 / RM61):
Give Me Liberty of London (Matte)
- Flat creamy pink.
Free to Be (Matte)
- Creamy true coral.
Dame's Desire (Frost)
- Frosty mid-tone reddish purple. This is a repromote from the Royal Tour Eye Trio of
Dame Edna
last year.
Bough Grey (Satin)
- Mid-tone blueish grey.
Birds & Berries (Veluxe Pearl)
- Frosted dark green blue.
All 5 shadows have beautiful texture and pigmentation, which i'm really pleased with!! And the different flower print on all 5 makes it all the more prettier! :D
Lipsticks (US$14.00 / RM66):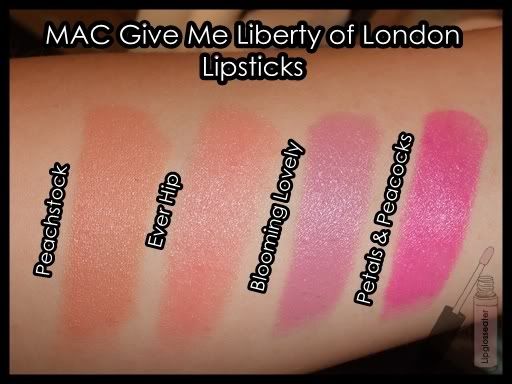 Peachstock (Satin)
- Neutral peach. This is a permenant Pro product.
Ever Hip (Cremesheen)
- Creamy light coral.
Blooming Lovely (Amplified)
- Creamy greyed lilac mauve.
Petals & Peacocks (Amplified)
- Creamy bright magenta pink.
I'm so glad that MAC decided to release pigmented lipsticks for the whole collection again (pretty sick of sheer lipsticks now! :P). All 4 lipsticks are quite pigmented, Ever Hip being the most sheer out of the lot.
Lipglasses (US$14.00 / RM66):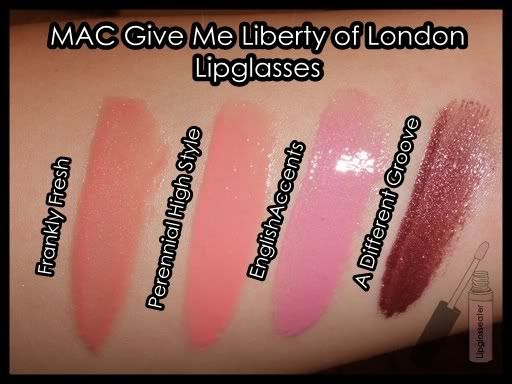 Frankly Fresh -Neutral pink beige with soft pearl.
Perennial High Style - Creamy bright pink coral.
English Accents - Creamy mid-tone blue pink.
A Different Groove - Deep purple brown with pearl.
Like the lipsticks, the lipglasses are quite pigmented this round too, and i really like the color variety! :D
Blushes (US$18.50 / RM79):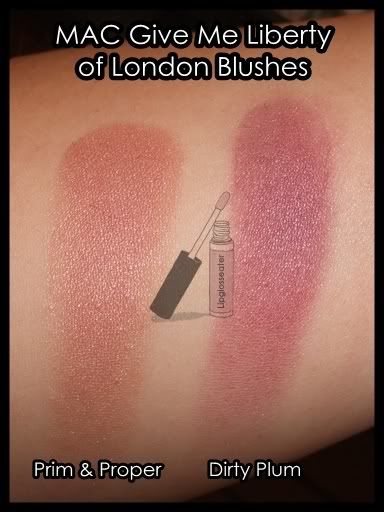 Prim & Proper (Matte) - Neutral nude.
Dirty Plum (Matte) - Sheer dark plum.
These two blushes are quite pigmented, so be careful to adopt a light hand when applying these! :D
Beauty Powder (US$18.50 / RM105):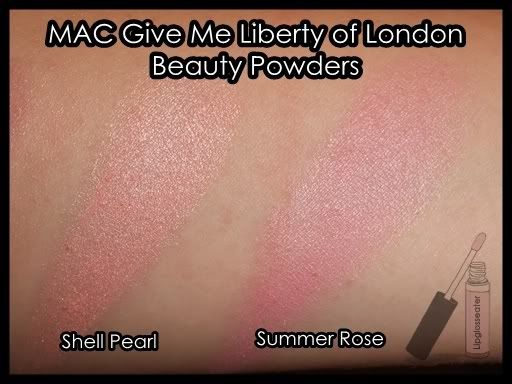 Shell Pearl
-Pale peach with gold pearl. I get the hype about this now! it kinda reminds me of my beloved
Pearl Sunshine beauty powder
from Barbie - beautifully soft yet pigmented!! :D Though originally from the Sundressing collection in 2006, this has been repromoted several times - most recently in last year's Graphic Garden.
Summer Rose - Soft violet pink with pearl. This is a repromoted from last year's
A Rose Romance collection
. This is definitely swatches better (and more pigmented) than
last years
! :)
Nail Lacquers (US$12.00 / RM42):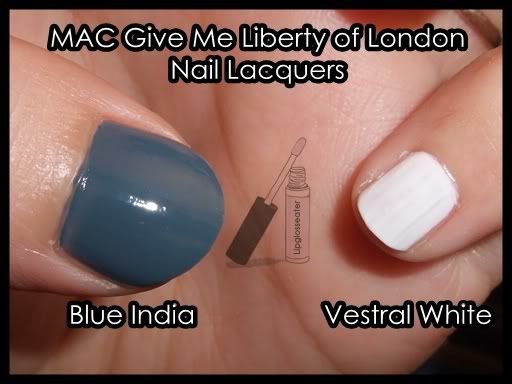 Two coats each.
Blue India (Cream)
- Creamy dark green blue with pearl. What a unique color!!
Vestral White (Cream)
- Creamy white. This goes on streaky!! This is a repromote from
Hello Kitty
! :)
So, what did i get? :D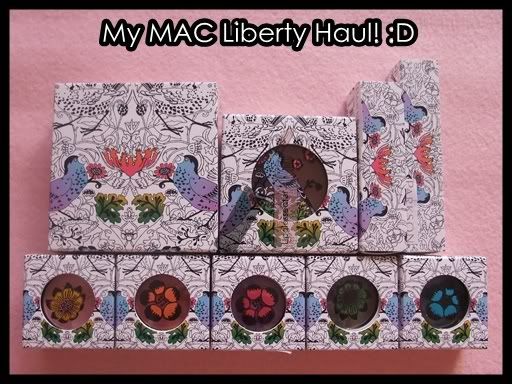 I'm totally in love with the prints on the box!! Love!!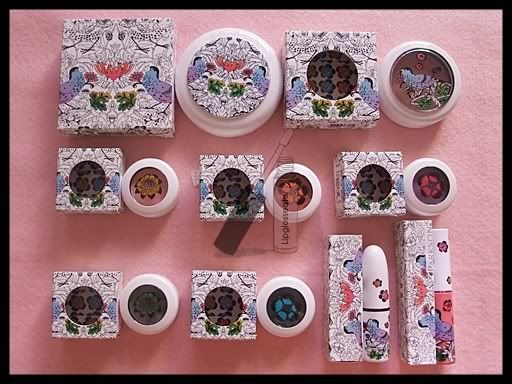 Out of the box - check out the pretty flower print inside the boxes!!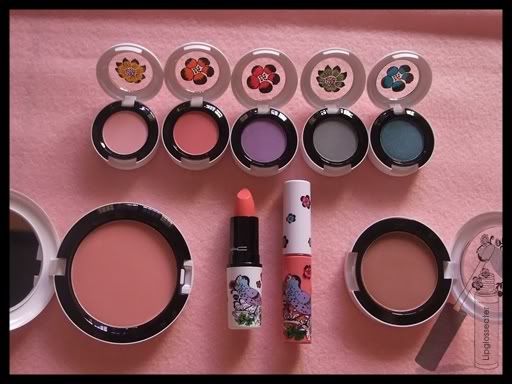 Open sesame! :D I got all 5 shadows, Ever Hip lippie, Perennial High Style lipglass, Prim & Proper blush and of course, Shell Pearl!! :D Ok, my bread and water diet starts now... :P
That's all for now! I have swatches from a couple other MAC collections coming up, so stay tuned! :D As for now, enjoy your weekend and take care!! XOXO!