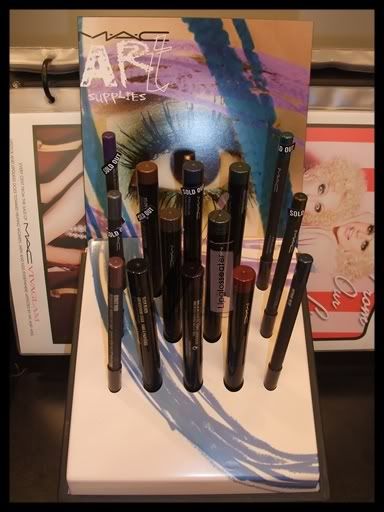 This collection snuck up on me, and before i can check it out, most of the stuff are sold out already!! T_T Anyhow i hope these swatches are useful to those of you who're looking for them! :D
Greasepaint Sticks (US$17.50 / RM70):

Below Ground
- Blackened bronze.
Dirty
- Blackened taupe with pearl.
Brown, Now
- Blackened burgundy.
Charred Mauve
- Blackened violet.
Greengrease
- Blackened forest green.
Uniformly Blue
- Blackened navy.
Zinc Zone
- Dark gunmetal.
Slick Black
- True carbon black.
These greasepaint sticks are a dream to use!! They're creamy and pigmented, and once they settle in they don't budge!! :D I personally don't think i'll have much use for them, otherwise i'll definitely bring a few of them home with me!! :D
Pearlglide Intense Eye Liner (US$14.50 / RM62):
Black Line
- True black.
Undercurrent
- Blue teal.
Industrial
- Periwinkle grey.
Petrol Blue
- Deep navy.
Almost Noir
- Dirty plum.
Designer Purple
- Iridescent violet
These eyeliners are absolutely gorgeous!! Creamy and pigmented, these are safe for the waterline too!! :D Nowonder they're all sold out already (except Almost Noir) !! :D
Pro Longwear Lipstain Markers(US$16.00 / RM72):

Full of Flare
- Bright yellow coral
Stylesetter
- Hot pink
Tomorrow's Coral
- Mid-tone blue red
Runway Ripened
- Berry plum red
Sunset
- Coral brown
Point of View
- Light neutral
Purposefully red
- Dirty red coral
A Classic
- Rose Red
Modern Mocha
- Light brown
These markers REALLY stay on! I swatched these last Friday, and up till Monday they're STILL on my arm. Scary stuff! :S
That's all for now!! More swatches are coming up, so stay tuned!! :D
ps: its been a horrible week at work so far... T_T