At a Glance:Price:
RM110 (approx. US$29.73)
Website:
Rmkrmk.com
Weight:
175ml
Made in:
Japan
Likes:
Rinses clean with no oily feel after that! :)
Gripes:
Doesn't remove makeup thoroughly, stings my eyes, not very moisturizing!
Repurchase:
No!
Jenn's Rating:



2.5 Stars! Me no likey! :(
Ingredients:
NA
Product Description:
From the RMK website:
マスカラも毛穴の汚れも一度で落とす
クレンジングオイル

肌に必要なうるおいはキープしながら、マスカラや毛穴の角栓までするりと落とす高い洗浄力をもつクレンジングオイル。
キャロットやオリーブ、ぶどうの種から抽出した天然オイルに、植物性のメイクオフオイルを配合してあるので、みずみずしいすべすべの洗いあがりに。洗い流しもスピーディーで、ぬるつきやつっぱり感もありません。テクスチャーもローションのようにさらさら。
爽やかなミントとダマスクローズの香りです。

ps: Once again don't ask me what the above means, i don't know either!! hahaha!! XD Any Japanese whiz care to translate the above for us? :D
Actual Product Pic: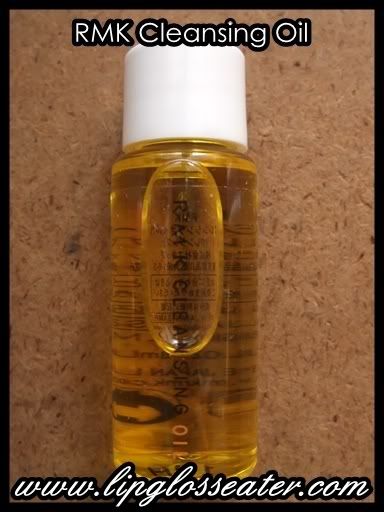 This is a SAMPLE.
Texture & Scent: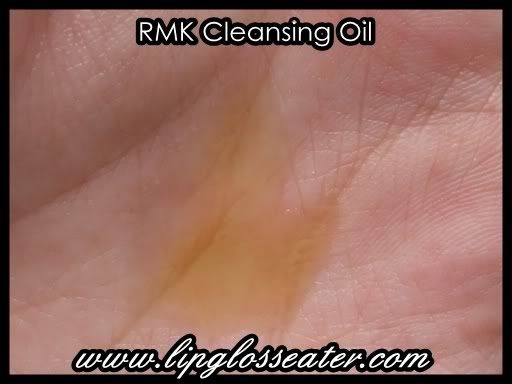 This cleansing oil is quite fluid, so it spreads really well. Like all cleansing oils, it emulsifies once it comes in contact with water. It rinses clean with no oily feel after! This has a rather strong minty scent which i don't like! :(
Packaging: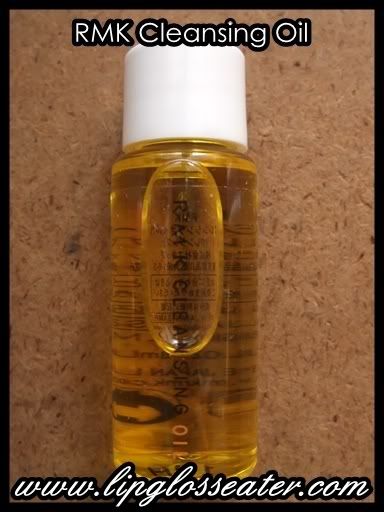 The one i got is a sample. The real thing comes in a pump bottle! :D
Price & Availability:
This cleansing oil is priced at RM110 (approx US$29.73), which is think is alright for RMK standards. This should be available at all RMK counters! :)
My $0.02:

I was so excited to get a sample of this one because i've been reading such wonderful things about it! Thanks to that wonderful
someone
who give it to me ya!! :D
Unfortunately, it did not live up to its hype for me personally! :( The first thing that stuck me was the smell! Ewwww mint! lol! I'm not sure if it's the "minty-ness" thats causing this, but this stung my eyes quite badly and made them water! After washing my face, this didn't make my face feel tight or taut, but i thought it would be nice if it softened my face like how the
MAC Cleanse Off Oil
did! And finally, although it did manage to remove majority of the makeup off my face, it did not remove the glitters left behind! :(
Ok enough talking, here're pictures for everybody! :D
This is my makeup plastered face (FOTD
here
):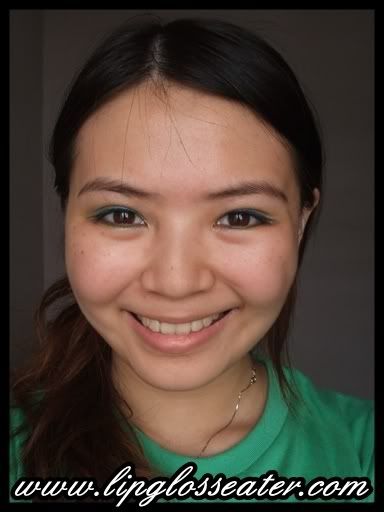 Makeup removed from left side using this:
Looks very clean right? But actually, this cleansing oil did not remove the glitters from my face: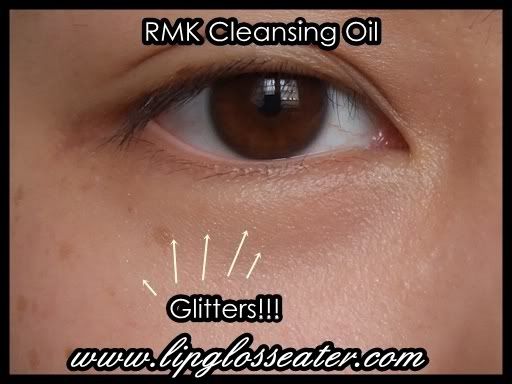 Since the only other Cleansing Oil i have is the
MAC Cleanse Off Oil
, i thought it'll be helpful to do a comparison since they're about the same price! :D
Let's start with the price! Both are about the same! Although the RMK one may seem a bit more expensive, but if you compare them ml to ml they're the same lah! :D
RMK: RM110 / 175ml = RM0.63
MAC: RM95 / 150ml = RM0.63!
Next up, the texture. The MAC one is slightly thicker than the RMK one, which i personally prefer! Both rinses clean as well! :)
Thirdly, lets talk about the scent. As mentioned above, the RMK one smells minty! The MAC has this citrusy scent (probably from the bitter orange oil in it). Needless to say which one i preferred! lol! :P
And finally, let's look at the product efficiency! While the RMK one removes makeup from my face pretty ok-ly (lol!!) minus the glitters, the MAC one manage to remove EVERYTHING from my face beautifully! I also love how soft the MAC one made my face felt! :D
A side by side comparison: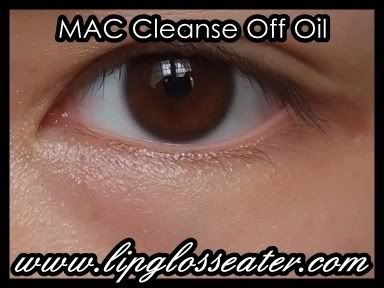 I think it is obvious that the MAC one is still the winner for me! :D But please do not stop yourselves from trying this out because of my review - i've read many many raves about this one! It's just that i personally do not like it! Do give it a try and see! :D
ps: my husband thought that the tester i got looked like a urine sample! Thankfully he made that comment AFTER i used this...
because i agree with him!! *sweats*
hahaha! :P
Credits: Product photos from Rmkrmk.com.