Warning: picture heavy post. Please be patient! :)
At a Glance:Price:
US$14.50 / RM62
Website:
Maccosmetics.com
Weight:
1.2 g /0.04 US OZ
Made in:
Germany
Likes:
Rich colour, creamy, lasts the entire day on my upper lashline!
Gripes:
The liner itself can "slide" out of the wooden housing if you pull / shake it, smudges abit on the lower lashline
Repurchase:
Maybe
Jenn's Rating:
4 Stars! Me likey! :D
Ingredients:
Product Description
Waterproof. Longwearing. Metallic, shimmer and matte finishes. Smooth to apply. Won't transfer, smudge, or budge... Draws the line: powers your eyes. Makes its point. Lasts.
Actual Product Pic: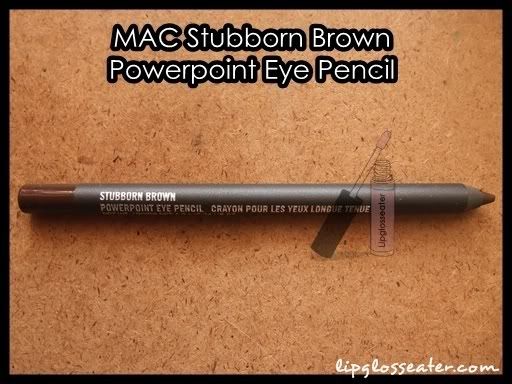 Pigmentation & Color: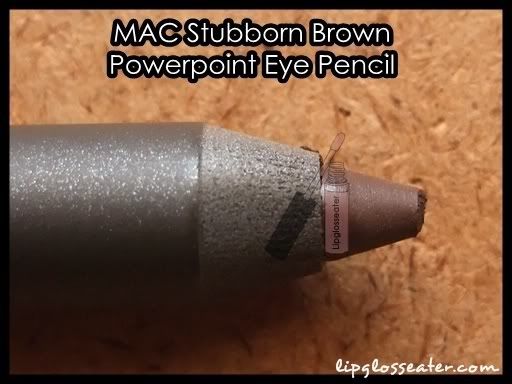 This eyeliner is your basic dark brown, which should flatter most skintones! I also love how pigmented it is - one stroke is enough to get a nice opaque line! :)
This is the swatch from the MAC Website:
And this is how it looks in real life:
Texture & Scent:
This eyeliner is quite creamy, so it glides on smoothly! :D It has a really mild scent (smells like plastic to me! lol! XD) that's almost undetectable unless you really sniff hard! haha! :P
Packaging:
This eyeliner is a pencil, and it comes with a plastic cap. I don't really like it because this happens when you shake it: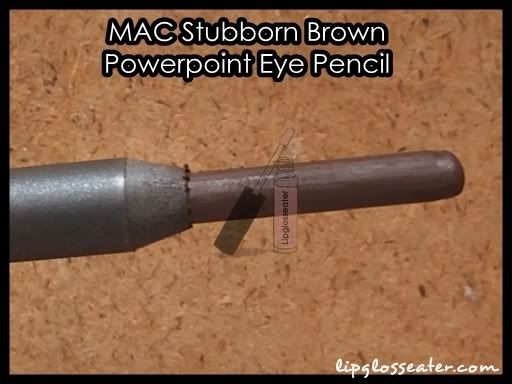 The liner slides out of the pencil!! :S :S
And oh, this is the box it came in: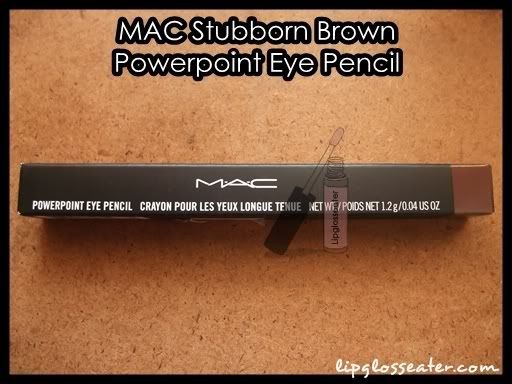 Time Test:
If set with powder, it lasts the entire day on my upper lashline.
Price & Availability:
This concealer is priced at US$14.50 / RM62 and is available at all MAC stores / counters as well as their website! :)
My $0.02:
I finally ran out of the
Photogravure Technakohl
after a year (lol!), so i went out and got this one as a replacement!
While i love the convinience of the Technakohl, i find that it smudges a little, especially on the lower lashline. With that in mind, i bought this one, thinking that this will be better since it is waterproof!
And my verdict? I'll have to say that although this one lasts slightly longer than the Technakohl, it smudges as well on the lower lashline! :(
Here's a bunch of pictures for you to see (WARNING: SCARY HUGE EYED pics ahead!)! Bear in mind that being the sadistic person i am, i tested this out on a HUMID DAY without SETTING IT WITH POWDER (and went out and about with these smudgies). Things are alot better if you do set it with powder prior to leaving the house! haha! XD
This is how it looked like freshly applied: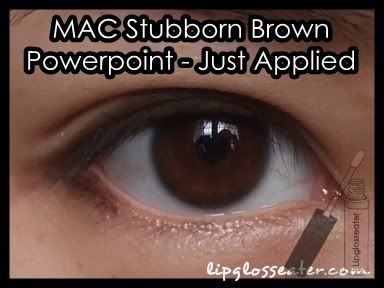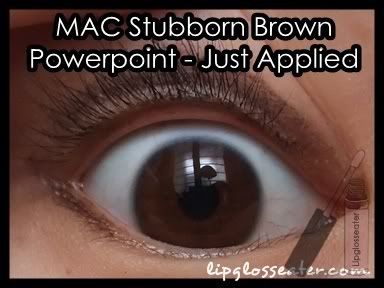 1 hour later: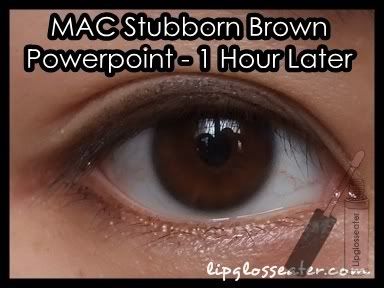 Still lookin' good, although it's smudged a little on the lower lashline!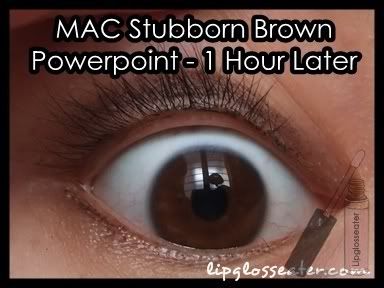 Ahh, almost disappeared from the waterline, but i'm not surprised since most liners do just that on me anyways! :P
And this is 7 hours later: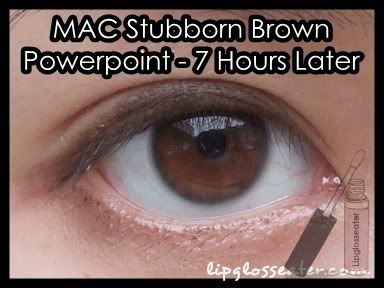 Please excuse the missing outer part of the liner... i accidentally scraped some off with my nails when i rubbed my eyes! :(
No scary waterline picture for the 7 hour one because there's no point taking one since it's almost gone even at the one hour point already! :P
Here're the pics side by side for you to compare better: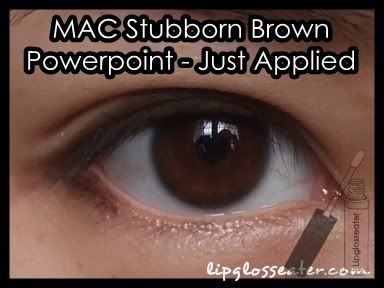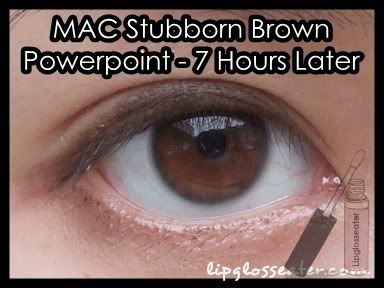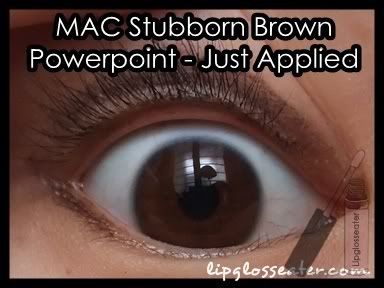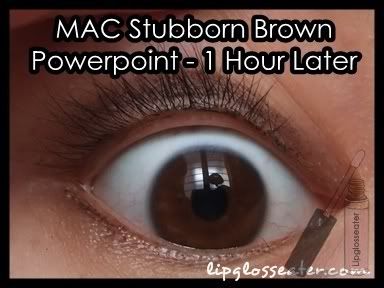 As you can see, it still lasts pretty well on the upper lashlines (albeit a little faded), but it does smudge on the lower lower lashlines.
So how does this one compare to the Technakohl, you wonder?
Fred not, Jenn is here to give you the answer (haha, lame!)! :P
Let's start with the color. Here's the swatches of them side by side: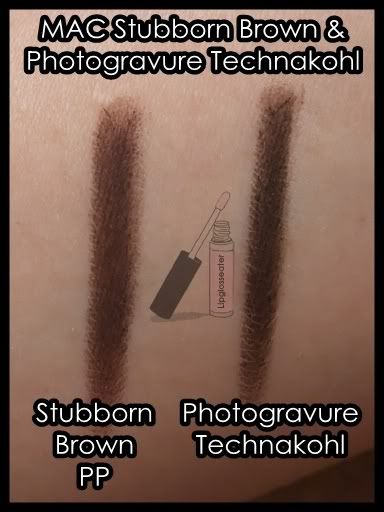 Though they're a little different when swatched (Stubborn Brown is more chocolatey brown!), they look almost identical on my lids! :D
Onto the time test now! :D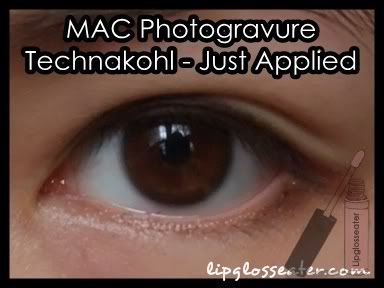 Excuse the uneven line. My Technakohl is almost gone so it's seriously blunt! :P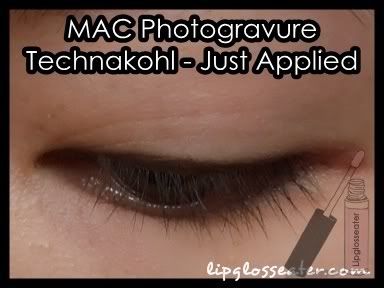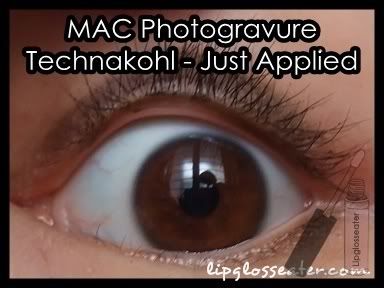 1 hour later:
Still lookin' good! :D Please excuse the missing outer part again - yeah i rubbed my eyes. Gotta remember to stop doing that when i have eyeliner on!! :P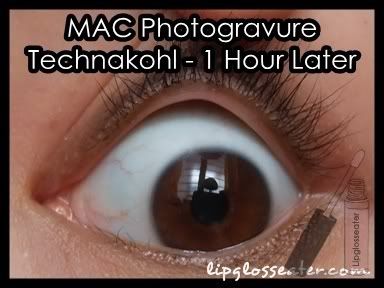 Almost gone from the waterline as well! :S
And this is 7 hours later:
And side by side to compare with the Powerpoint (left is the Powerpoint, right is Technakohl):
And the waterline at the 1 hour mark: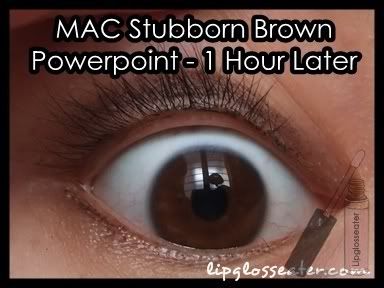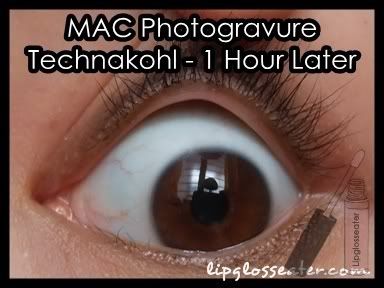 As you can see, both performed quite similarly actually, but the powerpoint held up better, especially on the lower lashline (less smudges)!! :D
And oh before i forget, I did a little water test for both of them:
So how did they hold up?
They did not budge at all!! :D
I also subjected them to a rub test (rubbed really hard about 3x):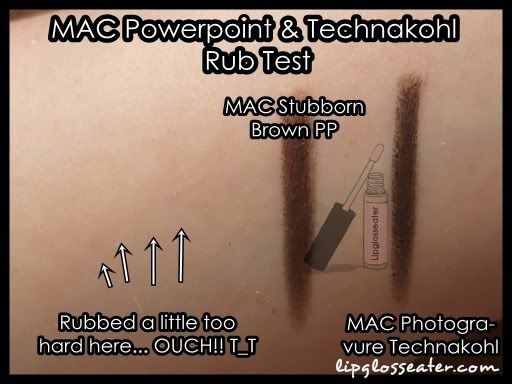 Still did not budge! Amazing stuff! Now somebody please explain why do they adhere so well to the skin on my arm, but not to the skin on my lids?!! :P
All in all i find this a pretty good liner for the upper lashline! But the search still goes on for the perfect liner for my lower lashline and waterline! Hmmm... wonder if gel liners would perform better? :D
Personally i would repurchase this one for my waterline since it lasts longer than the Technakohl one, but i would like to try out other liners first! :D
Photo credit: Product picture from Maccosmetics.com