At a Glance:Price:
US$10.95 for 3.5oz. (approx. RM40.52) or Rs. 560 for 100g in India (approx. RM45.71)
Website:
Lushusa.com
Weight:
100g
Made in:
USA
Likes:
Cleans well, not-so-offensive scent, quality ingredients! :D
Gripes:
Grey is such a horrible color... hahaha! :P
Repurchase:
Probably no for myself, but the husband says yes! :D
Jenn's Rating:
4.5 Stars! Great cleanser for oilier skin types! :D
Ingredients:
Liquorice Root Decoction (Glycyrrhiza glabra), Propylene Glycol, Sodium Palm Kernelate, Sodium Stearate, Rosewood Oil (Aniba rosaeordora), Sodium Lauryl Sulfate, Powdered Charcoal, Sandalwood Oil (Santalum album), Glycerine, Sodium Chloride, EDTA, Tetrasodium Etidronate, *Linalool, Perfume, Silver Edible Lustre (Potassium aluminum silicate, Titanium dioxide, Iron oxides and hydroxides).
Product Description:
Removes impurities and tones combination skin
Who would have thought charcoal and liquorice could get along? One is tough and gritty, the other sweet and syrupy. But charcoal and liquorice could just be the odd couple of skin care, teaming up to fight oily, troubled skin in our Coalface cleanser. Powdered charcoal removes impurities and mildly exfoliates while liquorice heals naturally. Sandalwood oil tones the skin (and mediates should charcoal and liquorice disagree about anything).
Actual Product Pic:
Texture & Scent: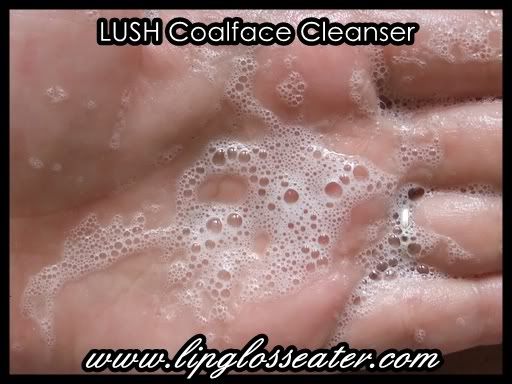 Like the
Queen of Hearts
one, this soap is quite soft, so be careful not to drop it! It foams up well once rubbed with water. This one rinses clean too! :)
This smells like licorice, which i'm not sure if everybody likes it (i personally find it weird, but i guess i can live with it!)!
Packaging:
This soap comes in a block wrapped in LUSH wax paper! :D Since this soap is quite soft, it really make sense to cut it into smaller pieces, use the small piece and leave the rest in the container in the fridge like
Plue
did with hers! :) I also like how this isn't as "melty" as some of the other LUSH soaps! This sample lasted my husband almost 3 months (he use this once a day)!! :D
Time Test:
My feels really clean for a few hours after using this one! :D
Price & Availability:
This soap is priced at US$10.95 (approx. RM40.52), and should be available at most LUSH stores and their website! It's also available in India for Rs. 560 per 100 grams! :D
My $0.02:
I got a generous sample of this one from the wonderful
Plue
! Thank you so much!! :D
I know this soap is more for people with oily skin, but i decided to try it anyways! :D For my combi-dry skin, it cleanses really well but it does leave my face feeling a litttttle bit tight so i'll probably reserve this for days when i really sweat alot! :D
It's wonderful for my husband with combi-oily (dry cheeks, oily t-zone) skin though! This restored my husband's face after his nasty experience with the
Mandom Deep Current Facial Wash
within days! His skin is so nice now! haha :P The husband is very pleased with this one as well! In his own words: "This one is good, but i don't like it because i don't have blackheads to squeeze now!!"
-_____-|||
Anyways personally i have no complaints about this one, except the color! Blackish grey is soooooo unappealing! lol! :P
I asked my husband if he would buy this one again, he said yes initially! But when he found out that this costs over forty bucks, he said forget it (that silly boy is STILL looking for facial cleansers below RM10... and if you know any that works well and fits that budget, please gimme a hola! lol! XD)! As for myself, i won't be repurchasing this one because it's more for oily skin! :D
ps: i bought him a block anyways. But it came looking like it was wrapped in newspaper:
lol!! :P
Credits: Product photo from Lushusa.com.