At a Glance:Price:
RM9.90 (approx. US$2.68)
Website:
http://Thefaceshopen.com
Weight:
20ml / 0.67 Fl. Oz.
Made in:
Korea
Likes:
Moisturizes quite well!
Gripes:
Expensive!
Repurchase:
Maybe!
Jenn's Rating:




! 4 Stars! Me likey! :D
Ingredients:
Product Description
This mild, essence-type, all natural cotton mask sheet is concentrated with Prepared Rehmannia Root and Angelicae Gigantis Radix extracts to regulate circulation and revitalize skin.



What is herbal therapy?

Used to help regulate a person's energy, blood circulation, ying, yang, and spirit, our solution is drawn from on an ancient imperial prescription of five medicinal herbs that include twinleaf and asparagus root extracts, to revitalize and hydrate skin.



Benefits of
Prepared Rehmannia Root:
Improves circulation.

Works to strengthen the body.


Revitalizes and hydrates skin



Benefits of Sika Deer Antlers:
Improves circulation and skin health.

Actual Product Pic:
Texture & Scent:
This mask isn't as wet as the other masks in this range. In fact, i find that it dries up a little before the 20 minute mark is over! :( I'm not a fan of Danggui (Angelicae Gigantis Radix), so i'm really glad that this mask doesn't smell like the real thing! haha! It has a mild perfumy scent to it instead! :D
Packaging:
This mask is individually packed into their respective foil packs and is sold by the piece.
Once again, the mouth part is too biggggg: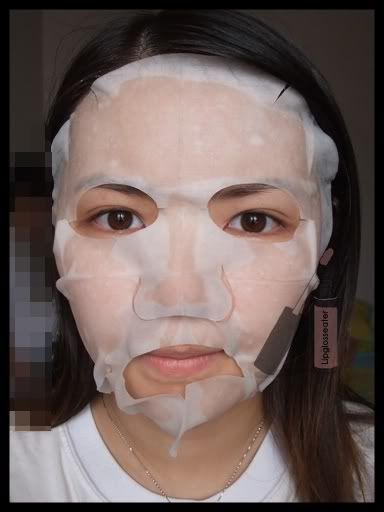 Other than that, the mask fits my face quite well! :D
Time Test:
15-20 minutes is all you need! :)
Price & Availability:
This mask is priced at RM9.90 each and is available at all The Face Shop outlets. For girls in the US, you can get this at
Walgreens
at 2 for US$5.
Usage:
Since this is quite moisturizing, it's great to use weekly to boost moisture for your skin! :D
My $0.02:

Like the other masks in this range, this one did not disappoint! After using this mask, my skin feels really moisturized and "bouncy" (toing toing feel, in
Paris'
speak! haha! :D). This is how i look after using this mask:
All in all methinks that this is a great mask to add to your weekly moisture boosting treatment regime! :D Personally i'll put the repurchase of this mask at "maybe", since i feel that it's a little expensive, and also i prefer my masks to give my skin a glow after using as well. But i know that i'll definitely pick this one up again when there's a sale! :D
Read my reviews on the other masks in this range:
The Face Shop Imperial Herbs - Qi (Energy) Mask Sheet Red Ginseng & Cnidium Officinale (A Mask Sheet to Improve Elasticity)
The Face Shop Imperial Herbs - Ying Mask Sheet Dioscoreae Rhizoma & Japanese Cornel (A Mask Sheet to Hydrate Skin)
The Face Shop Imperial Herbs - Yang Mask Sheet Tawny Mulberry Mushroom & Sika Deer Antlers (A Mask Sheet for Healthier Skin)
Photo credit: Product photo from Thefaceshopen.com.