ps: i thought i'd review a hair mask today instead of the usual face masks for Masking Mondays! Variety is the spice of life... so i hope you like it!! hehehe!! :D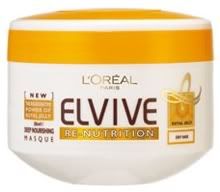 ^ The one i'm reviewing is called Elseve in Malaysia, but i'm guessing that they're the same thing! :)
At a Glance:Price:
RM27.90 (approx. US$7.54) each
Website:
Myelseve.com
Weight:
200ml
Made in:
Indonesia
Likes:
Easily available, affordable, makes my hair "bouncy"!
Gripes:
Could be a little more moisturizing, the tub is not very practical in the shower!
Repurchase:
Yes!
Jenn's Rating:
3.5 Stars! Me likey! :D
Ingredients:

Product Description:
New Elseve Re-Nutrition
intensive mask is enriched with Royal Jelly, an exceptional concentration of combined elements. It bathes even very dry hair in nourishing ingredients to replenish the fibre with moisture, so your hair regains elasticity, bounce and suppleness.
Actual Product Pic: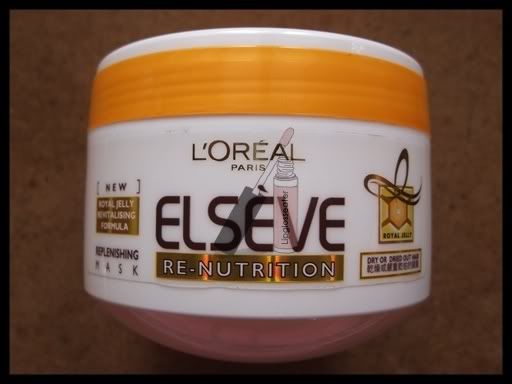 Texture & Scent:
This hair mask is slightly "firmer" than the
Damage Care
one, so it isn't as slippery. This one smells like an old lady's perfume - those cloying musky powdery floral kind!! Thankfully the smell doesn't really linger so i guess it's not *that* bad... but I do recommend you taking a whiff and see if it's for you or not! lol! :D
Packaging: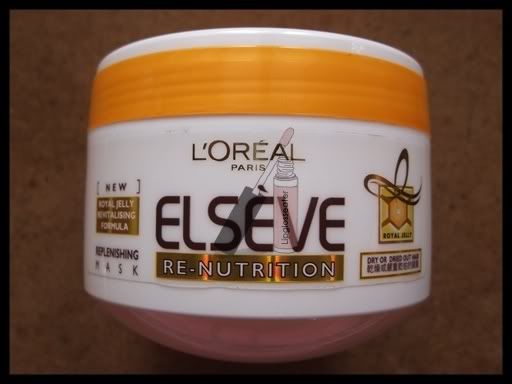 Like the
Damage Care
one, this hair mask comes in a plastic tub with a screw top cap, which i don't like because its not very practical to use in a shower! I'll have to be careful not to get any of the mask into the grooves of the cap too, otherwise it'll leak when i tighten the cap! Messy messy!!
The screw top cap: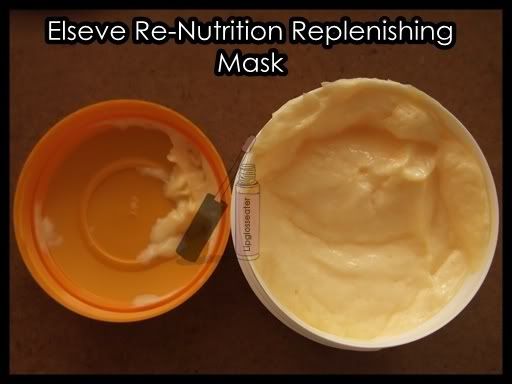 Price & Availability:
This hair mask is priced at RM27.90 and should be available at all Watsons / Guardian outlets as well as your local supermarket! :D
My $0.02:
I finished my
Damage Care
one, so i thought i'd give this one a try! :D
Initially i was really put off by the smell that i almost didn't want to buy this one!! But curiosity got the better of me, so i just went ahead and bought this one home with me! :D
After the first use (coupled with the shapoo from this range which i will review soon! :D), i noticed that my hair was really "bouncy"!! For someone with rather long hair, this is a sensation seldom felt by myself!! haha!! :D I also like how it isn't very heavy, so i can use this mask everyday without greasing up my scalp! :D
I only wished that this one was a litttlllllle more moisturizing like the
Damage Care
one, since my hair is pretty fried at the ends - this one just isn't moisturizing enough there!
That being said, i still kinda like this one because of the "bounciness" it gave my hair, so i'll probably rotate this with another richer conditioner / mask. I can foresee myself repurchasing this one... unless i find something better (that smells better too... lol!!) :D
Credits: Product pic from
Lorealparis.com.au
.