At a Glance:
Price:
RM3.30 (approx. US$0.89)
Website:
http://beautydiary.com.tw
Weight:
NA
Made in:
Taiwan
Likes:
Cheap, REALLY brightens skin!! :D
Gripes:
Stings my skin a little, not available locally!
Repurchase:
Yes
Jenn's Rating:
4 Stars! Me Likey!! :D
Ingredients:
NA
Product Description
Translation (Please correct if you spot any errors!! My Chinese is really rusty!!):
Effective for: Even-toned glow, Refining, Clarifying
Suitable for: All skintypes, especially for those with uneven skintones, rough and saggy skin
Directions: After cleansing and toning, remove the protective covering and place mask on face for 20-30 minutes then remove. If there is any residue on your face, you can massage it with your fingers to aid absorption. There is no need to rinse off. Follow with your usual moisturizer / serum after to lock in moisture.
To Note: Place product in places out of reach by young children to avoid being mistakenly eaten (lol!! XD). If there are signs that this product is not suited for you or rashes / swelling, discontinue use immediately and consult a doctor. Do not use on injured skin or if you have rashes / swelling. Not suitable for infants and young children. If you have sensitive skin, please perform a patch test prior to using. If there is no adverse reaction from the test, you may use this mask.
Storage: Place in a cool dark place away from direct sunlight.
Manufacturing Date: Effective date: printed on pack.
Actual Product Pic:
Texture & Scent:
This mask is more moist than the other "limited edition" ones that i've reviewed so far. The essence is light and i like that it doesn't leave a sticky feel after you removed the mask. This one smells like berries (duh!! lol!)! This mask stung my face a little after the 15 minute mark! :(
Packaging:
This mask is individually packed into a foil wrapping like your usual sheet masks. It also comes in a box of 10 i believe.
This mask is still a little big for my face: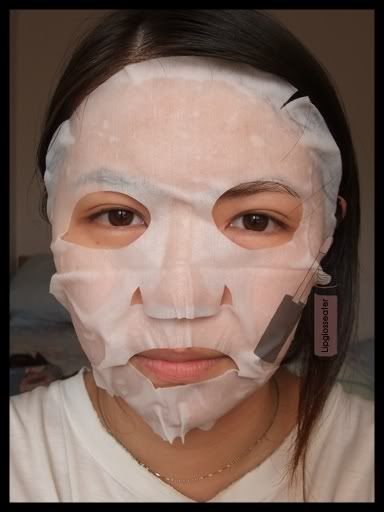 ... but consider very good already la! haha! :D
Time Test:
20-30 minutes, which is a little longer than what i'd like!
Price & Availability:
This mask is priced at about RM3.30 each depending on seller. I bought mine from
beauty_zone33
from Lowyat.net (but hmmm i think she's no longer selling these individually anymore?). Haven't seen this one in Guardian as well, so i guess Lowyat.net is our only choice! lol!
IMPORTANT:
There're lots of
FAKE
MBD masks in the market.
Connie has a great write up on how to identify fake ones
, so please read it before you purchase any! Whats this world coming to... :(
Usage:
I use this mask for instant brightening! :D
My $0.02:
I'm really liking this mask!! It brightens my face really well and leaves it feeling soft and comfortable!! :D Here's how i look after using this:
The only things i didn't like about this one is that it stung my face a little after awhile, but that feeling went away about 5 minutes later! Also, that it's not available locally! :(
This will be the last review i have for My Beauty Diary masks for now, as i'm kinda paranoid about unintentionally buying fake masks online! This is really a shame because i happen to really like most of them! :( Now Guardian, if you're reading this, please lower the prices of the masks already, and i'm pretty sure that the sales figure for these masks will increase dramatically! lol! :D
Credits: Product photo from Ebay.com.sg