At a Glance:Price:
RM7 (approx. US$1.89)
Website:
NA
Weight:
20x15cm, 35ml each. 7 sheets per pack.
Made in:
Taiwan
Likes:
Removes makeup well, non-oily! :)
Gripes:
The smell is horrible!!
Repurchase:
No!
Jenn's Rating:




4 Stars! Great product, but it smells so bad!!
Ingredients:
Product Description:
Translation (Please correct if you spot any errors! :D):
Added natural plant-based makeup removing oil.
No alcohol and artificial coloring, gentle cleansing
Water soluble formula, wipe dry after cleansing your face, it is refreshing and non oily.
Plant based makeup removing ingredient is able to completely remove makeup deep into your pores. It makes (the stuff in your) clogged pores dissolve naturally, cleansing thoroughly.
Cleanses the horny layer of your skin, at the same time it locks in moisture, making your skin full of tranparency (lol!)! :P

20x15cm extra large measurement, you can remove all makeup from your face easily with just one sheet.



Actual Product Pic: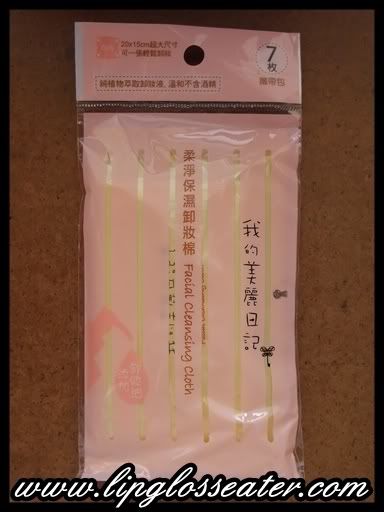 Texture & Scent: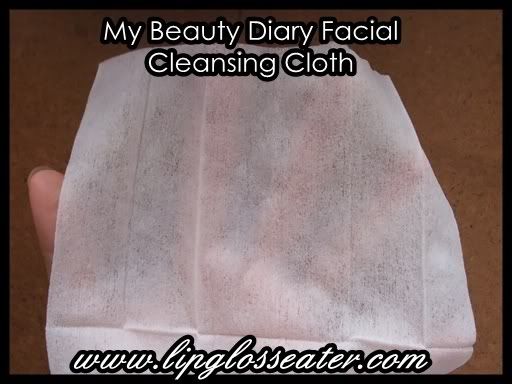 This cleansing wipe is quite soft (thank God) so it doesn't make your skin sore from all that rubbing! It quite strong despite it being soft, so it doesn't tear easily as well which is great. I like how it's wet enough to remove stuff from my face, but not too wet until it drips! :) This one does have a cool "menthol" feel to it, so those with sensitive eyes should avoid using this one around the eye area!
Here's whatever that was on my face:
This has the most HORRIBLE scent anyone can imagine in a product though!! It smells like an old musty store room that hasn't seen the sun for decades! Yuck!!
Packaging: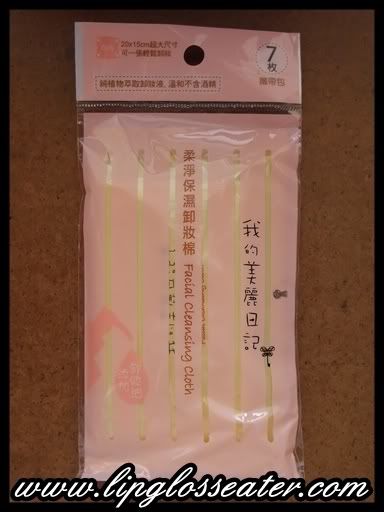 This is the outer sleeve! :D The actual thing looks like this: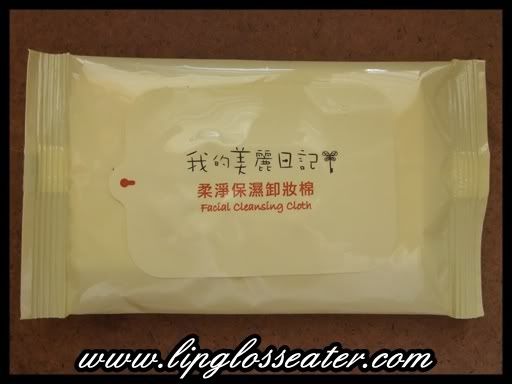 Time Test:

It took less than 5 minutes for me to remove everything form my face! :D


Price & Availability:
This cleansing wipe costs RM7 each (may vary depending on seller), so they're RM1 per piece. These are not available locally, but i got mine from
beauty_zone33
at Lowyat.net.
Usage:
These wipes are great to use when travelling, or whenever you need to clean your face in a jiffy (eg. late night out! :D)
My $0.02:

I bought these to try out when i got my
My Beauty Diary masks
! :D
I'm really surprised by the quality of these wipes!! They removed everything from my face and did not leave an oily residue behind!
Here's my makeup-ful face (FOTD
here
):
Makeup removed from left eye using this wipe:
Cloze up:
Everything removed nicely - including the stubborn
Silkygirl Funky Eyelight Pencil
! I'm shooo impressed! :D I tried using this to remove waterproof mascara on another occasion - it did remove the mascara but you'll have to scrub it around abit so i definitely recommend taking off your waterproof eye makeup with a separate remover first before using this one!
Unfortunately, this smells really really bad, just like a mouldy closet under a sink!! Gosh! Because of this, i don't think i'll ever repurchase!! Ewww!!
Credits: Product photo from beauty_zone33 @ Lowyat.net.