Sorry, i can't find the official product pic for this one! :(
At a Glance:Price:
RM16.90 (approx. US$4.56)
Website:
NA
Weight:
70ml
Made in:
China
Likes:
Cheap, removes makeup well! :D
Gripes:
The dispensing hole could be bigger!
Repurchase:
Yes!
Jenn's Rating:
4.5 Stars! Me really likey!! :D
Ingredients:
Product Description:
Efficient & Easy: This formula instantly removes all eye and lip make up, even waterproof and non-transfer.

Gentle: Formulated for sensitive eyes, it is especially very gentle for the delicate skin around yes.



Actual Product Pic:
Texture & Scent:
This remover has two layers - a darker blue one (oily layer) at the top, and a watery layer beneath. This remover is basically liquid, so it pours out easily unto your cotton pad. This remover has a very faint perfumey scent, but it is almost undetectable!
Packaging:
This remover comes in a bottle with a screw off cap.
I personally find the dispensing hole too small for my liking! It would be great if it's bigger! :D
Time Test:
It took me less than 5 minutes to remove everything from my face! :D
Price & Availability:
This remover is priced at RM16.90, which i think is really affordable! It's available at all Maybelline displayers at Watsons / Guardian / Your local supermarket!
Usage:
Pour this unto a cotton pad, hold in place for a few seconds, and wipe off in one swift stroke.
My $0.02:
I finally gotten around to test this one out after procrastinating for ages!! :P
I'm personally amazing by this little drugstore gem!! :D It removes makeup perfectly and i like how it isn't very oily!! :D
Here's my makeup plastered face (FOTD
here
):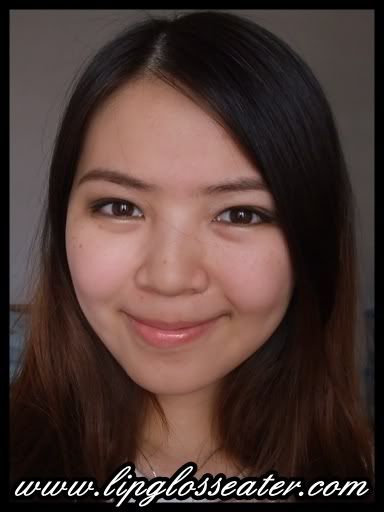 Makeup removed from right (your left) eye:
Waterproof mascara, eyeshadow and liner all gone in a jiffy!! :D
This has been compared to the
Loreal one
alot, so here's my $0.02 on how they compare! :D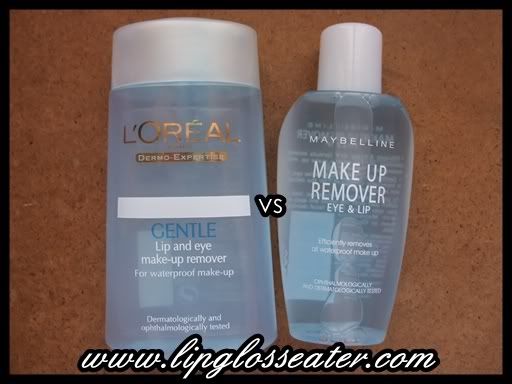 Let's start with the texture. I personally find that this one is less oily than the Loreal one, which i really appreciate!! You'll still need to double cleanse after this though, but it's alot better than the Loreal one! :D
Next, let's talk about the price. Alot of people think that this one is cheaper than the Loreal one, but its quite the contrary! :D
Loreal: 23.90 / 125ml = RM0.19 per ml
Maybelline: 16.90 / 70ml = RM0.24 per ml!
But that's just for fun la, since both removers are pretty affordable!! lol!! :D
Finally and the most important, the product efficiency! :D
To be very honest, both are virtually identical in this aspect!! Pictures to proof:
Maybelline: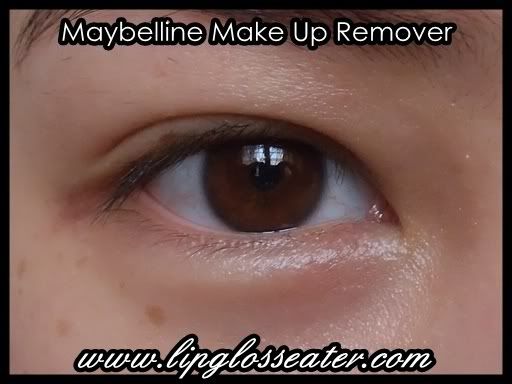 Loreal: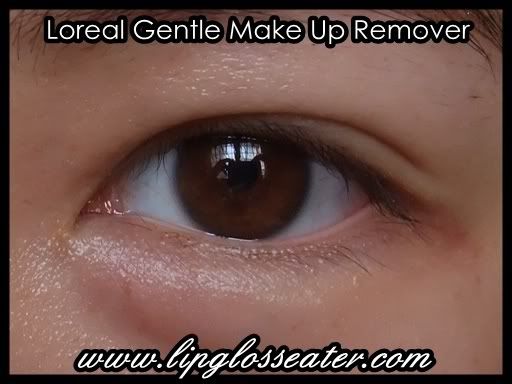 Side by side:
Left: Maybelline, Right: Loreal.
Both managed to remove every speck of makeup from my eyes, but if you squint, you can tell that the Loreal side left abit of an oily residue on my face!
So all in all, i would say that i actually prefer this one over the Loreal one just because this isn't as oily!! But then again, both are pretty comparable, so just stick to whichever you like!! hehe!! :D