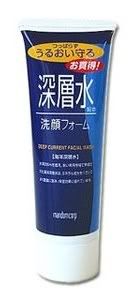 At a Glance:
Price:
RM9.20 (approx. US$2.48)
Website:
NA
Weight:
100g
Made in:
Japan
Likes:
Nice scent, cheap!
Gripes:
Terribly drying, doesn't clean well.
Repurchase:
No!
Jenn's Rating:

1 Star! Ugh... where's the bin? :S
Ingredients:
Product Description:
Deep current water contains an abundance of minerals with moisture retensive effect. After face wash, there is no excessive tension of skin. The skin feels moist aftr use.

Non scrub type that is gentle to the skin.

This product is a facial wash using deep current water from the Japan Sea (Toyoma Prefecture Deep Curent Council).

(Deep current water) At a depth of more than 200 meters, deep current water matured through the long passage of time; it is rich and well-balanced in minerals and excels in moisture retension.
Actual Product Pic: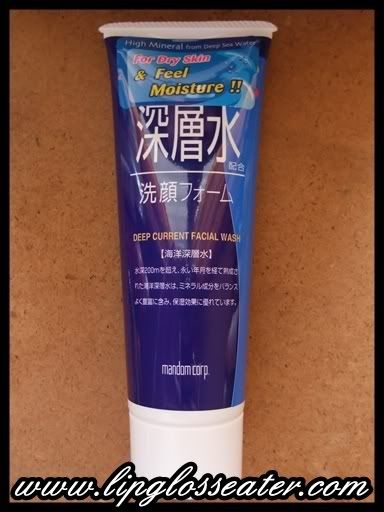 Texture & Scent:
This facial cleanser is a little solid freshly squeezed out of tube, but it quickly melts and foams up when you massage it with water on your face. It has a really nice fresh scent which i like! :D
Packaging: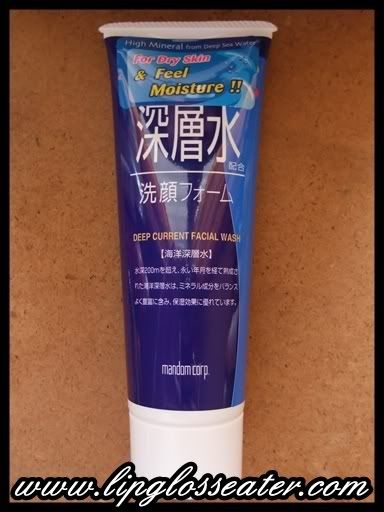 This facial cleanser come in your typical squeeze tube with a screw off cap. I like the size of the opening:
Time Test:
I don't know about oil control, but this made my face feel TIGHT immediately after rinsing it off!!
Price & Availability:
This facial cleanser priced at RM9.20 (approx. US$2.48), which is really cheap! :D It should be available at most Watsons outlets.
My $0.02:

Ok people, do not be deceived by this product. Although this is stated for DRY skin, and throughout the description it says that this will help you retain moisture, gives your face no tight feeling, blablabla, DO NOT BELIEVE a word of that! I personally have combi dry skin, and this made my face felt like a prune immediately after rinsing this off. Even my husband who has combi skin (oily t-zone, dry cheeks) complained about this too. Did they mislabeled this or what?!
The silly boy thought he could bear with the tightness so he continued using this one for a couple more days. And just within that time frame, it gave him this:
and this:
His face was peeling and flaky all over!! *screams*
Also, you would think that it being so drying, it would do a good job at cleansing! Quite the contrary! While foaming cleansers do leave behind some residue sometimes, lemme just say that think one leaves behind AWFULLY alot of gunk:
That being said, i do think that this one has a nice scent, and i love how affordable it is. Unfortunately that's all the good i can say about it. It goes without saying that i won't be repurchasing this one for sure! :(
Psssst: The great Free Seats promo on
Air Asia
starts today!! Go book your ticket already!! :D
Credits: Product photos from Store.shopping.yahoo.co.jp.