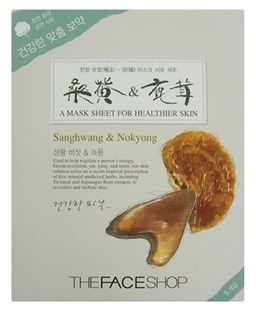 At a Glance:Price:
RM9.90 (approx. US$2.68)
Website:
http://Thefaceshopen.com
Weight:
20ml / 0.67 Fl. Oz.
Made in:
Korea
Likes:
Moisturizes well, gives a nice glow to my face!
Gripes:
Expensive, Smells really funky! :P
Repurchase:
Probably no.
Jenn's Rating:




! Not a bad product, but i don't like the smell...
Ingredients:

Product Description
This mild, essence-type, all natural cotton mask sheet is concentrated with Tawny Mulberry Mushroom and Sika Deer Antler extracts to control yang energy for healthier skin.



What is herbal therapy?

Used to help regulate a person's energy, blood circulation, ying, yang, and spirit, our solution is drawn from on an ancient imperial prescription of five medicinal herbs that include twinleaf and asparagus root extracts, to revitalize and hydrate skin.



Benefits of
Tawny Mulberry Mushroom
:
Strengthens the immune system

Counteracts toxins

Nourishes skin providing greater luminosity

Benefits of Sika Deer Antlers:
Strengthens the immune system

Nourishes and firms skin

Actual Product Pic: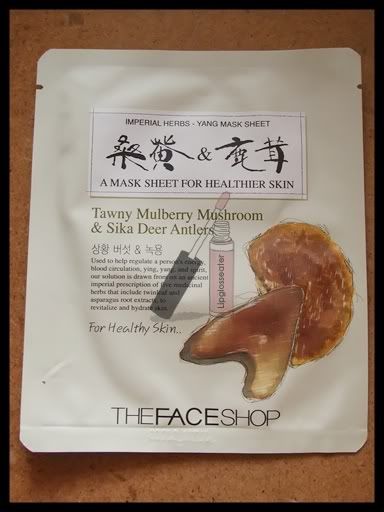 Texture & Scent:
This mask isn't as wet as your usual sheet masks, so it doesn't drip! :) There is a bit of a sticky feel after you remove the mask, but that feeling disappears after 10 minutes or so. This one smells really funky... it really reminded me of those Chinese Medicinal Halls! Come to think of it, this one smells like: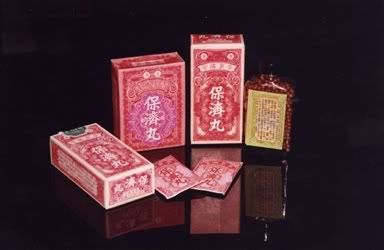 ...Po Chai Pills! Yes, the kind you eat when you have a tummy upset! XD

Packaging: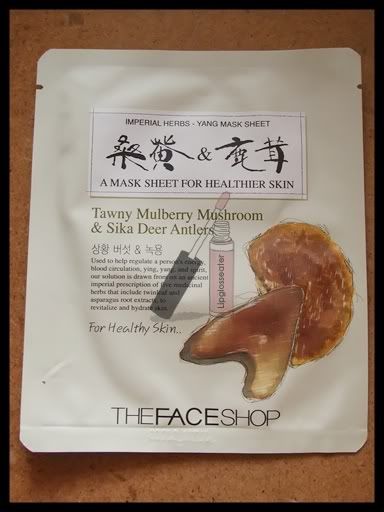 This mask is individually packed into their respective foil packs and is sold by the piece.

Once again, the cut of this mask is alright for the most part of my face except the mouth part which is too big! :D




Time Test:
15-20 minutes is all you need! :)

Price & Availability:
This mask is priced at RM9.90 each and is available at all The Face Shop outlets. For girls in the US, you can get this at Walgreens at 2 for US$5.

Usage:
Honestly, i think this is best used before bedtime, because the smell lingers... I'm sure you don't want people telling you that you smell like diarrhoea pills! XD


My $0.02:



Like i have mentioned before in my reivews of the other masks in this range, i personally feel that these are quite good! And this one is no exception! It moisturizes well, plumps up my skin and gives it a slight glow. This is how i look after using this mask: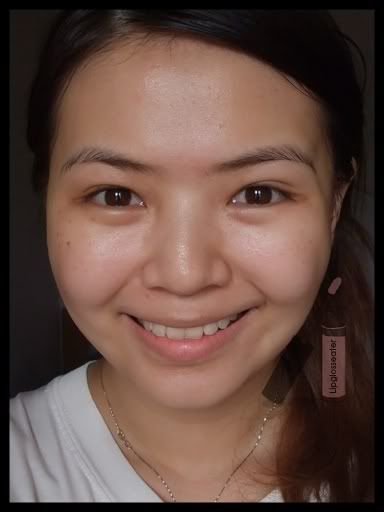 Well, the only thing i didn't like about this one is the strong chinese mediciney smell. And it lingerssssss for ages! *shakes head* So i guess i won't be repurchasing this one due to this reason!! :D


PSSSST: Lemming for the Neutrogena Deep Hydrating Mask? Head on over to Guardian now... it's going at RM34.88, which is RM15 off the usual price!! :D


Read my reviews on the other masks in this range:
The Face Shop Imperial Herbs - Qi (Energy) Mask Sheet Red Ginseng & Cnidium Officinale (A Mask Sheet to Improve Elasticity)
The Face Shop Imperial Herbs - Ying Mask Sheet Dioscoreae Rhizoma & Japanese Cornel (A Mask Sheet to Hydrate Skin)





Photo credit: Product photo from

Thefaceshopen.com, Po Chai Pills pic from Pochaipills.com.