Here's the final part to the MAC Holiday collections! :D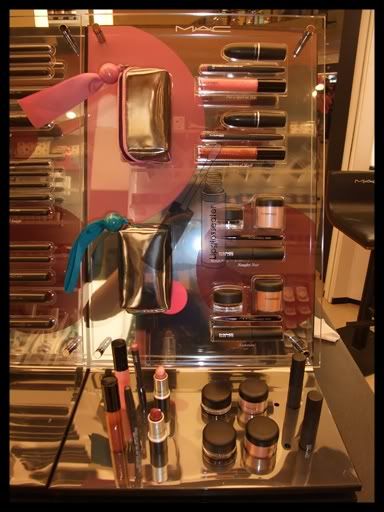 Let's start with the
Lip Bags
(US$36 / RM150)
:
Dream (Glaze)
- dirty light pink. Me loves this color!!! :D
Dervish
- pinky mauve. This one's permenant!
Baby Sparks
- pale pink with violet shimmers. My FAVOURITE lipglass!! Read my review of this one
here
.
Methinks that this lipbag is better suited for darker skin tones! :D
Fantasia (Lustre)
- dark rose.
Cedar
- mid rose shade.
Get Rich Quick
- a yellow brown.
Next are the
Eye Bags
(what a horrible name! :S)! They're the same price as the Lip Bags at
US$36 / RM150 each
! Both bags come with the Zoomblack Zoom Lash mascara and a 209SE Brush as well as a pigment and a fluidline.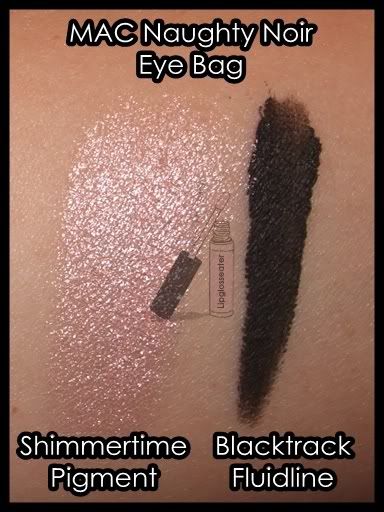 Shimmertime
- soft pinky white.
Blacktrack
- matte black. This one's perm! :D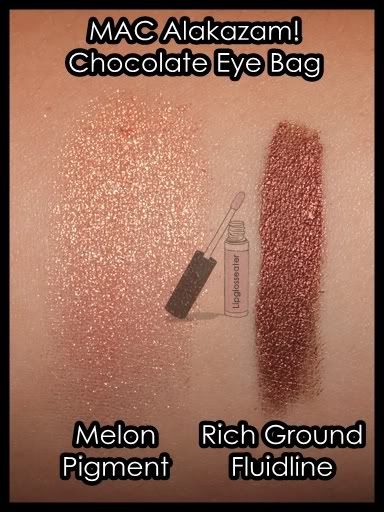 Melon
- Shimmery peach.
Rich Ground
- a frosty brown with some red in it.
Both items are permenant so you can actually get them separately if you want to! :)
Next lets look at the
Brush Sets (US49.50 / RM250)
!
Do-the-Trick Buff and Line Brushes:
168SE, 187SE, 209SE, 219SE and 252SE.
Morning, Noon & Knight Eyerything Eye Brushes:
194SE, 204SE, 224SE, 266SE and 275SE
Wave of a Wand Sweep and Define Brushes:
129SE, 190SE, 212SE, 227SE and 275SE
To be very honest with you, i feel that the quality of the MAC SE brushes have gone down! Yes, the SE brushes are not as good as the full sized ones to begin with, but i feel that they could definitely be better! The 187SE in particular felt quite cheap to the touch! That being said, these are still good for those who're just getting their toes wet in the Makeup pond, or on a budget. Otherwise, i would definitely recommend saving up for a full sized version of your favourite brushes! :)
Next is the supposedly Nordstrom Exclusive set called
Love's Divine Lash Kit (US$48 / RM180)
.
This kit comes with a Rapidblack Penultimate liner, a small vial of the Reflects Transparent Teal glitter, a 7 Lash and the Zoomblack Zoom lash Mascara!
Last but not least, there's the
Kids Helping Kids cards
too. You can choose from a pack of 6 postcard sized cards, or 12 small gift tag sized cards. They go for
US6.50 / RM30
per pack.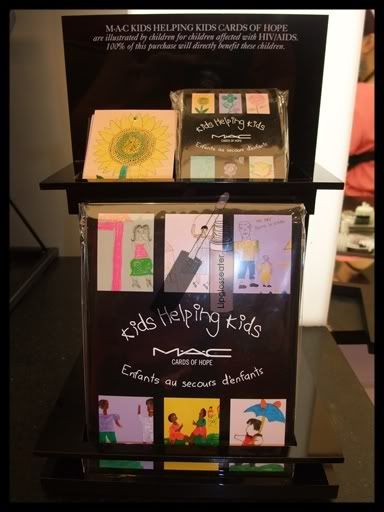 Like the Viva Glam products, 100% of the sale amount from these cards go to paediatric AIDS organizations. So if you're feeling generous, why not purchase some of these cards to give out to your friends? :D
Phewwwww, I'm finally done with the Holiday collections!! It sure took me ALOT of time to write these 3 posts!! hehehe!! :D I hope you will find them useful!! For those of you who're screaming "ENOUGH MAC HOLIDAY STUFF ALREADY!!!", regular transmission resumes after this, so chilllll! lol! :D
Have a great week ahead people! :D