ps: Masking Mondays will be on hiatus this week to make way for this post. It will resume next week! :D
As promised, here're the swatches for the rest of the holiday collection! :D
Let's start with the Palettes! :D
I personally don't really like this year's design! :( Instead of the round thingies, i thought that the swirls in the promo pic would look better on them palettes! lol!! I hope they come up with nicer looking ones next year! haha! :D
With that being said, lets go onto the swatches! :D
The Eye palettes (US$36 / RM180) are up first! :D

Oh My Darling (Frost)
- pale ivory. This one took many swatches to show up! :P
Dare Ya! (Veluxe Pearl)
- light peachy pink. I thought that this one was quite lovely! :D
Sorcery (Satin)
- dark burgundy. This one goes on super chalky... yuck!
Gold Tease (Frost)
- frosty gold. Though not terribly unique, i thought i was a nice color!!
Prankster (Veluxe Pearl)
- frosty olive. This one reminded me a little of
Henna
that was released with the Brunette Blonde Redhead collection earlier this year.
Devilishly Dark (Frost)
- brown with gold shimmers.

Don't shoot me but I personally think that this one is the most
blah
out of the 4 palettes... :P
Fire in Her Eyes (Frost)
- sheer cream. This one also took a few swatches before it showed up.
Wide-Eyed Wonder (Frost)
- taupe with a hint of purple.
Black Magique (Veluxe)
- a sheer black. Nice to see MAC releasing a
dying
Veluxe finish again.
Spell No. 9 (Satin)
- a creamy pink. This one goes on quite smoothly, but it's sheer!
Deception (Frost)
- a frosty gold brown. This one is quite shimmery! :D
Smoke and Mirrors (Satin)
- a nice chocolate brown. For something that inspired the name of the palette, i was hoping that it was more special! :(
Of the 4 palettes, this one impressed me the most! Buttery smooth shades with nice colors! What's not to like? :D
Cool Incantation (Frosy)
- frosty gold white.
Blue Enchantment (Satin)
- dark turquoise. Not sure if MAC did a mistake by listing this as a Satin on the website, but this one definitely feels more like a frost to me! :D Ma
favouritest
color of all the palettes!
Deep Secret (Frost)
- a dark blue with some purple in it. Thank God MAC did not put another
Deep Truth
in this palette, otherwise i'll vomit in my mouth!! hahaha! :P
Shhh, Don't Tell (Satin)
- a super light pink. This one doesn't really show up on me though! :(
Rose Potion (Veluxe Pearl)
- frosty rose.
Violet Vow (Satin) - a cool toned brown. The texture of this one is a bit hard to work with! :P
I was SERIOUSLY lemming for this palette when i read about it online, but somehow it didn't wow me as much in person. Still, the colors are beautiful, and the textures, wonderful! :D
White Rabbit (Frost)
- Frosty basic white. Reminds me of the Unbasic White eyeshadow from the Love that Look collection, lol! :D
Hold My Gaze (Satin)
- a greenish grey. This shade is SERIOUSLY unique!!! :D
Edge of Dark (Lustre)
- charcoal grey. This is a Lustre so i'm not suprised at it's chalky texture!
Altered State (Veluxe Pearl)
- dark purple.
Hypnotizing (Frost)
- a super frosty greyish mauve.
Magnetized (Veluxe Pearl)
- light lavender. The last 3 shades have a BEAUTIFUL texture! :D~~
Next, Let's look at the Lip Kits (US$22.50 / RM120)! Hmmm... to be very honest i do not like lip palettes in general because they almost always get all over the insides of the palette! Also, i can almost envision germs having a field day spawning themselves in there... yikes! :(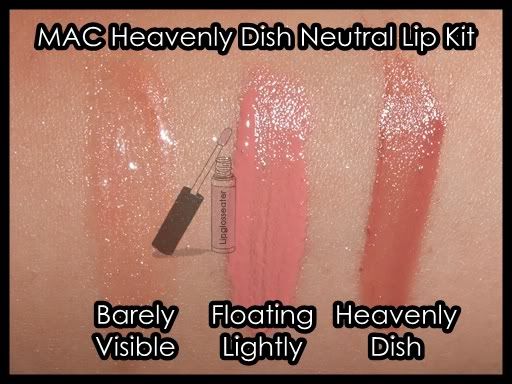 Barely Visible
- very light nude with gold shimmers
Floating Lightly (Lustre)
- light milky pink.
Heavenly Dish (Satin)
- brownish beige.
Sweet Smile - shimmery rose.
Laugh a Lot (Lustre) - rosy pink.
Tickled (Lustre) - shimmery rosy brown!
I almost missed out the
Viva Glam palette
as it's placed away from the main stuff! I personally think that this make a great gift as 100% of the price of this goes to the MAC Aids Fund, and it looks presentable and pretty! :D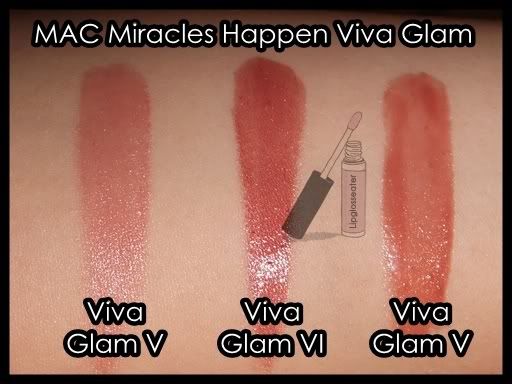 Viva Glam V
- a lovely neutral pink
Viva Glam VI
- a warm brownish red
Viva Glam V (Gloss)
- brownish rose
All 3 shades are permenant though, so you can actually purchase them separately if you want to (or if you're as germ-phobic as i am! lol!) :D
Next will be the face kits (US$38 / RM180)! I'm personally intrigued by the neat slide out packaging!! :D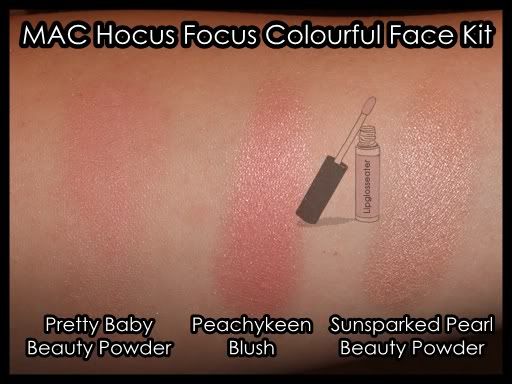 Pretty Baby Beauty Powder
- sheer pink. A repromote from the Diana Ross and Hello Kitty collections, this one's still as chalky as i remember it to be! :P
Peachykeen Sheertone Shimmer Blush
- pinky peach. This one's permenant! :)
Sunsparked Pearl Beauty Powder
- a lovely light peach. This one's repromoted from the Sundressing collection.
Golden Bronzing Powder
- a golden tan. This one's perm! :)
Sunbasque Sheertone Shimmer Blush
- a dark peach with a hint of brown in it. This one's a dupe for the LE Eversun Beauty Powder Blush.
Buffed and Polished Iridescent Powder / Pressed
-light frost gold.
That's all for now! I'll continue with the rest of the collection tomorrow, so stay tuned! :D Have you checked this collection out yet?