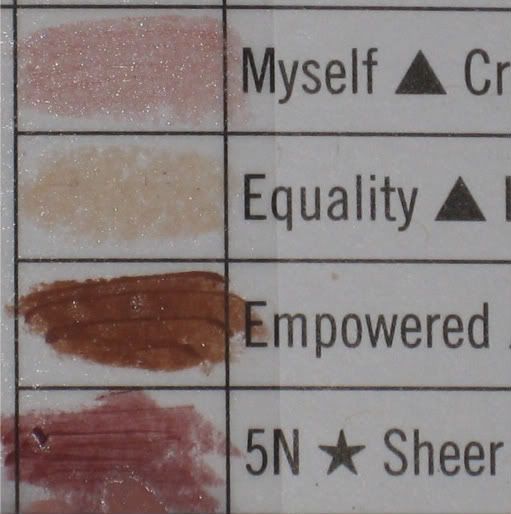 Lipsticks: $14.00USD
* Myself - Creamy pale yellow beige (Lustre) (LE)
* Equality - Light mid tone mauve with pearlized pigments (Lustre) (LE)
* Empowered - Creamy mid tone neutral brown (Satin) (LE)
* 5N - Sheer plum brown (Lustre) (LE) (Repromote from N Collection)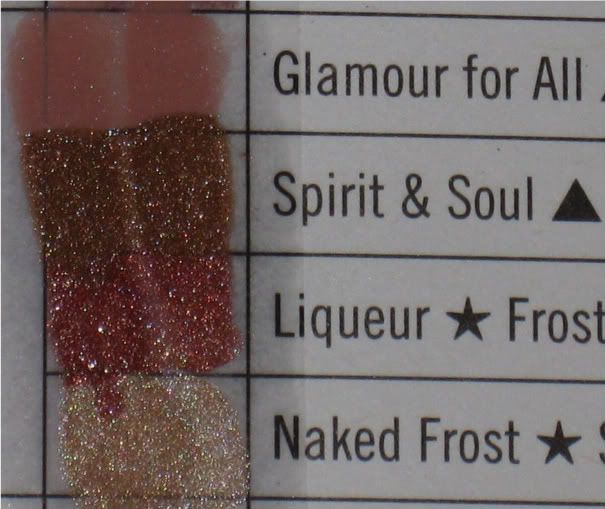 Lipglass: $14.00USD
* Glamour for all - Sheer pale baby pink with pearlized pigments (LE)
* Spirit & Soul - Frosted dark cool brown (LE)
* Liqueur - Frosted mid tone pink brown (LE) (Repromote from Cult of Cherry)
* Naked Frost - Sheer taupe with silver pearlized pigments (LE) (Repromote)
Eye Shadows: $14.50USD
* All Races - Cool light mauve taupe (Matte) (LE)
* Cross-Cultural - Dark yellow brown (Matte) (LE)
* Banshee - Warm taupe with frost and sparkle (Lustre) (Repromote from Rebel Rock)
* Showstopper - Deep blackened brown (Matte) (Repromote from Icon: Diana Ross)
Pigment: $19.50USD
* Universal Mix - Sparkly white gold (LE)
* Rich Life - Dark cool brown with silver pearlized pigments (LE)
Impeccable Brow Pencil: $15.00USD/$18.00CAD (New and Permanent)
* Blonde - Pale yellow brown
* Dirty Blonde - Cool light brown
* Taupe - Mid-tone taupe
* Black - Blackened dark neutral brown

Penultimate Brow Marker: $16.50USD/$20.00CAD
* Universal - Sheer netural brown
Brow Set: $14.50USD
* Mink - (LE) (Repromote)
* Clear - (Permanent)
Brows: $15.00USD
* Lingering - Soft taupe brown (Permanent)
* Spiked - Rich brunette (Permanent)
Beauty Powder Blush:
* Personal Style - Light mauve taupe (LE)
* All's Good - Cool deep rose (LE)
Blot Powder/Pressed: $21.00USD
* Light
* Medium
* Medium dark
* Deep dark
Hmmm... this to me is like another
Warm and Cozy
collection, with nice neutral colours all around. There seems to be an emphasis on brows though for this collection, with two new brow products being introduced (and i'm super curious about the Penultimate Brow Marker!!)! :)
Personally i'll probably be picking up the Naked Frost lipglass which i missed out on earlier this year, and maybe the beauty powder blushes (amazing texture btw) if they're nice! :D The rest will have to wait until i see them in person before i decide whether to bring them home with me or not! :D
This collection will be available on the 7th of Jan next year in the States. For every where else, do contact your local counter to see when will they be bringing in this collection! :)
How about you? See anything you like from this collection? :D
Credits: All pictures from
erine1881 @ Specktra.net
.