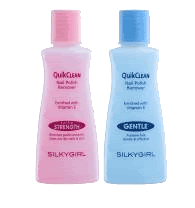 At a Glance:
Price:
RM7.90 (approx. US$2.13)
Website:
Silkycosmetics.com
Weight:
100ml
Made in:
Malaysia
Likes:
Cheap, removes polish well, not drying!
Gripes:
None
Repurchase:
Yes!
Jenn's Rating:





4.5 Stars! Me really likey!! :D
Ingredients:
Acetone, Di Water, Tocopheryl Acetate, Fragrance, CI17200.
Product Description:
An effective formula that removes nail polish quickly and thoroughly, in

one stroke

. This breakthrough formula is enriched with

vitamin E

to

condition nails

while gently removing the nail polish.
Actual Product Pic:
Texture & Scent:
This remover is basically liquid like the usual removers, so it's runny. I like how it doesn't dry up really quickly after you pour it out! This one does have the usual acetone-y scent plus somekinda floral which is quite strong, so do use this in a well ventilated place!
Packaging:
This remover comes in a bottle with a twist off cap, which is typical.
I like how small the hole is so that you can control the amount you dispense precisely!
Time Test:
This remover doesn't dry up quickly, so you can actually get more use out of it! True to its claim, it does remove polish in one swipe!!
Price & Availability:
This remover is priced at RM7.90, which i think is really affordable! It's available at all Silkygirl displayers at Watsons / Guardian / Your local supermarket!
Usage:
As per the directions, just pour this unto a cotton pad, hold in place for a few seconds, and wipe off in one swift stroke.
My $0.02:

I received a sample of this one years ago, and after using it, i think my search for the best nail polish remover ends here! lol!! Ok i was exaggerating, but honestly, this one is probably one of the best i've used before!! :D
True to its claim, this one does remove polish in one stroke. Even most of the glitters are removed then: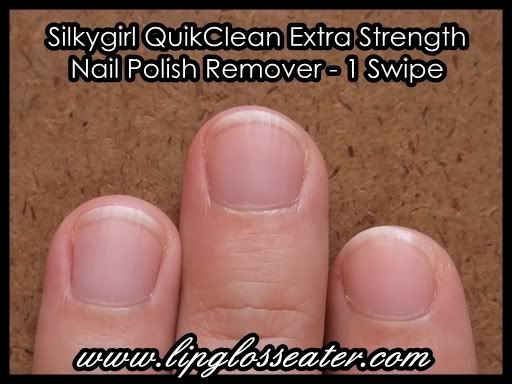 As you can see, all the polish has been removed (including glitters!!), with the exception of the odd glitter here and there around the nail beds! My nails are 100% clean after the second swipe!
And although this one's labeled as EXTRA STRENGTH, it's really gentle and non drying for my nails!! You can't beat the price either (unless you're comparing this to the the crappy
Watsons one
that i reviewed earlier!)!!
All in all, this is one great product that i'll definitely repurchase cuz it's amazing!! :D
Photo credit: Product photo from
Silkycosmetics.com
.