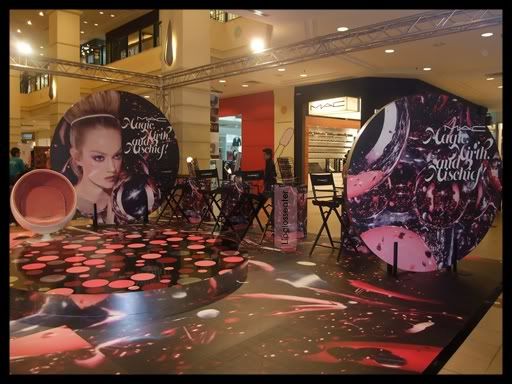 So the holiday collection came to Penang so to the holiday collection i went!! :D Without much ado lets go straight to the reviews and swatches! :D
MAC Magic, Mirth and Mischief! Colour Collection: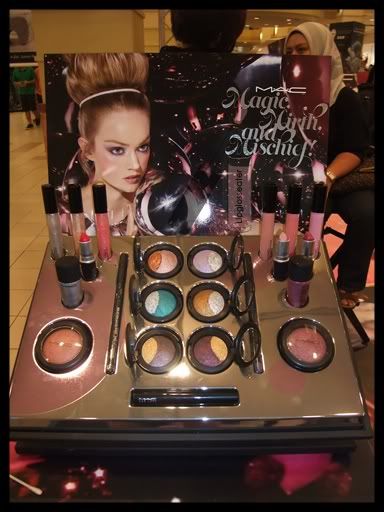 Let me start with the thing that i personally think is the highlight of this collection - the
mineralize blushes (US$21 / RM95)
!! These two babies are soooo smooth and pigmented and just a dream to use!! :D
See how pigmented these are? Yum!! :D
Conjure up
- a dirty plum. Still thinking if i should go back for this one...
Superdupernatural
- a mid-tone coral. Contrary to its name, it won't be
superdupernatural
on your skin if you don't apply it with a light hand! hahaha! :D
Next are the
Mineralize Eyeshadows (US$19.50 / RM80)
! I'm not really a fan of mineralize eyeshadows, but these really surprised me with their quality! All 6 of them apply smoothly and are quite pigmented! I only wished that MAC would remove that stupid glitter crescent in there! I wonder why did they decide to keep that one despite so many complaints about it last year! :P

The glitters are placed at the top of every shadow, but they don't photograph (and adhere to the skin) very well!! Ugh! :P
Midnight Madness
- dark dirty brown with a gold glitter crescent.
Devil-May-Care
- light lavender with a silver glitter crescent.
Under Your Spell
- pinkish purple with a bronze glitter crescent.
Mayham
- brownish bronze with a silver glitter crescent.
Blue Sorcery
- turquoise with a silver glitter crescent.
It's a Miracle
- dark burgundy with a gold glitter crescent.
Then there're the
Softsparkle Eye Pencils (US$14.50 / RM62)
. These should totally be called
Hard
sparkle Eye Pencils instead because they scratch your skin soooo badly!! I'm sure not allowing any of these near my eyes! :S Once again, i don't know why MAC brings this one back year after year! I know it's the holiday season and glitters are in, but come on already!! :P
Iris Accents
- light lavender with silver sparkles.
Nightsky
- black with silver sparkles.
Next are the
lippies (US$14 / RM63
)! I personally feel that there is something for everyone in this lineup - from sheer to super bright! haha! :D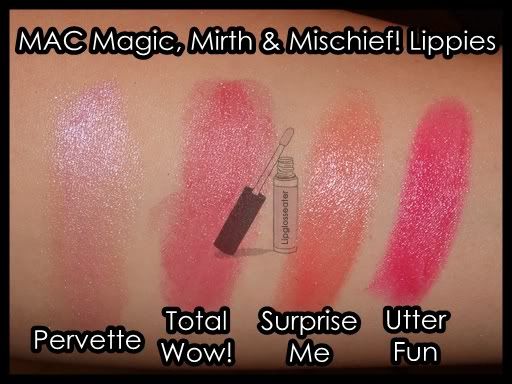 Pervette (Glaze)
- sheer bright pink with some purple iridescenc. This one's permanent.
Total Wow! (Glaze)
- pinkish berry. This one looks alot less scary swatched than in the tube!
Surprise Me (Lustre)
- mid-tone coral. I was secretly hoping that this one has abit more pink in it though!
Utter Fun (Lustre)
- bright fuschia pink! This one is not for the faint hearted! :D
Then there're my favourite lipglosses! lol! :D These cremesheenglasses and dazzleglasses go for US$18 / RM80 each, which i seriously think is expensive for the miniscule amount you get!
Still, suckers like me will buy so why am i complaining.
:P

The first 3 are cremesheenglasses, and the next 3, dazzleglasses.
Ever So Rich
- sheer lilac. This one turns pink on my lips!
Boy Bait
- light peach. This one's shoooo pretty! :D
Partial to Pink
- peachy pink. See the lip swatch of this one
here
.
She-Zam
- very sheer silver with silver and red sparkles!
Phiff
- very very sheer light peach gold sparkles . I wished that the sparkle particles weren't so big though! :(
Jingle Jangle
- mid pink with blue sparkles! This one reminded me of a toned down version of the
Steppin' Out Dazzleglass
! Hmmm... wonder if i should get this one... :P
Lastly, here're the
Nail Lacquers (US$12 / RM40)
:
Two coats each
Lucky Number
- Metallic purplish pink. This one goes on streaky!
$$$$$ Yes
- Metallic silver. This one is super streaky but i love it! haha! :D This one's repromoted from the Heatherette collection last year. :)
That's all from the colour collection! :D I have swatches for everything else from the other holiday stuff except the Mineral Exclusives, but i think i better separate them into two posts cuz there're tons of pictures, so stay tuned yeah! :D
And yes, i know you will be curious to know what i got from this collection! haha! :D So here it is, my MAC Holiday haul: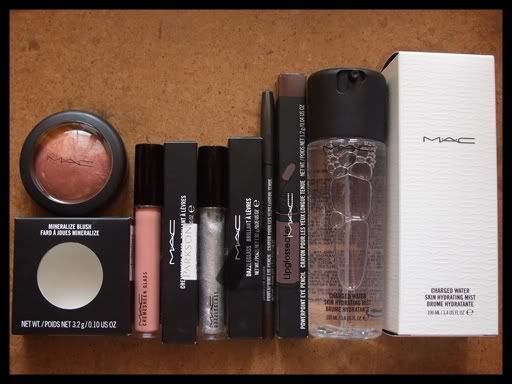 From left: Superdupernatural blush, Boy Bait cremesheenglass, She-Zam dazzleglass. Yesssss, i did manage to walk away from the Sorceress eye palette (which was a little disappointing irl), Phiff! and Jingle Jangle dazzleglasses and the Conjure Up blush! I sure hope i don't regret not getting these! :P
I also got the Stubborn Brown powerpoint to try since my
Photogravure Technakohl
finished already, as well as the MAC Charged Water to replace my empty Avene spray (review coming soon! :D)!
So didcha get anything from this collection? :D