At a Glance:Price:
RM170 (approx. US$45.95)
Website:
Rmkrmk.com
Weight:
30g
Made in:
Japan
Likes:
Feels comfortable on the skin, nice coverage, stayed put on skin the entire day!
Gripes:
Expensive, sinks into fine lines and accentuates bumps!
Repurchase:
No
Jenn's Rating:
3 Stars! Ok product, just not for me!
Ingredients:
NA
Product Description
From the RMK website:
あふれるほどのうるおいで肌を満たす、クリーミィタイプのファンデーション。保水性の高いウォーターホールディングオイル配合で、心地よいしっとり感を保ちます。気になる部分はきれいにカバーしながら、透明感ある肌に仕上げます。ストレッチパウダーが肌のきめにフィットし、つけたての美しい仕上がりが長時間つづきます。


SPF表示、PA表示は国際的に定められている試験法で測定した値です。製品選択時の目安とお考えください。他の紫外線防止効果のある化粧品と併用するとより効果的です。
ps: Don't ask me what the above means, i don't know either!! hahaha!! XD Any Japanese whiz care to translate the above for us? :D
Actual Product Pic:
This is a SAMPLE.
Pigmentation & Color: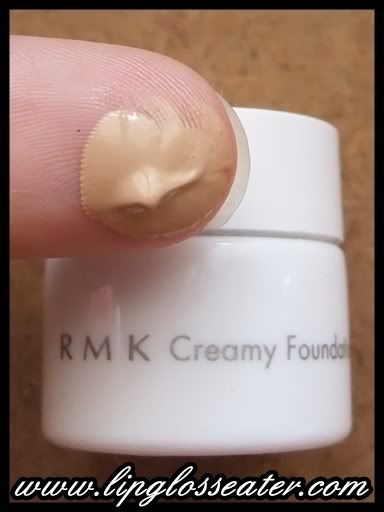 This foundation comes in 8 shades - from 101-105 and 201-203. According to
Connie
, shades starting with 1 are yellow based, while those starting with 2 are pink based. The shade I got is 102, which is just a teeny bit darker than my NC20 skintone. It is also a little bit too yellowish for my skintone! :P
This is how it looks on me:
This foundation evens out the ruddiness on my face nicely, but it is abit too dewy for my liking (this is strictly personal though, as i prefer matte finishes)! I also didn't like how it accentuated the lines and bumps around my eyes and mouth:
Texture & Scent:
This liquid foundation feels a little thicker than your usual liquid foundations. This is medium to full coverage, so the coverage is definitely buildable. But a little goes a long way with this one... so do not apply too much unless you want people to KNOW that you're wearing foundation! :D i think the small tube should last me more than 8 applications since i prefer less coverage usually! :P
This foundation smells typically of... foundations! lol! :P
Packaging:
The tub i have is a sample that came in a plastic tub with a screw off lid! The actual thing comes in a glass bottle! :D
Time Test:
This foundation lasts the entire day on my face without caking or oxidizing, but it made my face really shiny! :P
Price & Availability:
This foundation is priced at RM170 (approx. US$45.95), which I think is quite expensive!! This is available at all RMK counters worldwide.
My $0.02:
I was given a sample of this by a wonderful friend! Terima Kasih banyak banyak ya! :D
I've heard sooo many raves about RMK that i'm dying to try them out! Unfortunately the nearest counter is hours away from my little island, so i didn't get to check them out until someone sent me some samples to try out!! I'm thrilled! :D
Well to be honest i am a little disappointed with this one! For something so well raved about (and *ahem*
expensive
), i would expect it to be a little better! While it has beautiful coverage, I didn't expect it to emphasize the imperfections on my face (lines, bumps, flakes). That alone killed it for me. Furthermore, it makes my face really shiny at the end of the day, and i don't even have oily skin to begin with!
This is how i look after barely 4 hours with this one on: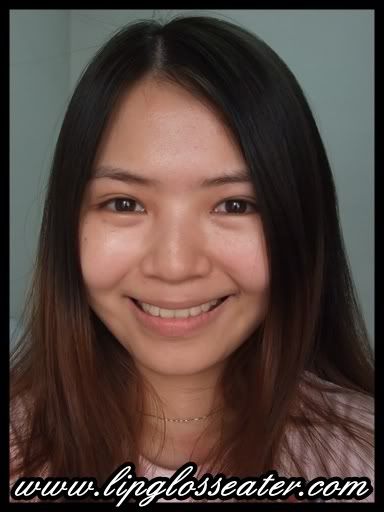 Hello, grease face! :P
Come to think of it... if this emphasizes imperfections, then the only people who can wear this are people who have perfectly flawless skin... who DON'T NEED this foundation (or any other foundation!) anyway, so does that make this product kinda pointless? lol! :D
Do not let my review discourage you though... there're LOTS of other people who love this foundation to bits, so do try it out personally before writing this one off! :)
Photo credit: Product picture from Rmkrmk.com