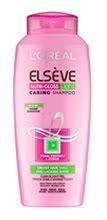 At a Glance:Price:
RM15.90 (approx. US$4.29) each
Website:
NA
Weight:
250ml
Made in:
Indonesia
Likes:
Cleanses really well, keeps the oilies at bay longer!
Gripes:
A bit drying for me if used daily
Repurchase:
Yes!
Jenn's Rating:
4 Stars! Would be great if it's a little more moisturizing! :D
Ingredients:
Product Description:Does your hair turn greasy quickly: becoming dull and flat - losing its shine and energy?

To revive your hair's attraction, the L'Oreal Laboratories have developed ELSEVE NUTRI-GLOSS Light, with Pearl* Protein + Citrus.



New: Light Technology


The active elements concentrated in Pearl Protein* give hair brilliant shine and resistance of precious pearls. Pearl Protein* is combined with citrus, known for its purifying properties. Together, the formula delivers a dual action: It frees the hair of deposits, whilst smoothing and cleansing the fibre so it accumulates less impurities. It gives balanced nutrition from root to tip, without overloading the hair.



Results:

Mirror Shine, Cashmere Touch... Even Lighter! Purified instantly, your hair feels light and clean. Nourished and smoothed, the surface of the hair captures and better reflects the light.

* Derivative from Pearl Protein
Actual Product Pic: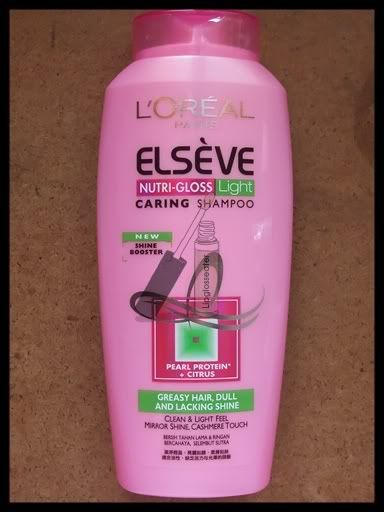 Texture & Scent:
This shampoo feels quite rich, and it lathers up really well! This smells similar to the regular Nutri-gloss one, but with a hint of lime in it! :D
Packaging: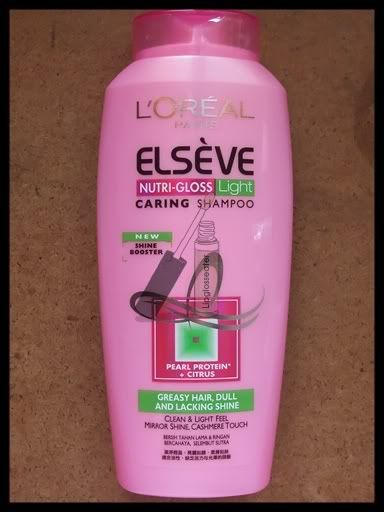 This shampoo comes in a pratical plastic bottle with a flip top cap!
Price & Availability:
This shampoo is priced at RM15.90 (approx. US$4.29) for 250ml. There's the larger 400ml one too, and those go for RM22.90 (approx. US$6.19) each. This shampoo should be available at all Loreal displayers / sections of your local Watons / Guardian / Supermarket! :D
My $0.02:
Ever since coming back to Malaysia, i've been plagued by greasy hair! I know this sounds gross, but the heat here is crazy! I can wash my hair at 11pm the previous day, and by 12pm the next day it's a greasy mess at the top! Yuck!!
Enters this shampoo! I'm so glad that this launched here just when i needed it! lol!! :D
This shampoo cleanses REALLY well! My hair feels really clean and light after using this! :D And after using this one, i no longer have gross greasy hair within half a day! :D Yeah!!
The only thing i didn't like about this one is that it can be a little drying if you use it daily (for my hair anyways). But since using this along with the Loreal Damage Care mask (which i will review soon! :D), this isn't really a problem anymore! :)
I will definitely repurchase this one because i love how well it cleans!! :D
Credits: Product photos from Fr3b.com.