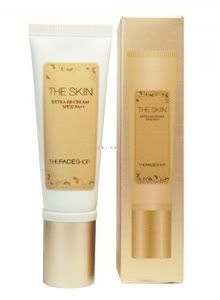 At a Glance:Price:
RM79.90 (approx. US$21.59)
Website:
Thefaceshopen.com
Weight:
45g / 1.59 Oz.
Made in:
Korea
Likes:
Looks really natural, didn't make my face shiny! :D
Gripes:
A bit drying if you skip moisturizer beneath, only one shade available!
Repurchase:
Yes!
Jenn's Rating:
4.5 Stars! Me really likey!! :D
Ingredients:
Product Description
Smart 3-in-1 cream nourishes, protects and corrects in just one easy application

Formulated with Marjoram and Acti-firm Complex to soothe irritated skin, this 3-in-1 moisturizer offers SPF20 protection, corrects complexion with natural coverage and replenishes skin with nutrients.
Actual Product Pic:
Pigmentation & Color:
This BB comes in only one shade, so i think it may be a problem for tanned babes! It looks really natural on my NC20 skin though! Initially when you apply this, you'll look really ghastly white, but don't worry, it miraculously will adjust itself to match your skintone in awhile (about 10 minutes)! :D This one has sheer to medium coverage!
This is how it looks on me:
As you can see, it evened out my skintone nicely!! :D
And a picture that captured the glow this one gave me:
Oh the love!!! :D
Texture & Scent:
This BB cream feels a little hard to spread, but the effort is totally worth it! :D This one smells like your typical perfumey foundation, you know, somekinda floral plus a tad of those plasticky scent? lol! :D
Packaging:
This BB cream comes in a tube! I'm really surprised to see a pump at the end of it instead of a dispensing hole, which i'm happy with.
On the flipside, i may not get to the last drop of this one, so i may have to cut it open after the pump cannot dispense anymore product i guess!! :P
Time Test:
This BB cream stayed put for almost 8 hours without making my face shiny! :D
Price & Availability:
This BB Cream is priced at RM79.90 (approx. US$21.59), and is available at all TFS stores.
Usage:
I've been using this everyday now since it looks so natural! :D
Here's how i apply it (taught by the SA):
Step 1: Dot the BB cream all around your face:
Step 2: Don't spread the cream by dragging it like how you would when you apply foundation! Instead, use gentle patting motions to spread and blend it into your skin: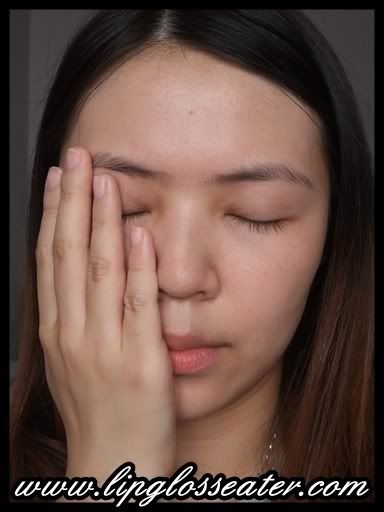 Obviously you need to use both hands lah! But since i had to hold the camera in the other hand of mine, this pic shows one hand only! haha! :D
And you're done!! :D Personally, i would cup my hands over my face for a few seconds after the final step to warm it up and allow the cream to look more natural! :)
My $0.02:
Like i said in my
Happy Happy Friday post
, i'm reaaaaaally late to the BB cream game! But yeah, better late than never ya? :D
I got suckered into buying this because i was really impressed by this one when the SA tried it on my hand! Thankfully it did work on my face as well, otherwise i would be kicking myself for wasting money!! hahaha!! :D
When i first applied it on my face, i got a shock because it looked reaaaaaally white on my face! Thankfully, it did adjust itself to match my skintone as claimed by the SA! :D Phew!!
I love how natural this looks on my skin! My husband couldn't tell at all that i had this on at all (he has a sharp eye for foundations! lol!!)! I also love how it didn't make my face shiny for the entire day! :D
This is me after 9 hours:
Pardon the crappy lighting, but as you can see, my face is still quite matte! I did not blot or even wipe my face with tissue paper!! :D It's amazing!! :D
The only thing i didn't like about this one is that it can be abit drying if you don't use moisturizer underneath (but that could be my combi dry skin acting up!). I was afriad that this might make me shiny if i used a moisturizer + sunblock underneath so i skipped the former, but that proved to be a silly decision as it doesn't make my face shiny even if i put both underneath this! :D
Another thing that may irk some of you is that it only comes in one shade! :(
Since this is my very first BB cream, i can't say that it's my HG yet! I'm really keen to try out different ones now!! :D But i'll have to say that i really, really like this one and will definitely repurchase! :D
Psssst: This cream is going on sale at RM69.90 each now instead of RM79.90 at all TFS stores in Malaysia! This offer ends 31st Aug! :D
Photo credit: Product picture from Suitechatter.blogspot.com