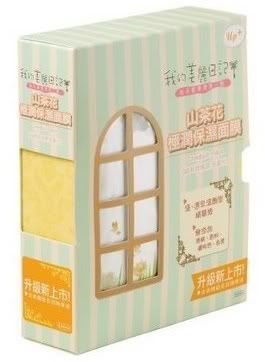 At a Glance:Price:
RM6.50 (approx. US$1.76)
Website:
http://beautydiary.com.tw
Weight:
30g
Made in:
Taiwan
Likes:
Moisturizes well, brightens face nicely! :D
Gripes:
Sheet is a bit flimsy, not available locally!
Repurchase:
Yes
Jenn's Rating:
4.5 Stars! Me really likey!! :D
Ingredients:
Product Description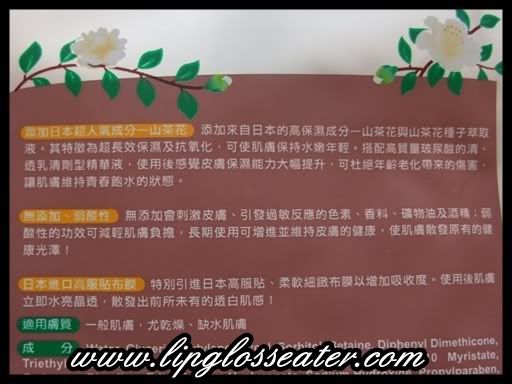 English description (Taken from their website):
No additives, weak acid:
100% color additives-, fragrance-, mineral oil- and alcohol-free. Weak acid is close to the pH nature of skin so it provides skin comfort while using.
Japan-introduced mask material, fragrance and alcohol free:
Thi soft mask material fits close to your skin, making the essence enjoy better efficiency in absorption.
Serum extracted from Camellia and Camellia seeds:
Added with the serum extracted from camellia and camellia seeds; best selling in Japan for its highly effective moisturization and anti-oxidation; ideal for improving moisture retention of skin
Combined with high quality hyaluronic acid serum, helps maintain young, supple look with great moisture retention!
Actual Product Pic: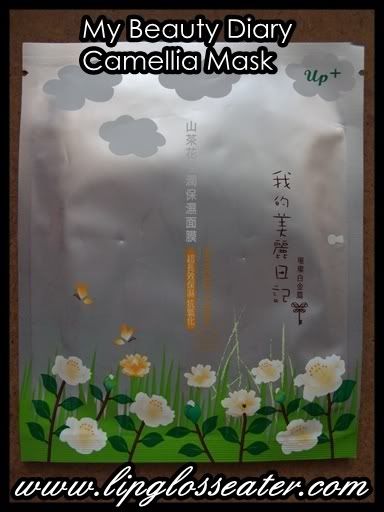 Texture & Scent:
This mask is definitely "wetter" than the previous
strawberry yoghurt
and
chocolate
masks i've reviewed! This being fragrance free does not have any added fragrance, but it does have the typical "fragrance free" scent! :D
Packaging: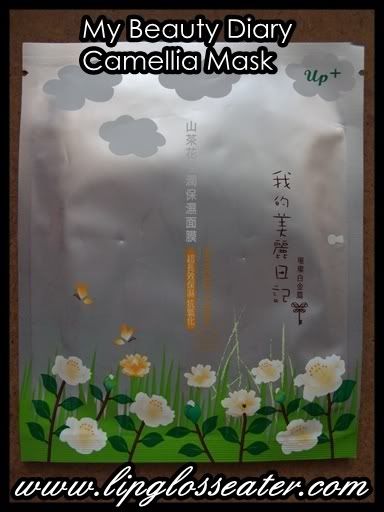 This mask is individually packed into a foil wrapping like your usual sheet masks. It also comes in a box of 10 i believe.
This mask is much thinner than the ones from the usual line, so i guess it does give a better fit.
However it is easily torn though, so be careful whilst using this! I tore mine pulling it upwards: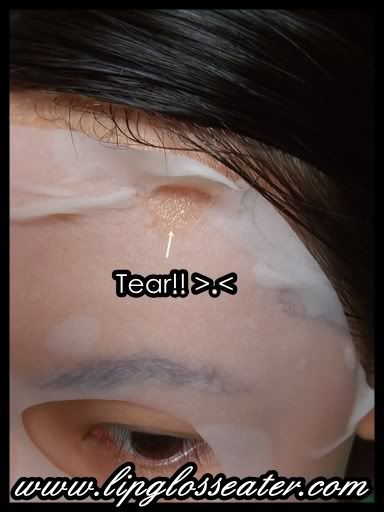 Time Test:
20-30 minutes, which is a little long laaa! :P
Price & Availability:
This mask is priced at about 6.50 each, but can be cheaper or more expensive depending on seller. I bought mine from
beauty_zone33
from Lowyat.net. There're lots of other sellers there as well!! I haven't seen this particular one in Guardian though, so i guess its not available there! :(
Usage:
I use this mask for a quick moisture boost or to brighten my face! :D
My $0.02:
This is the third mask i used from my
My Beauty Diary mask haul
! :D
When i bought this one, i told myself that this BETTER work nicely because it costs double of what the regular masks from this brand is selling for! :D Thankfully it did deliver what it claimed, so i'm relieved! lol! :D
I like how this mask really brightens up my face! It moisturizes well too, so i can definitely see myself using this one after using the
Aspirin Mask
.
Here's how i look after using this:
The only thing i didn't like about this one is that the sheet is a little too thin, so it tears easily!! But since this works so well, i'm willing to overlook that flaw! lol! :D
Overall i think this is a great mask to add to your beauty regime! I'll definitely repurchase! :D
Read my reviews on the other masks in this series:
My Beauty Diary Platinum Nanocolloid Mask 我的美丽日记璀璨白金篇白金保湿面膜
My Beauty Diary White Truffle Fantastic Whitening Mask 我的美丽日记璀璨白金篇白松露极致美白面膜
Credits: Product photo from Winkiepinkieshop.com