At a Glance:Price:
RM180 (approx. US$48.65)
Website:
Lancome.com.sg
Weight:
15ml
Made in:
France
Likes:
Light, moisturizes well, diminished my fine lines! :D
Gripes:
Expensive!!!
Repurchase:
Yes
, if the ingredients are right
!! :)
Jenn's Rating:
4.5 Stars! Me really likey!!! :D
Ingredients: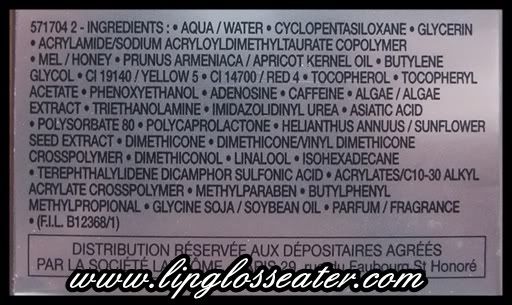 Product Description:
Fight Oxidation Fight Ageing
An ultra-smoothing cream-gel for a targeted action against fine lines around the eye contour area. Better protect your eye contours against premature ageing. Visibly smoother, the eyes glow with luminosity.
Actual Product Pic:
This is a SAMPLE.
The actual thing:
Texture & Scent:
Although this is an eye cream, the texture is really light, and it sinks in almost immediately with no sticky / heavy feeling behind! There's a really mild perfumey scent to this one, but it's almost undetectable once on!
Packaging:
The tube i have is a sample. The real thing comes in a jar with a screw top lid, which i don't really like because it's not very hygienic!
The box it came in: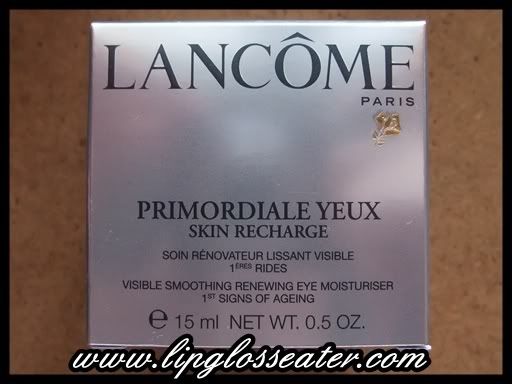 Time Test:
This eye cream keeps my eyes feeling hydrated for the entire day! It took about a month though before i could see visible results!
Price & Availability:
This eye cream is priced at RM180 (approx. US$48.65), which is a little expensive for that miniscule amount you get. This should be available at most Lancome counters. It's also available for sale on Strawberrynet.com for US$51, and at Sasa.com for US$46.10.
Usage:
I use this around my eye area twice daily!
My $0.02:
I ran out of my
Biotherm Aquasource Yeux
awhile ago and was HORRIFIED to find out that there're no Biotherm counters in Bangalore! Thankfully i have a couple of samples of this eye cream, so i thought i'd give them a try and see if i like them!
The first thing that surprised me about this is the light texture! It's doesn't feel heavy at all despite it being cream! It also sinks in really quickly and didn't mess with my makeup, so it's great!
The moisturizing factor is pretty good - it's a little more moisturizing than the Biotherm one for me. And it does work to minimize the fine lines under my eyes!!
A side by side comparison:
The one on the left is before, and the one on the right is two months later
As you can see, the fine lines around the lower eye area (especially the middle part) diminished quite abit, so i'm happy! :)
All in all i think this is a pretty good eye cream, i just wish it wasn't that expensive though!
I'd repurchase, but i need to check out the ingredients first
Hehehe... as you can see above I've already repurchased a full tub!! Wheeeee! :)
Credits: Product photo from Lancome.com.sg.