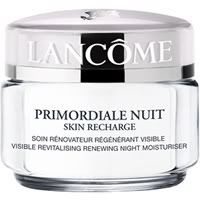 At a Glance:Price:
RM290 (approx. US$48.65)
Website:
Lancome.com.sg
Weight:
50ml
Made in:
France
Likes:
Makes my skin really plump and soft, diminished the "laugh lines" around my mouth, sinks in quickly!
Gripes:
Expensive!!!
Repurchase:
Yes (provided the ingredients are right), but i hope i'm able to find something cheaper that works as well as this one! :P
Jenn's Rating:
4.5 Stars! Would be Holy Grail if it wasn't so expensive!
Ingredients:
NA
Product Description:
Fight Oxidation Fight Ageing.

An unctuous creamy texture and infused with a relaxing fragrance, intensely regenerate your skin overnight. From the 1st morning, a new regenerated skin is born : perfectly rested, hydrated, revitalised. Night after night, 1st wrinkles are visibly reduced, skin is radiant and vibrantly younger.
Actual Product Pic:
This is a SAMPLE.
Texture & Scent:
This night cream is a little more solid than your usual creams, but it spreads with moderate ease. I really like how quickly it sinks into my skin! It has a light flowery scent that i'm ok with! :)
Packaging:
The tube i have is a sample. The real thing looks kinda the same too! As usual i wished this came in a bottle or something because its more hygienic that way!
Time Test:
This night cream kept my face hydrated throughout the night! :D I can see the results really soon - just after one use, my face is really soft and plump! With continued use, it minimized the fine lines around my mouth!
Price & Availability:
This night cream is priced at RM290 (approx. US$78.38), which is verrrrrrry expensive!! lol! This should be available at most Lancome counters. It's also available for sale on Strawberrynet.com for US$72.50, and at Sasa.com for US$65.
Usage:
I used to use this every other day when i was in India, but now that i'm back in Malaysia and always hiding in an air-conditioned room, i use this daily! :D
My $0.02:
Yesterday i reviewed the
eye cream from this range
, so i thought i'll post the review for the night cream as well, so here it is! :D
I finally finished using my
Biotherm Aquasource non-stop moisturizer
and decided to give this a try, since i have two samples from the Gift with Purchases i got! And boy am i glad that i did try them out!! :D
I love how this one isn't very heavy despite it being a cream! It sinks in almost immediately with no sticky feeling behind! The best part is that it really works beautifully! It moisturizes really well, makes my skin so soft, and it diminished the laugh lines around my mouth!! Me love!!! :D
My only gripe for this one is that it is sooo expensive! I know a jar should last me at least half year with daily usage, but it's still pretty steep to fork out almost three hundred bucks at one go! Ouch!
So i'm prayingggggggggg very harrrrrrrrrrd that there are creams out there that are somewhat similar to this one but cheaper! Otherwise i'll have no choice but to repurchase this! lol! :P
Credits: Product photo from Lancome.com.sg.