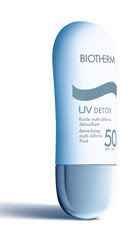 At a Glance:
Price:
RM130 (approx. US$35.13)
Website:
Biotherm.com.sg
Weight:
30ml
Made in:
France
Likes:
High UV protection, no white cast, feels moisturizing.
Gripes:
Expensive, alcohol denat. is the 3rd ingredient, hard to spread.
Repurchase:
No
Jenn's Rating:
4 Stars! Not bad product! :D
Ingredients:
Product Description:
The fresh, fluid, meltingly soft texture of UV DETOX combines anti-UVB filters with patented Mexoryl® SX, a powerful, light-stable sunscreen for optimum protection from UVA/UVB light (SPF 50). The UV DETOX formula also contains a detox complex (sericoside and detoxylase) to neutralize epidermal toxins* generated by pollution and Pure Extract of Thermal Plankton to soothe the skin. Instantly freshens and evens complexion. With optimum protection from pollution and UV light every day, the skin regains its natural radiance.

*In vitro test.
Actual Product Pic: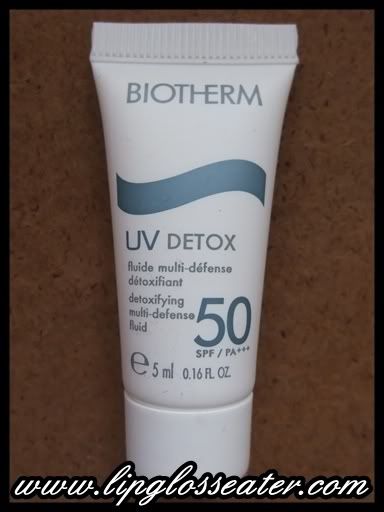 This is a SAMPLE.
Texture & Scent:
This sunblock is rather runny, but the strange thing is that it doesn't spread very well so i find that i have to use more product! This has a citrusy scent that disappears soon after application, so i have no complaints about that! :D
Packaging: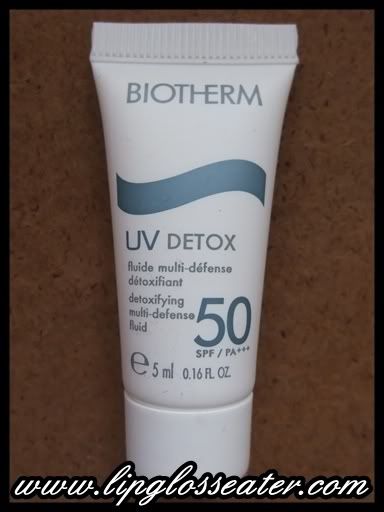 The tube i have is a sample i got from the counter! :D The real thing is flatter and wider with a twist off cap! :D
Time Test:
This lasts about 6 hours before i feel the need to reapply! :)
Price & Availability:
This sunblock is priced at RM130 (approx. US$35.13), which i think is expensive! This should be available at all Biotherm counters in Asia. It's also available for sale on Strawberrynet.com for US$43.50 and at Sasa.com for US$32.30.
Usage:
I use this daily as a facial sunblock. It works as a makeup base too!! :)
My $0.02:
I got this sample when i went and claim the voucher i got from the Biotherm bus! :D
I was reallllllly apprehensive about this one because denatured alcohol is the 3rd ingredient, and most products with this ingredient so high up in the list almost always break me out! But after testing this out for a week now, this hasn't break me out yet, so i'm happy! lol!
Although they have formulated this to feel alot less oily than the older one (according to the sales person), it does still make your face look shiny: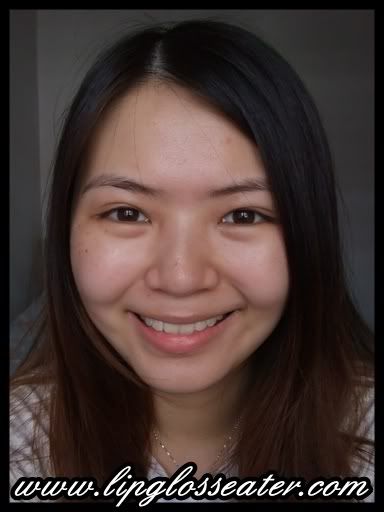 But don't worry, it's nothing a dab of powder can't fix though!! :D
I love how this makes my face feel moiturized without being oily!! Methinks that this will make a wonderful makeup base as well, as it goes on with a "grip" if you get what i mean! :P
The downside is that this is a bit hard to spread, so i find that i have to use more product to cover my whole face - not good especially when this one is not cheap at all!! lol!! :D
All in all methinks that this is not bad, but i won't be repurchasing because 1. i'm paranoid about using alcohol laden products, and 2. there're many other SPF50 products in the market that are cheaper! :)
Credits: Product photo from Biotherm.com.sg.