At a Glance:Price:
RM14.90 (approx. US$4.03) each
Website:
Kao.com/my/asience
Weight:
220ml
Made in:
Japan
Likes:
Makes my hair shiny!
Gripes:
Drying!
Repurchase:
No!
Jenn's Rating:
2.5 Stars! This one's probably more suited for oilier hair...
Ingredients:
Shampoo:

Conditioner:

Product Description:
A perfect blend of natural and precious nourishing ingredients to penetrate deeply into hair fibers to repair and nourish.
Actual Product Pic: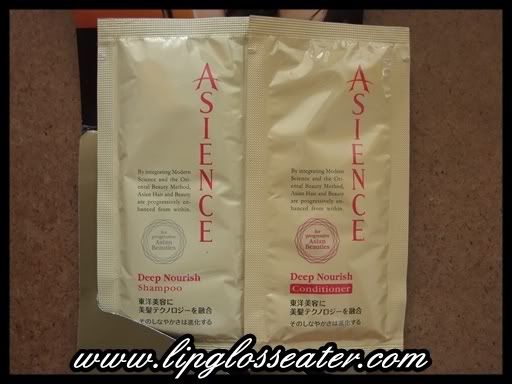 These are SAMPLES.
Texture & Scent:
This shampoo feels quite creamy, and it lathers up moderately well!
The conditioner feels a little more solid than the usual conditioners, but it spreads well!
Both products have this flowery scent that i don't like!! :P
Packaging: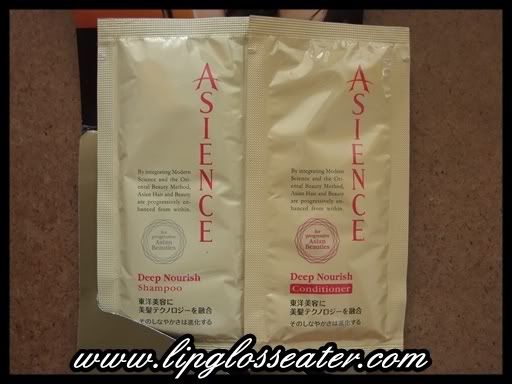 Needless to say the ones i have are samples! haha! :D The real thing comes in a bottle with a flip top cap. There's also the larger pump bottle version available! :)
Price & Availability:
These two products are priced at RM14.90 (approx. US$4.03) each for 220ml. There's the larger 550ml pump bottle ones available, and those go for RM26.80 (approx. US$7.24) each. I've seen this product going on sale at Watsons and Jusco! :D
My $0.02:
I've had high hopes for this one, since i've heard several raves plus the adverts are really promising! :D
Let me start by describing my hair. My hair is almost waist long, oily at the top (since coming back to Malaysia) and quite fried at the bottom! I haven't colored or permed my hair in the past year. A picture to put things into perspective:
So, by using the shampoo and conditioner, i was hoping that i'm able to restore the ends so that they don't look so dry and damaged! :P Unfortunately, they made my hair even drier!! *screams*
Here're some pics for you to see for yourself:
This is my hair before:
And this is after:
And here's a side by side comparison up close (left is before):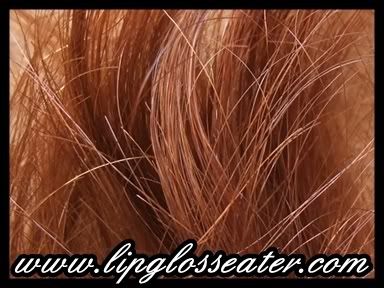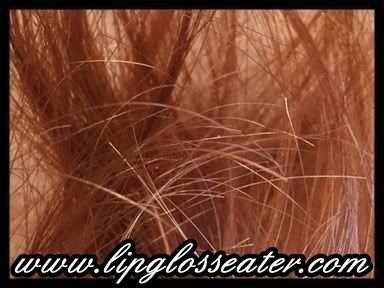 As you can see, my hair's got those darned white dots (and one horribly obvious split end if you can spot it) after using this one!! *screams* Also, i didn't like the smell of this one... it reminded me of an old lady's perfume!!
Well, there are good things about this one as well! This one actually did make my hair look quite shiny! And i like how affordable it is! However, since it did not work for my hair, i will not repurchase!
ps: so thankful that i got to try this out instead of buying them!! Otherwise it's almost RM30 down the drain! phewwww!! :P
Credits: Product photos from Kao.com/my/asience.