Ps: Mondays will be

Masking Mondays

from now on, since i've acquired quite abit of sheet masks since i got back from India! lol! In order to force myself to use each and every one of them, i will review one mask every monday! :P Wish me luck and perseverance that i can actually stick to this!! hahaha!! :P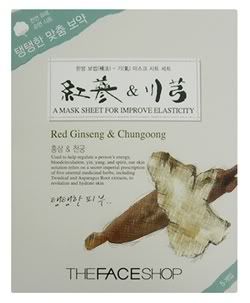 At a Glance:
Price:
RM9.90 (approx. US$2.68)
Website:
http://Thefaceshopen.com
Weight:
20ml / 0.67 Fl. Oz.
Made in:
Korea
Likes:
Moisturizes and brightens face really well, lasting results! :D
Gripes:
Expensive!
Repurchase:
Yes!! :D
Jenn's Rating:
4.5 Stars! Near HG Stuff! :D
Ingredients:

Product Description
This mild, essence-type, all natural cotton mask sheet is concentrated with Red Ginseng and Cnidium Officinale extracts to regulate energy and make skin more supple.



What is herbal therapy?

Used to help regulate a person's energy, blood circulation, ying, yang, and spirit, our solution is drawn from on an ancient imperial prescription of five medicinal herbs that include twinleaf and asparagus root extracts, to revitalize and hydrate skin.



Benefits of Red Ginseng:



Provides strength and energy

Saponins in Red Ginseng help even out facial contours and soften skin

Benefits of Cnidium Officinale:
Promotes and improves circulation

Revitalizes and nourishes skin



Actual Product Pic:
Texture & Scent:
This mask isn't as wet as your usual sheet masks, so it doesn't drip! There's a very slight sticky feel after you remove this mask, but that disappears quickly. This one smells faintly of ginseng! :D
Packaging:
This mask is individually packed into their respective foil packs and is sold by the piece.
This mask fits my face well except for the mouth part... i don't think anybody has such a large mouth (bar Steven Tyler)! lol!!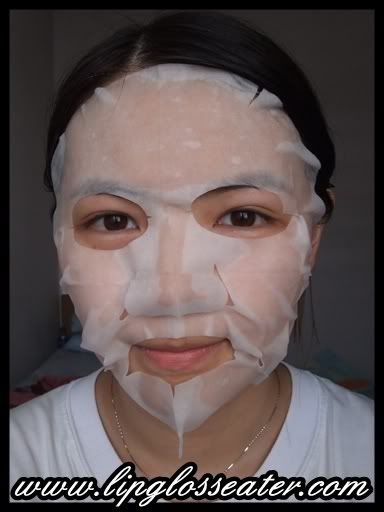 Time Test:
15-20 minutes is all you need! :)
Price & Availability:
This mask is priced at RM9.90 each and is available at all The Face Shop outlets. For girls in the US, you can get this at
Walgreens
at 2 for US$5.
Usage:
Since this one is a little expensive, i use it as a treat once in a while! :D
My $0.02:
I can't believe i haven't reviewed this mask before! :D
I personally love this mask from the very first time i tried it 2 years ago and have repurchased countless times! :D
I love how this one doesn't drip, yet it moisturizes and gives me such a beautiful glow!! The effect lasts a few days too!!
This is how i look after using this mask:
Ahaha... excuse my shiny face as my face is still tacky from the essence! The gloomy weather's not helping either! lol!! In real life, my face's glowy, soft, and my colleagues always notice it whenever i use this mask!! That's how good this is!! lol!! :D
All in all i'll definitely repurchase... just not so often as it's quite expensive! :P I'll definitely stock up if i ever get to go to Korea! hahaha!! :P
ps: sadly, this gave one of my colleagues the zits, so if you're acne prone, please do a patch test first!!
PSSSST: This mask is going for RM5.90 currently at all TFS stores in Malaysia!! This offer is valid until 31st Aug, so go stock up already! :D
Read my reviews on the other masks in this range:
The Face Shop Imperial Herbs - Yang Mask Sheet Tawny Mulberry Mushroom & Sika Deer Antlers (A Mask Sheet for Healthier Skin)
The Face Shop Imperial Herbs - Ying Mask Sheet Dioscoreae Rhizoma & Japanese Cornel (A Mask Sheet to Hydrate Skin)
Photo credit: Product photo from
Thefaceshopen.com
.