My parents need to goto KL last Thursday for a last minute business trip, so i get to tag along! Very very happy to finally get to hit the malls in KL... after like, 11 years? (I'm serious!!!) lol!! :D
The first place i went to was Lot 10! Needless to say, i made a beeline to the MAC counter in Isetan once i spotted it! :) I was sooooooo elated to manage to get the Sun Rush Lustredrop from there (the last one!! :D)!!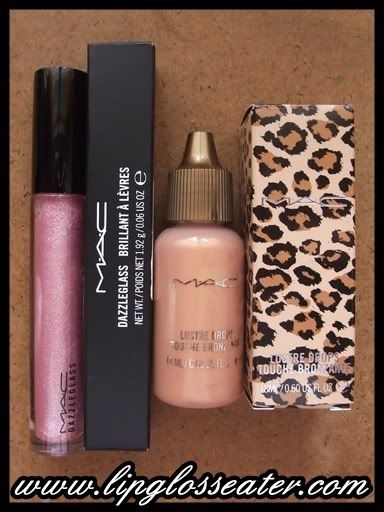 I got the Rags to Riches dazzleglass as well! :D
I must say that i got the most excellent service from the MA named Chloe!! I asked about the Colour Craft collection and was told that it'll launch on the 16th. But the very next day, i received a phone call from her saying that the collection is out already!! I didn't even ask her to call me! Very very happy! :D
~.~
That night, i went over to The Curve! The first place i went to was...
DAISO! :D
Have heard so many things about this RM5 store that i had to check it out myself!! :D I didn't get to spend alot of time in there, but i got these:
Makeup wedges and storage separators! :D
Anddddddddddddd, guess who i met?? :D
The most adorable Miss
Plue
!! :D Gosh my face looks gigantic beside hers... T_T
Gotta thank her so much for her patience with me!! My schedule was so uncertain that day, but she waited for me!! Not only that, she got me these:
So many goodies!! :D :D
Thank you so much hun!! :D
~.~
And ohhh, how can forget these:
Ikea meatballs!! OMG they're really sooooooooooooo good!!! *salivates* :D~~~~
~.~
Went over to MidValley the next day! I manage to catch...
The Kiehls guys!! lol!! :D
~.~
And oh, i'm amazed that Silkygirl actually have their own store now!!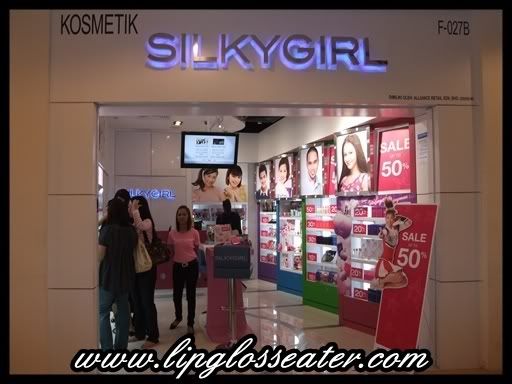 ~.~
Finally, my teeeeeeeeny review on the
MAC Colour Craft collection
:
SKIP EVERYTHING!
lol!! Just kidding!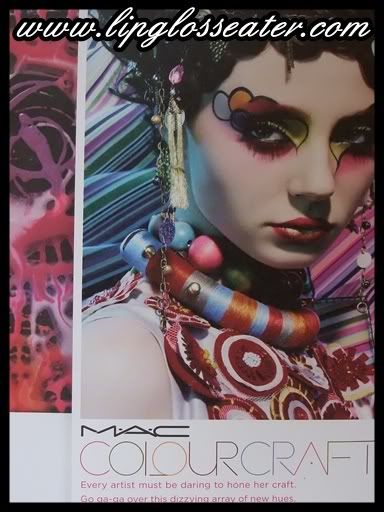 Personally, i find the face products a huge let down! The MSFs and the MBs were not as smooth as i'd imagine them to be! Some where exceptionally glittery with below par pigmentation, so i skipped everything! :(
Truth be told, the MESes and the lip products are pretty decent actually!! So don't write off the whole collection as yet if you like eye and lip stuff! Go check them out in person and see! :D
I apologize for not having any swatches for this collection this round!! Not keen on my parents asking me what on earth am i doing applying lipstick on my arm! lol!! XD
Check out swatches from this collection
here
!! :D
Andddd, if you missed out on the 226 brush earlier, you MUST get it this time!! It's amazing!! hahaha!! :D The 131 is alright, its quite soft, but i wished it was bigger!
So, out of everything in the collection, i only got this: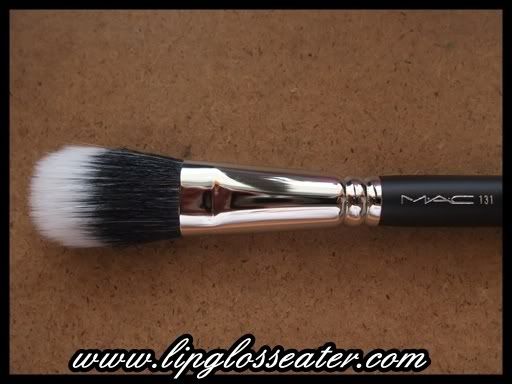 The 131 brush!! :D
So there was my weekend!! I sure had tons of fun, and i hope yours was too!! ;) Have a great week ahead people! :D