Sorry, i can't find an official product pic of this one!! :(
At a Glance:
Price:
RM8.90 (approx. US$2.40)
Website:
http://nivea.com.my
Weight:
NA
Made in:
China
Likes:
No alcohol!!, moisturizes and softens well, really brightens face!!
Gripes:
A little expensive for Nivea standards
Repurchase:
Yes
Jenn's Rating:
5 Stars! Holy Grail Stuff!!! :D
Ingredients:
Aqua, Glycerin, Propylene Glycol, Butylene Glycol, Niacinamide, Panthenol, Panax Ginseng Root Extract, Hydroxyethylcellulose, Disodium EDTA, Diazolidinyl Urea, Methylparaben, Propylparaben.
Product Description
Intensive hydration



For a fresh & radiant complexion. No alcohol. No perfume. No colour. Ginseng & B Vitamins. Dermatologically tested.

Nivea Visage Aqua Sensation Mask instantly invigorates your skin and senses with a pure moisture boost treatment:
Shaped to fit the face, each wet mask works in 2 ways:
Each soft-fleece mask provides the skin with a 'moisture boost'. It contains moisturising ingredients which boost the skin's moiture depot by 15 times.
Specially formulated with Ginseng and B Vitamins, each mask locks the moisture within the skin cells, therefore guaranteeing a prolonged moisture treatment.
Result: Your skin is intensively hydrated, and feels smooth and invigorated. Your complexion looks fresh & radiant.
Actual Product Pic:
Texture & Scent:
This mask is really, really wet!! I wiped my entire body with the used mask and it's still quite moist after that!! Thankfully the essence from the mask is kinda thick though (gel-like), so it doesn't drip! Surprisingly this does not leave a sticky feel behind although it's so thick! This product is perfume free, so it does not have any synthetic fragrance, but it does have the typical "fragrance free" scent though!!
Packaging:
This mask comes in a card board "envelope" thingy housing it!! The mask itself is wrapped in the usual foil pack: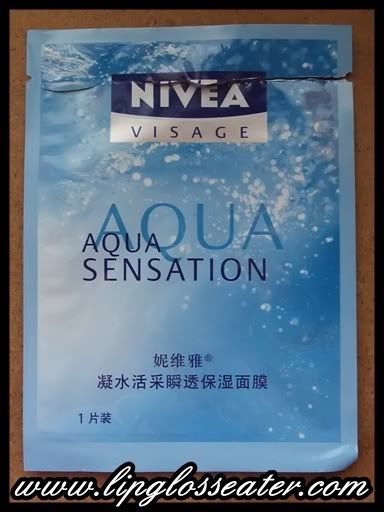 Sorry for the used pack, i forgot to take a photo before using it! :P
And for once, i found a mask that fits my face almost perfectly!!! :D
Time Test:
15 minutes is all you need! :)
Price & Availability:
This mask is priced at RM8.90 each and should be available at most Watsons / Guardian outlets as well as your local supermarkets! :D
Usage:
I can foresee myself using this alot for my weekly moisture boost (especially after using the
Aspirin Mask
!)! :D
My $0.02:
Normall, i wouldn't even take a look at products from Nivea because i haven't had good experiences with their skin care so far, but I got suckered in by the "No Alcohol" wording on the pack!! :D
Well, 15x more moisture compared to the day cream is a lofty claim indeed! And while i do not think it's THAT moisturizing, i have to say that this one's probably one of the most moisturizing masks i've came across!! :D
Not only is it moisturizing, it brightens pretty well too (though not as significant as the
My Beauty Diary Strawberry Yogurt Mask
! :D
Here's how i look after using this:
Hello bright plump skin!! :D
This is now officially my holy grail moisturizing mask, along with the
Neutrogena Deep Hydrating Mask
.
Rant: If Neutrogena had not raised their box price by a freaking
RM13.90
, i would have stuck to them!! I'd still buy, but since this one is a little cheaper, i would be purchasing this more often then! :)