At a Glance:Price:
RM3.30 (approx. US$0.89)
Website:
http://beautydiary.com.tw
Weight:
NA
Made in:
Taiwan
Likes:
Cheap, does firms face!! :D
Gripes:
Stings my face a little, could be more moisturizing!
Repurchase:
Most likely not
Jenn's Rating:
3.5 Stars! Ok Product!
Ingredients:
NA
Product Description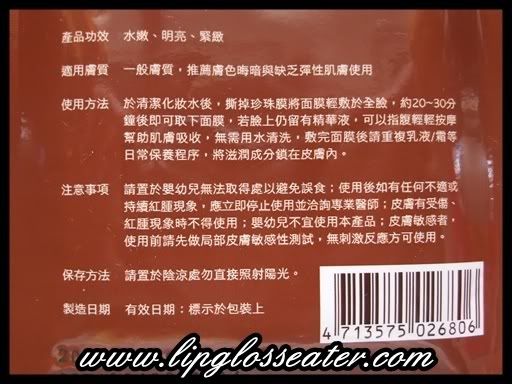 Translation (Please correct if you spot any errors!! My Chinese is really rusty!!):
Effective for: "Watery" soft, brightening, refining
Suitable for: Normal skin. Recommended for those with dull complexions, as well as skins that have lost their elasticity.
Directions: After cleansing and toning, remove the protective covering and place mask on face for 20-30 minutes then remove. If there is any residue on your face, you can massage it with your fingers to aid absorption. There is no need to rinse off. Follow with your usual moisturizer / serum after to lock in moisture.
To Note: Place product in places out of reach by young children to avoid being mistakenly eaten (lol!! XD). If there are signs that this product is not suited for you or rashes / swelling, discontinue use immediately and consult a doctor. Do not use on injured skin or if you have rashes / swelling. Not suitable for infants and young children. If you have sensitive skin, please perform a patch test prior to using. If there is no adverse reaction from the test, you may use this mask.
Storage: Place in a cool dark place away from direct sunlight.
Manufacturing Date: Effective date: printed on pack.
Actual Product Pic:
Texture & Scent:
This mask is still not as "wet" as the usual sheet masks (though wetter than the
Strawberry Yogurt
one), which i actually don't mind because i don't like my masks dripping when i pull them out of the foil packs! lol!! This being a chocolate mask smells very strongly of chocolate milk!! lol!!
Packaging:
This mask is individually packed into a foil wrapping like your usual sheet masks. It also comes in a box of 10 i believe.
Like the
Strawberry Yogurt
one, this mask is still a little big for my face:
... but it's among the best fitting already for me!! :D
Time Test:
20-30 minutes, which is a little long laaa! :P
Price & Availability:
This mask is priced at about RM3.30 each depending on seller. I bought mine from
beauty_zone33
from Lowyat.net. There're lots of other sellers there as well!! For girls who do not want to buy online, this is available in a pack-of-2 at Guardian for RM16.90 (daylight robbery!!!). Not sure if this one's gonna be permenant though, so grab one while you can! :D
Usage:
I use this mask for firming! :D
My $0.02:
This is the second mask i used from my
My Beauty Diary mask haul
! :D
Hmmm... honestly i don't know how to feel about this product! On one hand, it does firms and brightens my face a little (really
just a little
!), but on the other hand, it stings my face after 15 minutes, and i wished it was a little more moisturizing!
Here's how i look after using this: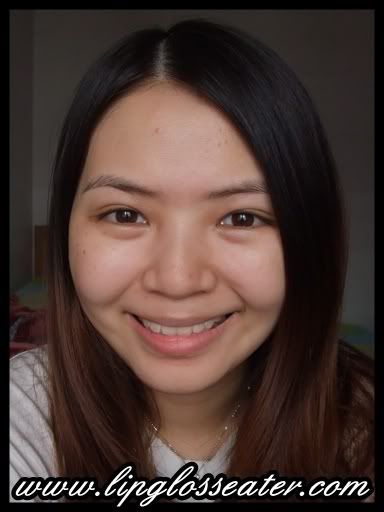 Argh... damn eyebags make me look so haggard!!
Does my face look slimmer? lol!! It sure feels firmer though!! lol!! Also if you squint, you may be able to see a little redness (especially on the cheeks) from the stinging! :(
So to sum it up, go ahead and get this one if you love firming masks!! Otherwise i don't think you'll miss anything if you skip this one! Personally I'll probably not repurchase this one, since i think there're definitely better options out there! :)
Credits: Product photo from Bonboncosmetics.com