At a Glance:
Price:
Rs. 360 (approx. RM29.39 / US$8.16)
Website:
Maxfactor.com.au
Weight:
9ml
Made in:
Ireland
Likes:
Does not clump or smudge, holds curls well, lengthens like crazy!
Gripes:
Doesn't really volumize, not available in Malaysia
Repurchase:
Yes
Jenn's Rating:
4 Stars! Me Likey! :D
Ingredients:
NA
Product Description
Up to 300% dramatic lash volume mascara.Feast your eyes.Want drama? Make your lashes triple the volume with this ultra volumising mascara. Its bodybuilding formula fattens even the thinnest of lashes and gives them up to 300% volume instantly! With no need for primers, the first application stays touch proof and smudge proof for as long you need it to, but quickly and easily wipes away with a gentle eye make-up remover, so even sensitive eyes and contact lens wearers can enjoy a fuller flutter!
Actual Product Pic:
Color & Pigmentation:
I got the one in Black, which is a really pigmented jet black! There's a brown one available as well.
Texture & Scent:
The texture of this mascara is quite light, so it coats well. I love how it doesn't clump even if you pile on 3 layers! This mascara has a light "mascara scent", but it's pretty mild! :)
Packaging:
I noticed that the one sold in India is packaged differently from the one in US. One thing i noticed over here is that all mascaras do not come with a plastic wrap, so you won't be sure if your tube is completely new!! *tears hair out*
The mascara wand is fatter than the usual ones, but it's pretty easy to use!
Time Test:
This mascara held up for the entire day i had it on and did not smudge nor flake!! Amazing!! :D
Price & Availability:
This mascara costs Rs. 360 (approx RM29.39 / US$8.16), which is quite affordable! :) This mascara should be available at all Max Factor counters!
Usage:
This mascara looks really natural on me, so it's great for everyday wear! :D
My $0.02:
This mascara seems really popular - it's always out of stock over here!! I had to visit the counter a few times before i got lucky! lol!
The claim of giving 300% more volume to your lashes is a lofty one indeed!! While this mascara gave my lashes crazy length, it did NOT volumize much actually! So length + no volume = sparse looking lashes! lol!! Still, it's a pretty decent mascara because it doesn't clump, and it looks really natural! :D
Ok enough talking, here're pictures for you to see:
This is my natural lashes, curled: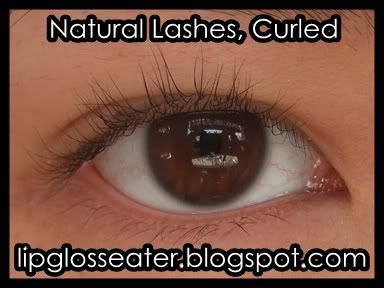 1 coat of this mascara:
As you can see, it lengtens and defines my lashes nicely!
2 coats of this mascara:
It still looks natural here! :D
3 coats of this mascara:
My lashes are a little volumized and lenthened quite a bit! hehehe!! :D
So all in all, methinks that this is a quite decent mascara for natural everyday wear! If you're looking for volume, look elsewhere! :P
Read what the other girls have to say about this mascara:
Connie
Paris
Credits: Product photo from Maxfactor.com.au