At a Glance:Price:
US$24 / RM92
Website:
Lancome.com.sg
Weight:
6.5ml
Made in:
France
Likes:
Volumizes and separates lashes nicely, does not smudge, no funky smell!
Gripes:
Brush head takes some getting used to, weighs lashes down, a little clumpy, expensive!!
Repurchase:
No
Jenn's Rating:
3.5 Stars! Not a bad product! :D
Ingredients:
NA
Product Description
I turn up my lash volume 6x. I turn on my power to hypnotise!
Control the volume of your lashes for a truly hypnotic effect! With each stroke, the PowerFULL™ brush intensifies your look for lashes that are up to six times thicker and perfectly separated. Easy to apply, the supple formula goes on smoothly, with lots of play time and no clumping. It's made to measure volume for a bewitching look that's simply irresistible!
Actual Product Pic:
This is a sample tube.
Color & Pigmentation:
I got the black one, which is really black! :)
Texture & Scent:
This mascara goes on a little more thickly than the usual mascaras, so using a lash comb is a must if you don't want clumps! Since this is a little thick it does weigh down your lashes! This doesn't have any funky mascara scent!
Packaging:
The tube i have is a sample, so it looks quite different from the actual thing! The actual tube is currrvay instead of straight! lol! :D
The brush head is curvy as well, and thicker than your usual mascara wands! I personally find it little hard to use (hence the smudges in the pics later):
Time Test:
This mascara did not smudge on me at all despite wearing this for more than 8 hours! :D
It does flake after awhile though, so contact lens wearers may wanna take note!
Price & Availability:
This mascara costs US$24 / RM92, which is really expensive considering that they're probably only good for 6 months max! This should be available at all Lancome counters.
Usage:
I'll probably use this for a more dramatic look, since it volumizes alright! :)
My $0.02:
A wonderful friend gave me this sample to try! I've heard many raves about this one, so i have pretty high hopes for this! Unfortunately, this fell a little short of my expectations! :(
This does NOT give you 6x the volume as claimed! Yes, it does volumize, but it's pretty mild. Since the formulation is a little thick, it tends to weigh your lashes down too!
I personally liked it the most with one or two layers, where it looks really natural! The trick is to use quick short strokes, and COMB and separate your lashes like mad after that! :D
Ok, here're some pictures for you:
This is my natural lashes, curled: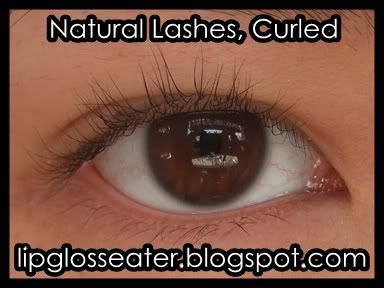 One coat of this mascara:
My lashes are nicely seperated, volumized and lengthened! I actually kinda like it! :D
2 coats of this mascara:
Still pretty natural looking here.
3 coats of this mascara:
I don't know why it looks so clumpy here, but it's not that bad in real life! A better picture:
Truth be told this is actually not a bad mascara - but it's just simply too expensive! I would repurchase this if its like 1/3 of its current price, otherwise i don't think i'll ever buy this again! For something that costs almost a hundred bucks, i would expect it to perform a little better too (and probably be able to cook and clean as well, lol!)! :)
Credits: Product photo from Lancome.com.sg