Sorry, i can't an official picture for this one! :(
At a Glance:Price:
RM5 (approx. US$1.35)
Website:
Daiso-sangyo.co.jp
Weight:
80ml / 2.8 oz.
Made in:
Japan
Likes:
Cleanses well, incredibly cheap!!
Gripes:
Smells funky, not available in Penang! T_T
Repurchase:
Yes!
Jenn's Rating:
4.5 Stars! Me really likey!! :D
Ingredients:
Surface active agent (34% Polyoxyethylene Alkyl Ether, Fattyacid alkanolaminde, Alkyl Betaine) Water Softener (alkaline chemicals).
Product Description:
Removes remaining foundation quickly!

Keeps your makeup toos clean!

Safe cleaner mostly composed of detergent kind to the skin and sponges!

Disinfecting and Fragrance-free and contains no pigment.
Actual Product Pic:
Texture & Scent: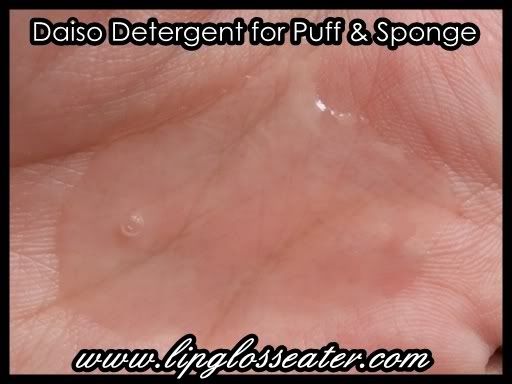 This "detergent" is basically liquid but it has a slight "gel" texture so it's not too runny (which i like!)! It has a funny scent to it which lingers on your brushes, so do check it out first before buying!
Packaging:
This comes in a squeezable plastic bottle with a flip top cap! I personally like the size of the dispensing hole because it's just nice to control the amount you wanna dispense! :D
Time Test:
It takes under 2 minutes to clean my face brush! :D
Price & Availability:
This product is priced at RM5 (US$1.35), which is ridiculously cheap. It should be available at most Daiso stores! :)
Usage:
I use this to clean my makeup wedges!
And although this states that it's for cleaning puffs and sponges, i find this superb for cleaning brushes too! :D
Ok, when my brush dried, i noticed that this made the white bristles on my 187SE look "limp". It's probably too harsh for brushes!!
Here's how i did it:
This is my dirty brush:
Pour some detergent unto your hand: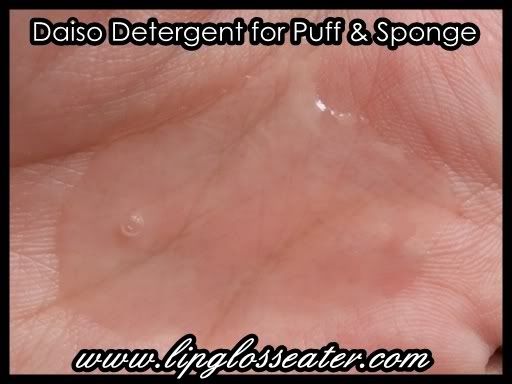 Then swipe the dirty brush to and fro on your hand for awhile (about 30 seconds):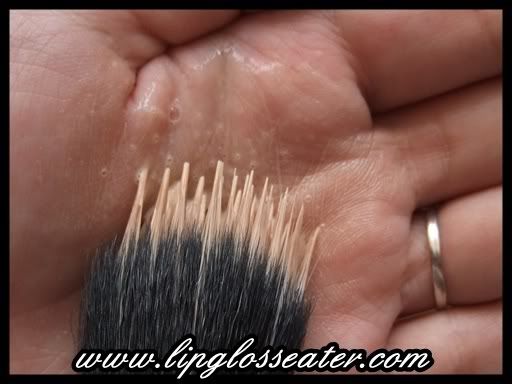 Run the brush under water for a few seconds: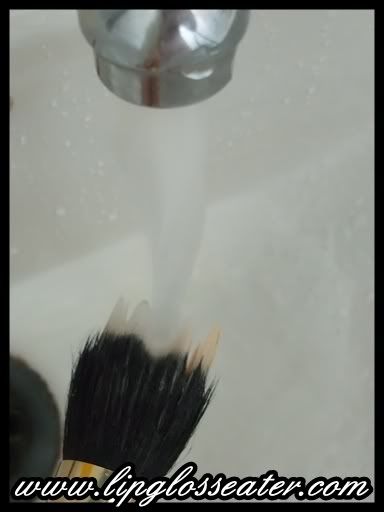 And swipe it around again on your hand for awhile more. Rinse your brush, and say hello to a clean brush: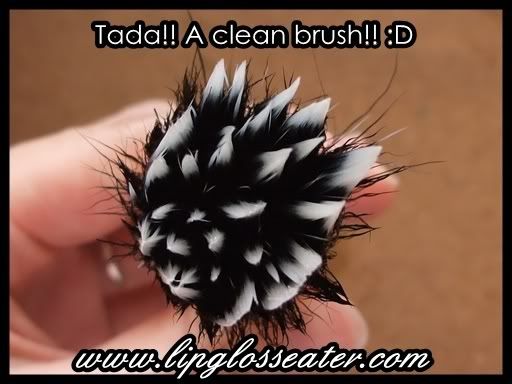 ps: remember to always lay your brushes flat whilst drying, and try not to get the ferrule wet whilst washing it to prevent shedding! :)
My $0.02:
I must say a HUGE thank you to the wonderful
Plue
for giving me a bottle of this to try out! :D Personally i won't even look at it if i were to come across it (i know, i know, im such a skeptic so sue me!)!! :D
I love how this one cleanses my sponges thoroughly of foundation! It rinses clean too!! The only thing i dislike about it is the scent!! Man, if they were to improve that, i'll be giving this product the full 5 stars! :D
Too bad this one seems a little too harsh for cleaning brushes!! Otherwise it'll make a wonderful (and a helluva cheaper) substitute for the
MAC Brush Cleanser
!
All in all, methinks that this is a great sponge cleanser with an amazing price tag!!