UPDATED 23/4/10: They changed the labels for this item, and there's a slight difference in the ingredients! But it still smells, feels, and works the same to me! :D
Sorry, i couldn't find a stock photo online! :(
At a Glance:Price:
140 Baht (approx. RM14.58 / US$4.05)
Website:
Bootsthai.com
Weight:
150ml
Made in:
Thailand
Likes:
Pretty scrubby for a foaming scrub, exfoliates well, lovely scent!
Gripes:
None
Repurchase:
Yes!
Jenn's Rating:
4.5 Stars! Me Likey! :)
Ingredients:
Old:
New: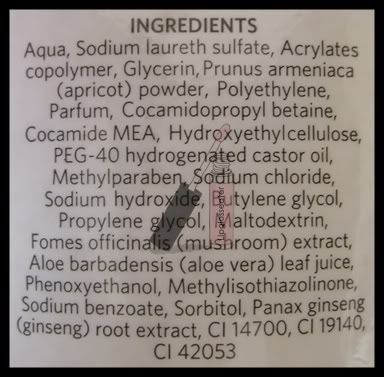 Product Description:
With natural extracts of mushroom and ginseng, Boots firming body scrub is specially formulated to exfoliate and firm your skin, whilst leaving it feeling soft, smooth and refreshed.
Actual Product Pic
Texture & Scent:
This scrub is like your usual foaming scrub, but it has lots of scrubby bits in it (more so than the usual ones!)! The apricot seed powders are just alright for me, but it may be a little harsh for those of you who prefer a gentler scrub! The scent smells like a mellowed down version of the CK be perfume from Calvin Klein, which is amazing!! :D
Packaging:
This scrub comes in a squeeze tube with a flip top cap.
The flip top cap:
The size of the dispensing hole is just nice to squeeze out the amount you like!!
The new packaging: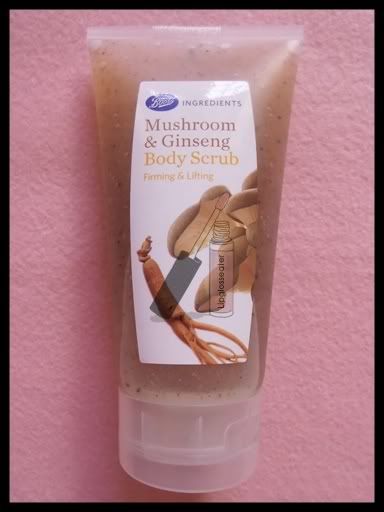 Price & Availability:
This scrub is priced at 140 Baht (approx. RM14.58 / US$4.05), and is available at all Boots outlets in Thailand.
Usage:
I use this as a body scrub! Methinks that this is great to use prior to shaving too! :)
My $0.02:
I got suckered into buying this when i saw the Buy 1 Free 1 sale at Boots when i was in Bangkok! This was already on sale at 100 Baht (approx. RM10.42 / US$2.89) only, but to get another one free at that price is really a steal! :D
I didn't place much hope in this product because in my narrow mind, house brands usually suck! But this one really surprised me!
It's really scrubby despite being a foaming scrub (unlike some
*koff TBS ones koffffff*
), which is great for me because i prefer my scrubs that way!! Also, i like that it exfoliates well but doesn't dry out the skin! And finally, the scent is really nice - like i mentioned above, it smells like the mellowed down version of the old CK be perfume by Calvin Klein!! hehehe!! :D
I regret not buying more of this one when i was there!! But rest assured that i definitely will the next time i'm there! :D