Some of you asked what camera i use to take the pictures here on my blog, so here it is:
The Fujifilm F100fd!
I personally love this camera because the colors are gorgeous, it has a pretty wide angle for a compact (28mm), and it's, well, compact! :D Here're some shots i've captured with this camera: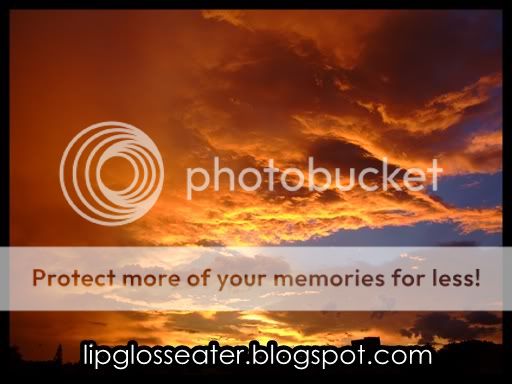 Sunset from my rooftop!
Oriental Village, Langkawi
Ebony Restaurant, Bangalore
The colors are amazing right? I absolutely love the Chrome function! lol!! The only thing i hate about this camera is the lousy battery life... even with a higher capacity battery, this one lasts less than 250 shots *tears hair out* I also didn't like how they removed the shutter / aperture priority modes! Oh well, you can't have everything i guess! :P
~.~
Kahani
asked to do a post on my photography techniques, so i thought i'd do a post on how to take pictures of swatches accurately!
Before we start, I'll have to say that the most important thing you probably need is good lighting! Personally i find indirect natural light (sunlight) without using flash produces the best pictures, so if you can, do take your pictures by a window during the day!
Also, do not be afraid to use the manual setting! I find that most of the time, the White Balance for the Automatic setting is a little off (pictures look "blueish") like this:
Versus the Manual (Custom White Balance) setting:
... which is definitely alot more accurate in terms of color! A whole world of difference right? :D
Ok i've been rambling on quite abit, so let's get started on the tutorial right away! You'll need:
- A digital camera (duh!)
- A piece of tissue paper / Kleenex
Ready? Let's begin! :D
1. Set your camera's "scene" mode to Manual:
2. Set your white balance mode to Custom:
3. You'll see this now:
3. Place the tissue paper where you'd place your arm later and "snap" the middle of the tissue paper
4. Press "ok and you're done! You may start taking photos now! :D
Note: You should only use the custom white balance setting for non-flash photography, if not you'll end up with this:
Looks like something out of a horror movie!! DON'T do this!! lol!! Use the Automatic setting for flash photography ya! :D
If you absolute MUST take your pictures with flash, here's a tip for you: Hold a piece tissue paper over the flash to soften your pictures!
This is taken with direct flash:
This is taken with the tissue paper diffused flash:
And oh, while taking swatches, the Macro function is your good friend!!
This allows you to go much closer to your swatches without the object being out of focus (blurry), so don't forget to turn that function on! :D
I hope some of you'll find this useful! Feel free to shoot me a question or two if you have any and i'll try my best to answer them! Feel free to share your tips and tricks on how you take your pictures with everyone too! Let's learn together! :D
Have a great week ahead everyone! :D