At a Glance:Price:
US$22 / RM95
Website:
Benefitcosmetics.com
Weight:
7g / 0.25 oz.
Made in:
USA
Likes:
Really does work to keep eyeshadows on! :D
Gripes:
Balls up when you rub too hard, a little hard to blend
Repurchase:
Probably no!
Jenn's Rating:
4 Stars! It does work! :D
Ingredients:
Cyclomethicone, French Chalk, Filtered Mineral Oil, Nylon-12, Natural Clay of Quaternium-18 Hectorite, Beewax, Tribehenin, Propylene Carbonate, Silica, PEG-4 Diheptanoate, Emulsifier of Sorbitan, Sesquioleate, Aluminum Myristate, Emollient of Dimethicone, Isopropyl Titanium, Trisostearate, Fragrance, Anti-Bacterial Agents of Methyl, Butyl, Ethyl & Propyl Parabens, Natural White Titanium Dioxide, Ethylene/Methacrylate Copolymer, Phenoxyethanol, Iron Oxides.
Product Description:
The Ultimate Eyeshadow Base.

The eye primer to prevent greasy, creasy eye lids! Stop eye shadow sliding with this apricot souffle primer. It locks on shadows and leaves a smooth satin finish so you look perfectly put together all day.
Actual Product Pic:
Color & Pigmentation:
In the pot, it's appears as an orangey beige, but it goes on almost nude on my lids!
This base does not make colors pop! In fact, i think it did mattify the color a little!
As you can see, the frosty sheen in the shadow kinda disappeared with this base. To overcome this problem, just dust on another layer of eyeshadow, and it should be fine! :D
Texture & Scent:
This eye base feels a little "siliconey" on. It's a little thick and hard to blend, so warming it up on your skin prior to applying this will make it a little smoother to blend. It DOES goop up when you rub too hard though. A little goes a looong way when applying this product! I don't like the scent of this one - it smells like an old lady's perfume! Thankfully we're applying this on our lids which is kinda far away from our noses so the scent can't be detected once on! lol!!
Packaging:
This eye base comes in a little glass jar with a screw on lid, which i don't really like for hygienic reasons!
The box it came in:
Time Test:
Other than very minimal fading, this eyebase really did make my eyeshadows last the whole day! :D
Price & Availability:
This eye base is priced at US$22 / RM95 (not sure if they have raised the price or not), and should be available at all Benefit counters as well as the Benefit website! :)
Usage:
I apply this prior to applying my eyeshadows.
My $0.02:
I bought this base to try after a friend's rave! She has pretty oily skin, and she swears by this eye base to keep her eyeshadows on the whole day. I was primarily using Silkygirl shadows at that time, and while they're really pigmented, they do not last even 6 hours on me! So i decided to give this a try and see if it solves the problem for me!
And solved the problem did it! This makes them last the whole day at work for me! :D To be honest i haven't really used this in quite a while ever since i
became a MAC addict
switched over to using MAC eyeshadows, which are really amazing in terms of lasting power (you'll see that later)! :)
Here's a little test i did with this base. Unfortunately i no longer have my Silkygirl eyeshadows (or any other drugstore brand eyeshadows), so i used my MAC ones. Hence let me clarify and say that this "test" may not be very accurate because:
1. I'm currently in Bangalore where the weather is pleasant (about 25-27C in the day) and dry (not humid) unlike home.
2. I do not have oily lids.
3. MAC eyeshadows do last quite long on me...
4. My tub is almost 2.5 years old, so maybe it kaput (disintegrated) abit already...
So here goes:
This is freshly done at 10:43am (FOTD
here
):
This is 6 hours later (and i did take a stroll outdoors to the mart nearby):
As you can see, both sides have faded a little (just a little i promise! It was cloudy when i took this photo hence the different lighting!) compared to the first picture, but there's no visible creasing! Although both sides look pretty similar, if you scrutinize, you can see that the highlight color has faded more for the bare (right) eye than the one with this base (left). At this point, i don't know whether to feel happy because MAC eyeshadows do last that long on my lids, or to feel sad because this base seemed a little pointless for me... -___-
And this is 12 hours later at 11pm:
This is where it "shines" a little (pun not intended, lol! Sorry about the shiny face, had to use flash because i can't seem to get a clear shot without it at night!)! lol! As you can see, the shadows on the right (especially the outer corner) faded a little more as compared to the one of the left. It also did creased a little at the midcrease for the bare eye while for the one with this base, the shadows are still pretty much intact! So *phew*, this one does work! :D
And just for fun, i did a little "rub test" - i tried rubbing it hard about 3x and see if it holds up:
The one with this base does hold up a little better! :D
And let's see if it lasts through water:
Not bad at all - both are still pretty intact!! :D
Let's rub it a little in water and see:
While both have visibly faded, the one with the base holds up a little better! :D
And finally, let's bring on the soap! I used the Dettol Sensitive Handwash!! lol!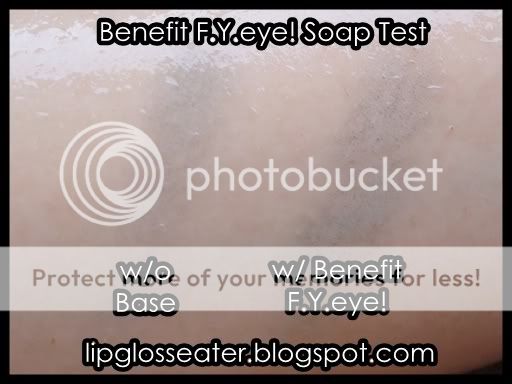 Both are almost gone now, but if you squint, you can see that there are still traces of shadow that was "stuck" in the creases of the base!! lol!! :D
So the conclusion is, it DOES really work to keep shadows on! I will not repurchase though because i don't really like the texture and the the fact that it's a little hard to blend. But do give it a try and see if it works for you or not! :D
Credits: Product photo from Benefitcosmetics.com.