ps: picture heavy. Please be patient!
The ARR collection finally launched here in Bangalore, so i popped by my local MAC store to have a look at them! Overall, i think i have only one word to describe this collection, which is
SHEER
!!
Let's start with the eyeshadows!
Et tu Bouquet
(Frost) - a lovely frosy pink. Quite sheer, but it's pretty! i may actually go back for this one! :D
Of Summer
(Satin) - a pale lilacky pink? This applies smooth, but is lacking big time in the pigmentation department!
Creme de Violet
(Frost) - a pinky violet. This doesn't behave like a frost at all and is a little chalky!
Silverthorn
(Veluxe Pearl) - silver! It's sooo pretty and it applies like a dream!! :D
Shadowy Lady
(Matte) - a dark matte purpleish black! Quite pretty and smooth, but this one's perm so no hurry in getting it :)
Pigments: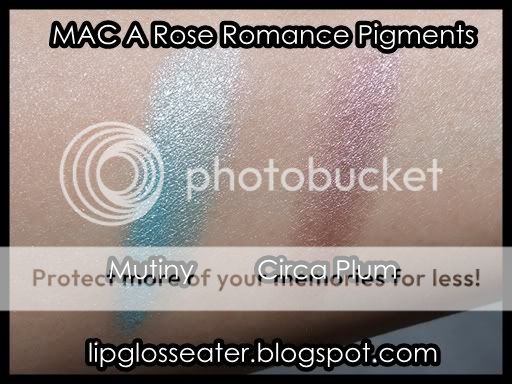 Mutiny
- a pretty light sky blue! A repromote from the Naughty Nauticals collection, this one's lovely! :D
Circa Plum
- a dirty frosty plum! This is repromoted from the Color Forms collection. It applies smooth, but I personally do not like this color though!
Lippies:
Way to Love
- peachy pink. It's kinda sheer, it took several swatches to show up!
A Rose Romance
- a sweet pink. Again, kinda sheer but better that Way to Love!
Odyssey
- a mid plum. This one's permenant! :)
Lipglasses:
Virgin Kiss
- a sheer pink. This applies almost clear with shimmers! It reminded me alot about the
Cherry Blossom lipglass
from the Cult of Cherry collection!
Steal My Heart
- it looks like a kinda bright red pink in the tube, but it goes on sheer!
Magnetique
- bright fuschia purple! It's pretty but i don't think i can carry this color off! :D
See Thru Lip Colours (such tiny things!):
Loving Touch
- a shimmery light pink!
Secret Crush
- a pale red. This went on a little streaky so i think blending it out with your finger is better!
Tender Tryst
- a shimmery dark red with a hint of brown (i'm bad at describing colors!)? This one's streaky as well!
Beauty Powders:
Summer Rose
- A purplish pink. This went on sheer but its really pretty!!!
Blush of Youth
- A peachy pink. This is even sheerer than Summer Rose but really pretty as well!! :D
Nail Lacquer:
Love & Friendship
- a pinkish purple. This one's slightly less streaky than the usual MAC Polishes, but it goes on sheer so you definitely need to pile on layers for it to look opaque! I'm wearing one coat in the picture above.
Fix+ Rose
- I was a little disappointed with this one... i would expect the rose scent to be stronger but this wasn't! I actually prefer the regular one!
Creations Hue: Dejarose Fragrance
- Despite a lot of people complaining about the scent of this, i kinda like it! It reminds me of Lovely Lace!! hahaha!! XD
We did not get Just a Pinch so no swatch and review for that! :(
~.~
So what did i get from this collection? :D
I got both the Beauty Powders and Silverthorn! I decided not to get Virgin Kiss because its really similar to Cherry Blossom! I also didn't get Way to Love because of how sheer it was (though it's pretty! :D). The Fix+ Rose didn't smell the way i imagined it to be, so i didn't buy that one as well. Finally, we didn't get the Just a Pinch gel blush, so it's money saved for me! :D
I got these from the BBR collection as well! :D
Femmi-fi and Henna shadows plus the 165 brush!!
And also, i'm soooooooooooo happy to know that they still had some stocks for Neo Sci-Fi stuff, so i brought this one home:
The Spaced Out Blush... so pretty!!! I can imagine myself using this one alot! :D
A family photo of my hauls today:
Ahahaha... very very happy but broke! :P And to think that Style Warriors AND Double Dazzle are coming out TOGETHER in two weeks time over here... *sweats* I think i'll probably reaaaally have to get a personal loan from those pesky bank telesales spammers! ahahaha! :D
Oh before i forget, i saw that they finally had some Hello Kitty flyer so i got one for myself! :D
Anddddddd
Plue
, here's your Pink Swoon:
Go dream about it already!! hahaha!! XD
~.~
On a different note, the TBS store at Garuda Mall finally opened! :D
I went and checked out the Bronze Glimmer lip and cheek stain. This looked sooo dark in the tube compared to pictures online! But sadly and strangely, this lip stain was soooo sheer on my cheeks that i can see are glitters!! :( So off it goes from my wish list!
I hope you've had a great weekend people!! Have a great week ahead too! :D