I finalllllllly got to check these two collections out!! :D
Ok let's start with Double Dazzle! :D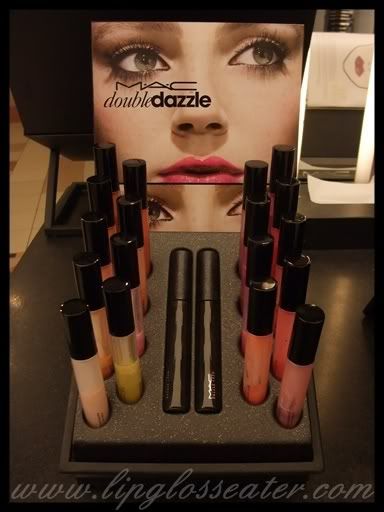 This collection features 18 dazzleglass and 2 dazzlelash mascaras. Some of the dazzleglass are repromotes from previous collections, and out of all these, Goldyrocks, Utterly Posh and Stop! Look! are LE! :D Sadly, for us Penang girls, EVERYTHING is LE!! They'll not bring in anymore stocks after they finish selling their current stash!! T_T
Ok let's go onto the swatches!! I apologize for the crappy swatches!! Some of these dazzleglasses are sheer, so they may look the same! lol! Also, the lighting in the MAC store is a little warm!
Finally, i hate it when they cut off the brush applicators of the testers... so hard to swatch with the stupid plastic stick!!
Do check out
Karla Sugar's swatches
... hers are amazing!! :D
Sugarrimmed
- Milky pale pink with red, teal and white pearl
This one's basically clear with pretty sparkles!
Goldyrocks
- Sheer soft yellow with pink and gold pearl (LE). I was a little disappointed with this one - i was hoping for it to be more pigmented but it was really sheer! :(
Moth to a Flame
- Sheer neutral beige with violet pearl. Methinks that this is a really lovely neutral color!
Like Venus
- Clean light bubble gum pink with red pearl. Very sparkly but a little too cool for my liking!! :D
Baby Sparks
- Pale pink with violet pearl
Ahhh, one of my most favouritest colors!! This goes with EVERYTHING!
Bare Necessity
- Caramel apricot with red and gold pearl. Another great nude! :D
Girl's Delight
- Sheer mid-tone tan with gold pearl. This would look great on darker lipes!
Utterly Posh
- Mid-tone orange with pink and gold pearl (LE)*
I was blown away by this one!! The color's gorgeous, and it's more pigmented than most! :D
Get Rich Quick
- Warm yellow brown* This color is more suited for pairing with dark lippies!! :)
Rags to Riches
- Plummy pink with teal and red pearl* I kind of regret not getting this one!! It's really gorgeous on its own!!
Smile
- Light coral with pink and gold pearl*
This color would brighten up any lips IMHO!! :D
Steppin' Out
- Clean yellow pink with red pearl*
A more pigmented one among the rest... the colors beautiful too!! :D
Extra Amps
- Sheer bright blue pink with blue and pink pearl. This one is a little too cool for my liking as well!!
Money Honey
- Mid-tone rosy mauve with red pearl. This one is very sparkly too!!
Funtabulous
- Purple with violet pearl* A gorgeous one to pair with your purple lippies!!
Love Alert
- Raspberry red with red pearl* Ahaha you can read my review for this one
here
.
Stop! Look!
- Sheer violet mauve with blue and pink pearl (LE). This one's a little blah! :P
Date Night
- Deep plum with blue and gold pearl* Another one to pair with your dark lippies! :D
Those marked with
are my favourites!! hehehe!! Also, those marked with * are more pigmented! :D
Personally i totally ADORE the dazzleglasses because they're just simply gorgeous!! :) Do check them out in person to see if they're for you or not, because i know some people do not like how shimmery / sticky they are!! Better hurry though, alot of them are almost sold out already!! :D
Onto Style Warriors! :D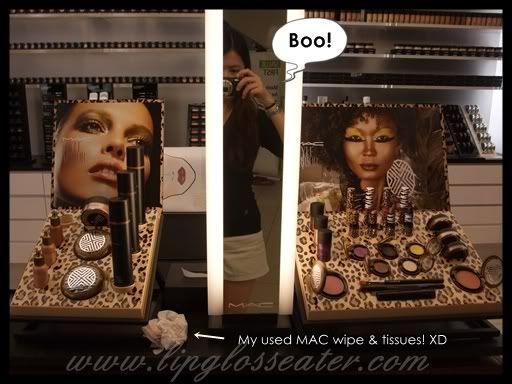 Ok, i knew the packaging was ugly from pictures, but i didn't know they were THAT ugly!! *tears hair out* The Celtic design coupled with animal prints makes my head spin!!
With that aside, the items themselves are actually not too bad!! :D The colors are definitely wearable (with the exception of the darkest lippie and lipglass), and their textures are really good too!! :D
Let's start with the lipsticks:
Sunsational
-Such a pretty and special nude!! It may not show up on darker lips though!!
Brave New Bronze
- This one didn't wow me as much as i thought it would! To me it's just another of those 10863 other nude shades there are out there!
Purple Rite
- Surprisingly this one turns pink on my lips!! :D
Tribalist
- Not for the faint hearted, this shade will definitely turn heads when you wear it out! lol!! :D
Lipglasses: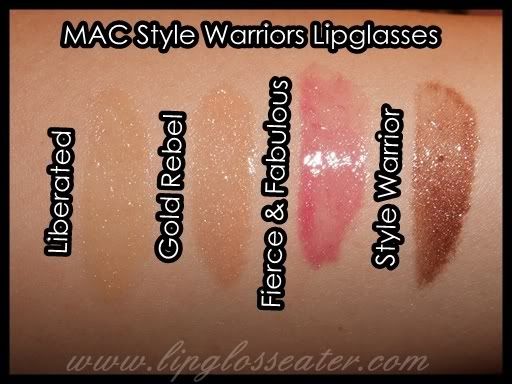 Liberated
- I wanted to skip this one initially because i thought it looked similar to Goldyrocks. But upon closer inspection, the difference is substantial enough to justify buying both!! It's gorgeous!! :D
Gold Rebel
- Another gorgeous gold shade!! I totally adore it! :D
Fierce & Fabulous
- This one's rather pigmented!! It makes the Purple Rite lipstick purple again!! ahaha!! :D
Style Warrior
- What a unique color!! Methinks that this one is more suited for WOCs! :D
Eyeshadows: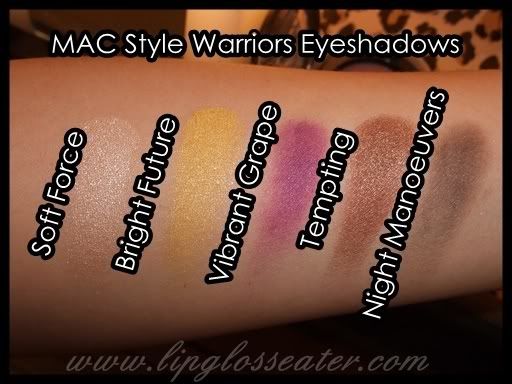 Soft Force
- A lovely highlighter shade! :D
Bright Future
- I LOVE this one!! MAC should totally make this permenant already! :D
Vibrant Grape
- The texture of this one isn't the greatest there is around, but the color's beautiful!
Tempting
- OMG this is like one of those rare lustre eyeshadow that applies beautifully!! The color's gorgeous too!!
Night Manoeuvers
- This one's a little chalky as well!!
Beauty Powder Blushes: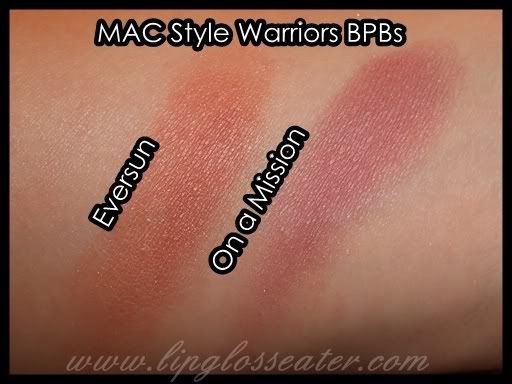 Eversun
- Read my review
here
On a Mission
- this one turns strangely peach on me!! What's going on?? lol!! :P
As with the rest of the beauty powder blushes, these two swatches smooooooothly!! :D
Solar Bits: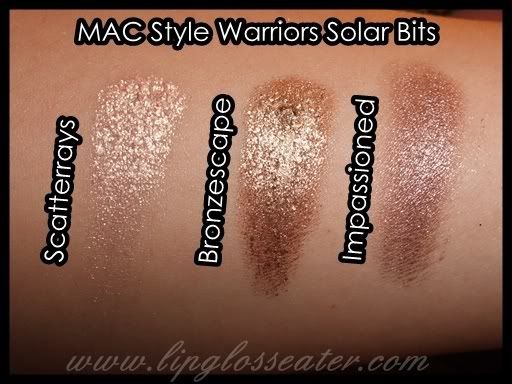 These are really beautifully actually... but the fallout could be a problem!! I for one don't think i can ever master how to use them!!
Bronzing Powder & Iridescent Powder Loose: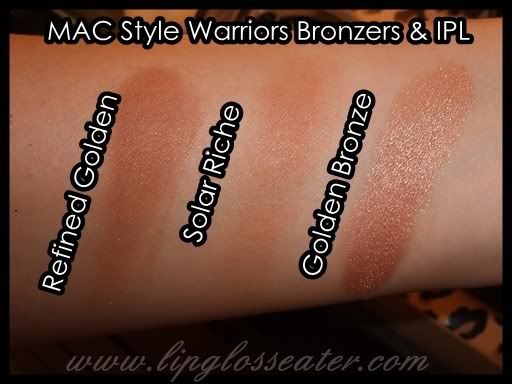 Not going to review the bronzing powders, but i have to say that the IPL looks absolutely gorgeous!! :D
Lustre Drops:
OMG these are dope in a bottle!! They make me look soooo radiant!! Too bad the one i want is out of stock... T_T
Nail Lacquers:
All one coat! :)
Peaceable
- very lovely nude shade!! It applies evenly as well!!
Mercenary
- nice bronzy shade!! :D
Violet Fire
- this one's meh... and it goes on steaky!!
What'd ya think of these two collections? Didcha get anything? :D
Ok thats all for now!! OMG it took me so long to type today's entries out... im getting old!! lol!! Have a great week ahead people! :D