ps: very picture heavy! Please be patient! :)
pps: Please DO NOT republish these photos without permission!

This time we'll be swatching all the lippies i have, so here they are! Hope somebody will find this useful! :D Once again, feel free to let me know if you need a side by side comparison or a lip combo, and i'll try my best to help! :)
For reference, this is my natural lip color:
...and all swatches are done on NC20-25 skin!
Ready? Let's Go! Click here to view all lipsticks! :D



MAC 1N Lipstick


Collection: N Collection (January 2008)
Color Description: Light frosted gold with pink pearl
Finish: Glaze






MAC Utterly Frivolous Lipstick


Collection: Fafi for MAC (February 2008)
Color Description: Rosy coral with pink pearl
Finish: Lustre
Full review






MAC Fleshpot Lipstick


Collection: Heatherette (March 2008), Pro (Perm)
Color Description: Light neutral beige
Finish: Satin






MAC

Melrose Mood

Lipstick


Collection: Heatherette (March 2008)
Color Description: Pastel pink
Finish: Amplified Creme






MAC

Lollipop Loving

Lipstick


Collection: Heatherette (March 2008), Sugarsweet (March 2009)
Color Description: Mid-tone coral with subtle green gold iridescence
Finish: Glaze






MAC Too Fab Lipstick


Collection: Dresscamp (April 2008)
Color Description: Intense mid tone yellow pink
Finish: Lustre






MAC Quiet, Please Lipstick


Collection: Cult of Cherry (August 2008)
Color Description: Sheer frosty pale beige
Finish: Lustre






MAC Crazee Lipstick


Collection: Cult of Cherry (August 2008)
Color Description: Frosty mid-tone coral red with pearl
Finish: Frost






MAC Cute-ster Lipstick


Collection: Hello Kitty (February 2009)
Color Description: Sheer peachy pink with pearl
Finish: Lustre






MAC Long Stem Rose Slimshine


Collection: Perm.
Color Description: Baby pink with gold pearl
Finish: Frost
Full review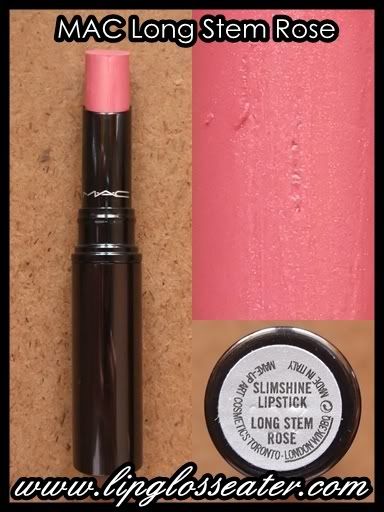 MAC Coral Polyp Lipstick


Collection: Dame Edna (December 2008)
Color Description: Creamy mid-tone coral
Finish: Amplified Creme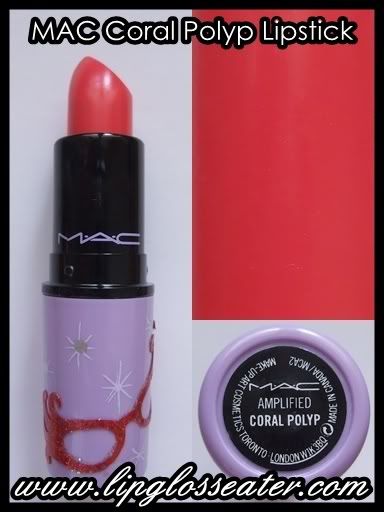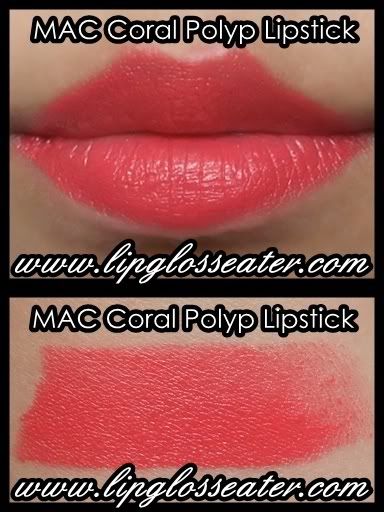 MAC Creme Cup Lipstick


Collection: Creme Team (February 2009)
Color Description: Light blue pink
Finish: Cremesheen






MAC Sunsational Lipstick


Collection: Style Warrior (May 2009)
Color Description: Sheer frosted beige gold
Finish: Frost






MAC Purple Rite Lipstick


Collection: Style Warrior (May 2009)
Color Description: Mid-tone frosty orchild
Finish: Frost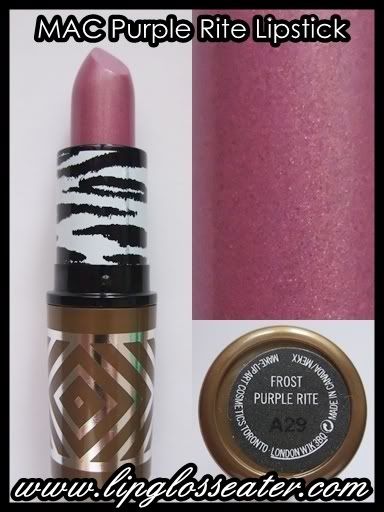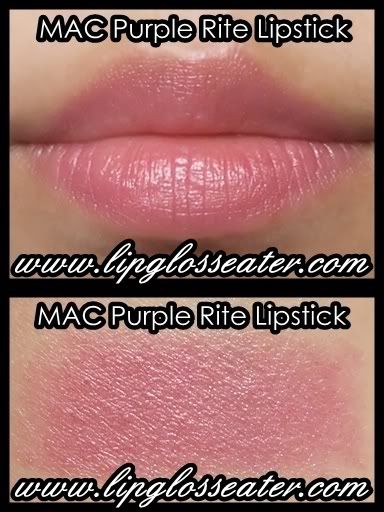 Want more? Up next will be the eyeshadows, so stay tuned! :D