ps: very picture heavy! Please be patient! :)
pps: Please DO NOT republish these photos without permission!

I noticed that there're lots of searches on swatches that lead to this blog, so i've decided to launch my very own "swatch thread" where I will swatch all the MAC items i have for your convinience! I hope this helps those of you who're looking for them! Also, feel free to put in a request for side by side swatches or lip combos (eg. Crazee lipstick + Sockhop lipglass)... i'll try my best to help! These posts will be updated everytime i buy something new from MAC, so keep checking back! :D
As for now, i will post primarily MAC items since this brand makes up about 90% of my makeup stash! lol! Hopefully in the near future i will have had acquired enough stuff from other brands to have their own swatch threads!! Wish me luck!! hehehe!! :D
Ok let's start with the lipglosses i have (which include the lipglass, lustreglass, dazzleglass and cremesheen glass)! For reference, this is my natural lip color:
And all swatches are done on NC20-25 skin!
Ready? Let's Go! Click here to view all swatches! :D
Lipglasses

MAC 2N Lipglass
Collection: N Collection (January 2008)
Color Description: Creamy neutral yellow pink
Full review






MAC Sugar Trance Lipglass


Collection: Fafi for MAC (February 2008)
Color Description: Creamy soft pink with white and rainbow pearl
Full review






MAC Cult Fave Lipglass


Collection: Fafi for MAC (February 2008)
Color Description: Blue mid-tone pink with white pearl






MAC Bonus Beat Lipglass


Collection: Heatherette (March 2008)
Color Description: Sheer yellow beige with gold pearlized pigments






MAC Starlet Kiss Lipglass


Collection: Heatherette (March 2008)
Color Description: Pastel pink






MAC Sock Hop Lipglass


Collection: Heatherette (March 2008)
Color Description: Soft mid-tone coral






MAC She-Gold Lipglass


Collection: Dresscamp (April 2008)
Color Description: Yellow gold with gold pearlized pigments






MAC Fashion Lipglass


Collection: Dresscamp (April 2008)
Color Description: Bright midtone pink with white pearlized pigments






MAC Cherry Blossom Lipglass


Collection: Cult of Cherry (August 2008)
Color Description: Sheer light pink with multi-dimensional pearlized pigments
Full review






MAC Shine Manish Lipglass


Collection: MAC Manish Arora (October 2008)
Color Description: Frosty bright orange with multi-dimensional pearlized pigments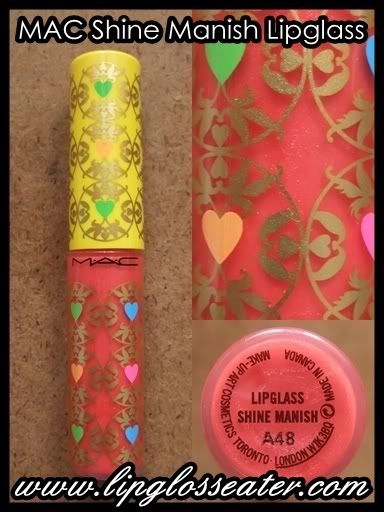 MAC Splendid Lipglass


Collection: Dame Edna (December 2008)
Color Description: Frosty pale pinky coral






MAC Live and Dye Lipglass


Collection: Brunette, Blonde, Redhead (January 2009)
Color Description: Cool pink






MAC Mimmy Lipglass


Collection: Hello Kitty (February 2009)
Color Description: Light creamy pink with pink and gold pearl






MAC Liberated Lipglass


Collection: Style Warrior (May 2009)
Color Description: Sheer yellow gold with pearl






MAC Gold Rebel Lipglass


Collection: Style Warrior (May 2009)
Color Description: Sheer copper bronze with pearl






MAC Fierce & Fabulous Lipglass


Collection: Style Warrior (May 2009)
Color Description: Bright magenta purple with pearl






MAC She's a Star Lipglass


Collection: Naked Honey (June 2009)
Color Description: Light neutral gold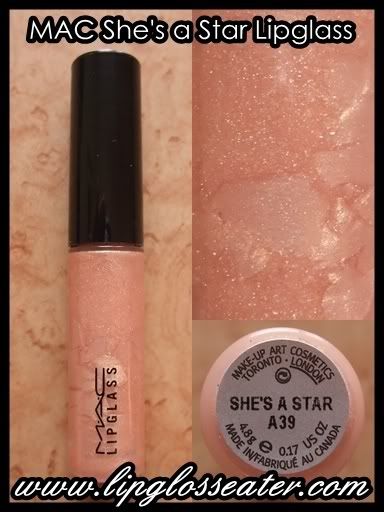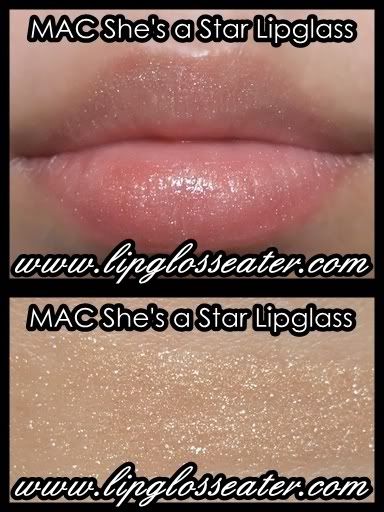 MAC Queen Bee Lipglass


Collection: Naked Honey (June 2009)
Color Description: Mid-tone apricot with multi-dimensional pearl


Lustreglasses

MAC Ensign Lustreglass
Collection: Naughty Nauticals (May 2008)
Color Description: Peachy pink with white and gold pearl


Dazzleglasses

MAC Sugarrimmed Dazzleglass
Collection: Red She Said (October 2008)
Color Description: Milky pale pink with red, teal and white pearl






MAC Baby Sparks


Collection: Dazzleglass (May 2008)
Color Description: Pale pink with violet pearl
Full review






MAC Love Alert Dazzleglass


Collection: Red She Said (October 2008)
Color Description: Raspberry red with red pearl
Full review






MAC Goldyrocks Dazzleglass


Collection: Double Dazzle (April 2009)
Color Description: Sheer soft yellow with pink and gold pearl






MAC Moth to Flame Dazzleglass


Collection: Double Dazzle (April 2009)
Color Description: Sheer neutral beige with violet pearl






MAC Smile Dazzleglass


Collection: Double Dazzle (April 2009)
Color Description: Light coral with pink and gold pearl







MAC Bare Necessity Dazzleglass


Collection: Double Dazzle (April 2009)
Color Description: Apricot with red and gold pearl






MAC Steppin' Out Dazzleglass


Collection: Double Dazzle (April 2009)
Color Description: Clean yellow pink with red pearl






MAC Rags to Riches Dazzleglass


Collection: Double Dazzle (April 2009)
Color Description: Plum-pink with teal and red pearl






MAC Utterly Posh Dazzleglass


Collection: Double Dazzle (April 2009)
Color Description: Mid-tone orange with pink and gold pearl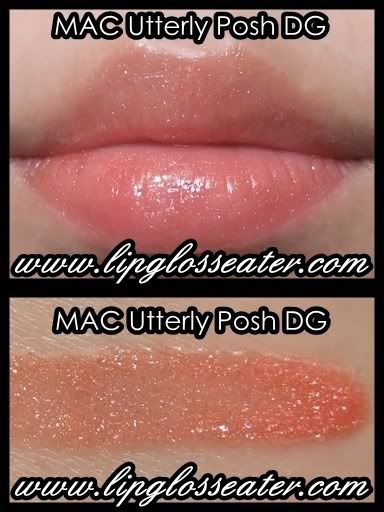 MAC Euro Beat Dazzleglass


Collection: Euristocrats II (July 2009)
Color Description: Peach coral with gold pearl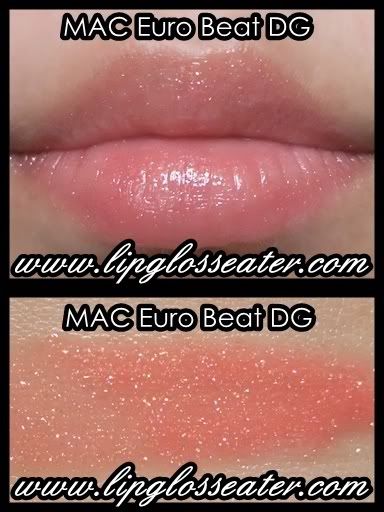 MAC Via Veneto Dazzleglass


Collection: Euristocrats II (July 2009)
Color Description: Light violet with blue pearl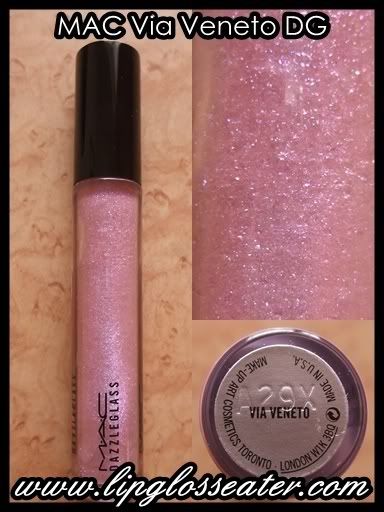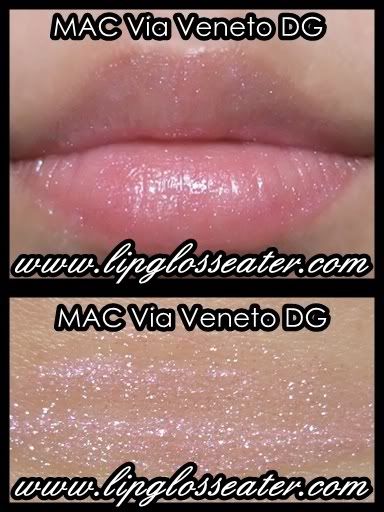 Cremesheenglasses



MAC Partial to Pink Cremesheenglass


Collection: Creme Team (February 2009)
Color Description: Light creamy yellow pink with light gold pearl





Up next is the swatches for the lippies so stay tuned!! :D