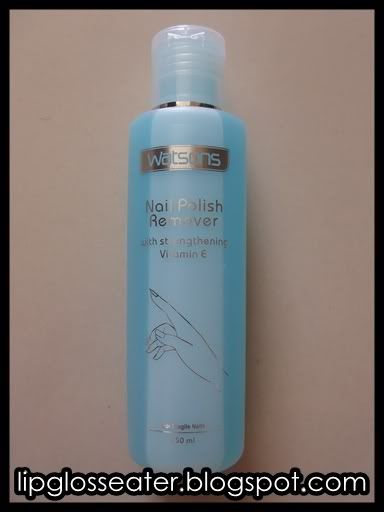 Sorry i couldn't find a official product photo online! :(
At a Glance:Price:
RM3.90 (approx. US$1.08)
Website:
NA
Weight:
150ml
Made in:
Malaysia
Likes:
Cheap
Gripes:
Does not remove glitters well, drying
Repurchase:
No!!
Jenn's Rating:
2.5 Stars! Mediocre stuff!!
Ingredients:
Acetone, Water, Glycerin, PEG-40, Hygrodenated Castor Oil, Vitamin E Acetate, BHT, Fragrance and CI42090
Product Description:
The Vitamin E enriched formula strengthens thin, fragile nails while removing nail polish gently and thoroughly.
Actual Product Pic: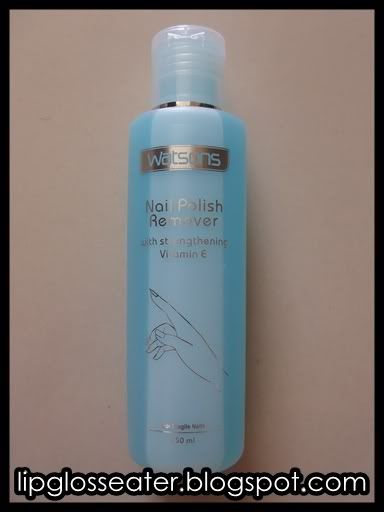 Texture & Scent:
This remover is basically liquid like the usual removers, so it's runny. It dries up incredibly quickly so you'll have to be fast! This one does have the usual acetone-y scent, but it's pretty mild.
Packaging:
This remover comes in a bottle with a flip top cap, which is usual and practical :)
Time Test:
This remover dries up in less than 15 seconds, so i find that i have to apply ALOT more to keep the cotton pad moist enough long enough to do the job! :(
Price & Availability:
This remover is priced at RM3.90 (approx. US$1.08), which is really cheap! This should be available at all Watsons outlets.
Usage:
As per the directions, just pour this unto a cotton pad, hold in place for a few seconds, and wipe off in one swift stroke.
The polish will be removed unto the cotton pad like this:
My $0.02:
I bought this nail polish remover for the heck of it, since it is so cheap and i hardly ever put on polish! lol!!
While it does it job fairly ok at removing polish, i find that this doesn't remove the glitters from your nail polish very well!! The glitters will remain "stuck" to your nailbeds! *slaps forehead*
This is after 2 attempts of removing them:
Please excuse my short stubby fingers... now you know why i don't bother putting on polish! lol!!
Those glitters did came off after the 3rd attempt (most of them anyway), during which i doused the cotton pad with ALOT of product!! Also, as you can see from the pic above, this polish gave my nails a "whitish cast", which means it's quite drying!!
I find that this dries up alot quicker than the usual nail polish removers too! So you'll have to really use quite abit of product to keep your cotton pad moist for long enough to remove whatever that need be.
Overall i'm a little disappointed with this product, and will not repurchase it for sure. The Silkygirl one is just slightly more expensive than this, and it does a great job so i'll probably stick to that one! :)