At a Glance:Price:
RM7.90 each (approx. US$2.19)
Website:
NA
Weight:
30ml
Made in:
Korea
Likes:
Brightens and moisturizes the skin well, you get ALOT of product!
Gripes:
Leaves skin rather sticky after application!
Repurchase:
Yes
Jenn's Rating:
4.5 Stars! Me Likey!! :D
Ingredients:
Water, Glycerin, Algae Extract, Aloe Beragel, Butylene Glycol, Dipropylene Glycol,
Witch Hazel Extract
, Extensin N-200, Trehalose, Natrosol 250, Phenoxyethanol, Caffeine, Methylparaben, Sodium Hyaluronate, Pearl Extract, Bird's Nest Extract, Allantoin, Dipotassium Glycyrrhizate, Disodium EDTA, Birdnest HB45328.
Product Description
For centuries, Bird's Nest has been recognised as one of the most valuable beauty supplements. With its nourishing power, Watsons Bird's Nest Essence Facial Mask leaves your skin silky smooth, with a natural radiance.
Other key benefits include:
Maintains skin's youthful glow and fairness
Energises skin to enhance natural resilience and preserve vitality of skin.
Each mask contains 30ml essence.
Actual Product Pic:
Texture & Scent:
My, you REALLY do get 30ml of product in this mask!! What i usually do is i will squeeze the foil containing the mask then put the mask out so that the excess essence will drip into the foil pack instead of all over the floor, but this mask STILL drips after i did that so you're really getting your money's worth! lol! This mask smells like some kinda perfume (which for the life of me i can't remember!! Grrr...), but the smell disappears quickly!
Packaging:
This mask is individually packed into a foil wrapping like your usual sheet masks. It also comes in a box of 6.
This sheet mask is a little big for my face, hence it doesn't fit very well! Here's how it looks on my face: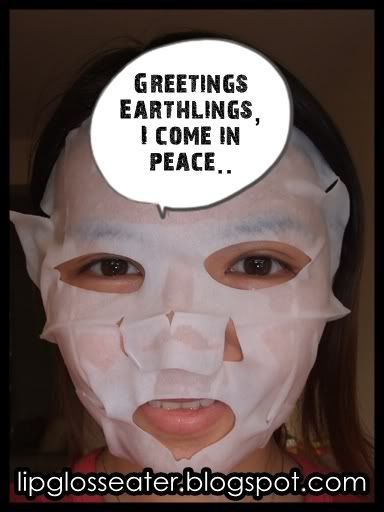 I look like an alien this time!! lol!! :D
Time Test:
15-20 minutes is all you need to use this mask! :)
Price & Availability:
This mask is priced at RM7.90 each, and should be available at most Watsons outlets in Malaysia, Singapore, Thailand and the Philippines! :)
Usage:
I usually use my sheet masks after a deep cleansing mask like a clay mask or the aspirin mask to moisturize my face! I also use it on its own sometimes as a treat! :D
Tip: Do store your masks in the fridge before using for an ultra-relaxing treat! :D
My $0.02:
I bought this mask on a whim, since i've heard raves for it and decided "what the heck"! lol!! :D This mask isn't exactly cheap for a house brand, but i'm really impressed by it!! First of all, like i've mentioned above, you really get ALOT of essence with this. I wiped my entire body with the remaining essence and it's still quite moist after that!! Amazing!! I also like how glowy and plump this made my skin felt!!
The only thing i didn't like about this mask is that it leaves your skin feeling rather tacky!! That shouldn't be a problem for those who sleeps in an air conditioned room, but for those who don't (or are going out after this, or just simply do not like the sticky feeling) you may want to rinse your face after using this mask!! :D The stickiness does disappear after 15 minutes or so though! :)
Here's how i look after using this mask: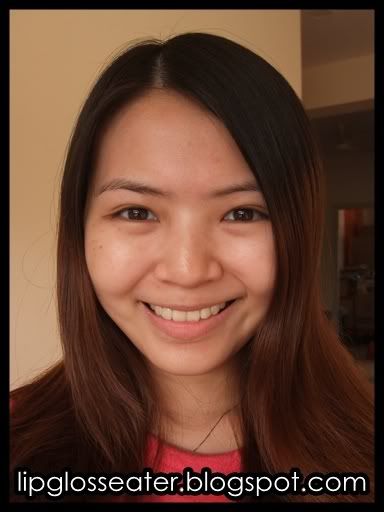 See how glowy my face is? :D If you squint, you can still see the tacky essence on my skin though!! :D
Overall, methinks this is a great drugstore mask that works beautifully! I will repurchase for sure! :)
Credits: Product photo from Crescent_Shadow @ Makeupalley.com