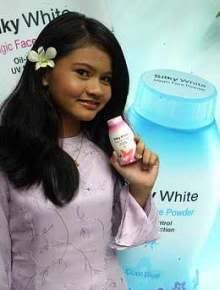 This is Sharifah Aryana, the little sister of Sharifah Amani and Sharifah Aleya! Isn't she adorable!! :)
At a Glance:Price:
RM3.90 (approx. US$1.08)
Website:
Silkycosmetics.com
Weight:
50g
Made in:
Thailand
Likes:
Cheap, easily available
Gripes:
Mediocre lasting power and oil control.
Repurchase:
No
Jenn's Rating:
3.5 Stars! Not bad!!
Ingredients:
Talc, Cyclomethicone, Fragrance, Triclosan, Titanium Dioxide, Zinc Oxide. May Contain: Ultramarines, Red 27 Lake.
Product Description
Skin is

shine-free

with oil-control properties.

Protects skin from harmful rays with

UV protection

.

With whitening properties for a

fairer skin

.
Actual Product Pic: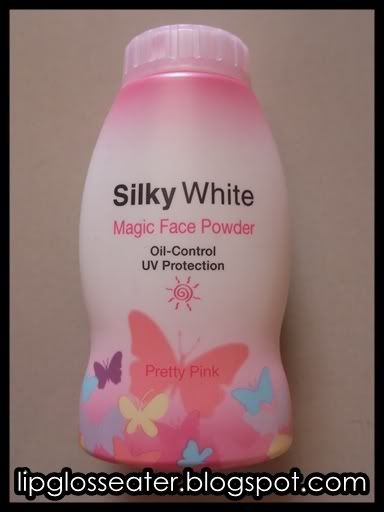 Pigmentation & Color:
I bought the "Pretty Pink" one! Much like the Pond's one, although the powder is pink, it goes on pretty much clear (unless you apply too much of course, then it'll be WHITE! lol!):
Texture & Scent:
This powder is coarser than your usual face powder, but it does give a flawless finish once you apply it. This smells like baby powder, which is don't really like, but am ok with! :P
Packaging: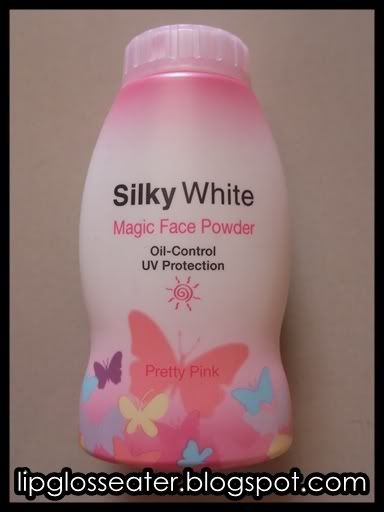 This powder comes in a bottle with a twist top cap like your usual talcum powder. I know alot of people complain about the packaging, but i happen to really like it because it's so travel friendly! :)
The dispensing holes:
Time Test:
This powder lasts about 4-5 hours on me before i need to reapply, which i felt was a little short! :(
Price & Availability:
This powder is priced at RM3.90 (approx. US$1.08), which is really affordable! This should be available at all Silkygirl counters at most Watson's / Guardian outlets! :)
Usage:
I use this as a finishing powder.
Click here for a step by step guide on how i apply this! :)
Possible Dupes:
This is straight out a dupe for the much raved about Pond's Magic Powder! lol!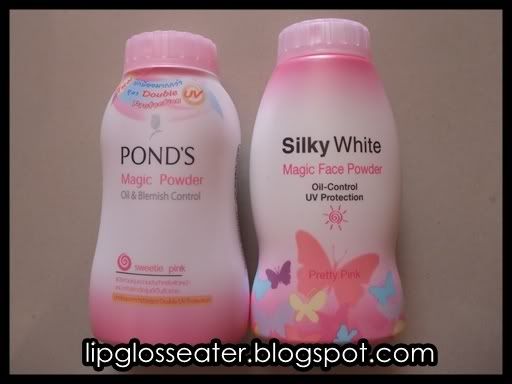 From their names (Pretty Pink vs. Sweetie Pink), to their packaging, to even their price! :D
Unfortunately, this falls a little short of the aforementioned one. I find this a little harder to blend, plus this doesn't last as long. The most significant difference is the oil control properties... this one doesn't work as well as the Pond's one! :(
My $0.02:
I admit I'm a little biased against this powder from the very beginning, since i have tasted the goodness of the original Pond's one! I'm trying very hard to refrain from comparing this to the Pond's one for this review, but as you can tell, i failed. lol!!
Truth be told, this is actually not as bad as it sounds. On the face, it gives a very smooth appearance. It's a pity that it doesn't last long.
Here's a pic of me wearing this:
It looks quite smooth right? lol!!
All in all, i think this is an ok product that's worth a try and see (since it's so cheap!). Who knows, you may like it! :D
ps: For you girls who like a little bling in your powders, there is a TWINKLE version of this, which has pretty silver flecks in it! Methinks that this version is perfect for a night out dusted all over your body! :D
Don't apply this on your face though... it's a little OTT for that... :P
Credits: Photo from
Thestar.com.my
.