Sorry, i couldn't find an official product picture for this! :(
At a Glance:Price:
26 Baht (approx. RM2.60 / US$0.70)
Website:
NA
Weight:
50g
Made in:
Thailand
Likes:
Powder is relatively fine, keeps face matte the whole day!
Gripes:
You'll get a whitish cast if you overapply! :P
Repurchase:
In a heartbeat!
Jenn's Rating:
5 Stars! My Holy Grail "travelling" powder!!
Ingredients:
Talc, Triclosan, Fragrance, Micronised Titanium Dioxide, Zinc Oxide.
Product Description
I'm really really sorry that i can't provide the description because i don't understand Thai! Here it is: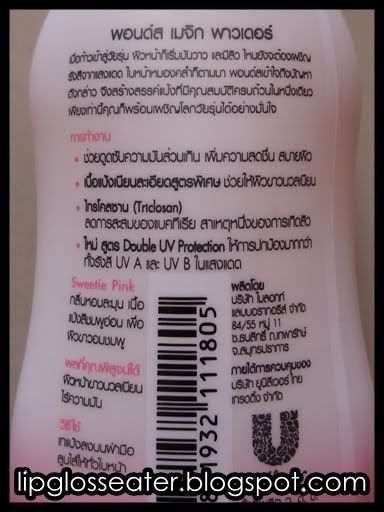 Any kind souls care to translate the above for us? :)
Actual Product Pic:
Pigmentation & Color:
I'm using the "Sweetie Pink" one. Although the powder is pink in color, it appears whitish on my face! Don't worry though, once you blend it in, it's virtually invisible:
Just remember NOT to overapply, otherwise you'll get a scary whitish cast on your face!! Not pretty!! :P
Texture & Scent:
This powder is not as finely milled as your usual loose powders, but it is surprisingly quite fine actually when you smooth it out! It smells quite strongly of baby powder + somekinda floral which i don't really like, but i got used to the smell already! :)
Packaging:
This powder comes in a bottle with a twist top cap like your usual talcum powder. I know alot of people complain about the packaging, but i happen to really like it because it's so travel friendly! :)
The dispensing holes:
Time Test:
This powder lasts about 6-8 hours on me, and it keeps my face matte that whole time! :D
Price & Availability:
This powder is priced at 26 Baht (approx. RM2.60 / US$0.70) each, which is ridiculously cheap for such a great product! :D Sadly, this is only available in certain Watson's outlet in Bangkok, so do stock up if you happen to be there! :)
Usage:
This is the powder i bring along for my travels because it controls oil so well and its so cheap (so i won't be bummed if i lost it!)!
Here's a step by step guide on how i apply this powder:
Step 1: Pour some powder on your left palm (or right if you prefer! :D):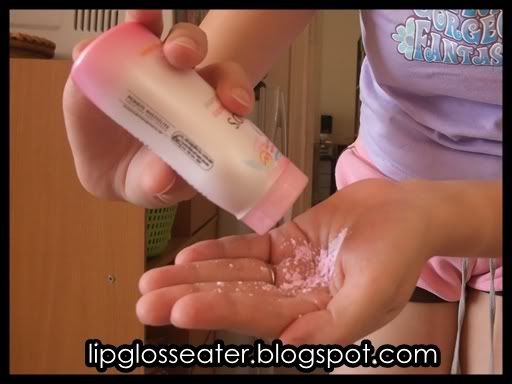 Step 2: Clasp your hands together to get the powder on both palms:
Something like this:
I know my right hand (your left) has less powder than the right, but that's because i had to control the camera timer with my right hand, so some of the powder fell off. Needless to say my camera smells like baby powder after this! lol!! XD
Step 3: Pat the powder all over your face with your palms:
Just ignore my microwave oven at the back! lol! :P
Looks something like this: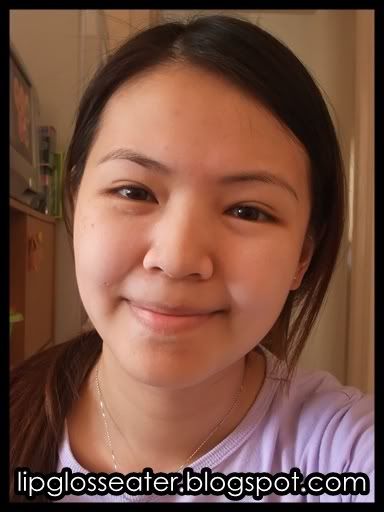 Yeah i know it's patchy and uneven blablabla, but it's no biggie! Just blend with your fingers / sweep off the excess, and viola:
Say hello to a smooth powdered face! lol!! :D If you think the powder looks too white for your face, just lightly spritz a little water on your face and smooth it out. It should look better!
A LITTLE WATER
here are the keywords... too much water and the powder will clump up and look horrible on your face!! :)
Ok i admit, i'm a lazy person so this method works fine for me. So to those of you who prefer using a fluffy brush to apply this, do decant some of this into an empty tub ya! :D
Possible Dupes:
Ok, you girls have probably seen THIS lying around in Watsons / Guardian: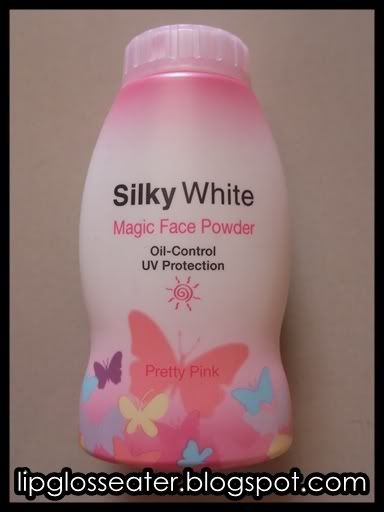 It looks sooo similar to the one i'm reviewing right??? Here's a pic of them side by side: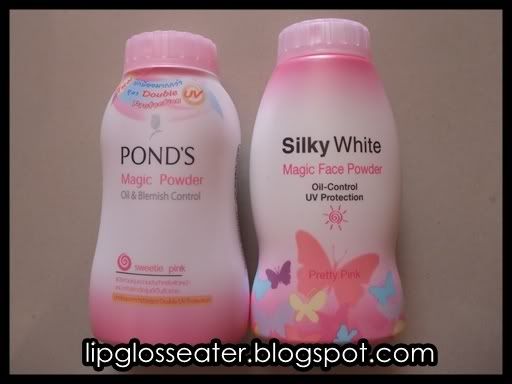 They're like sisters!!
These two look, smell and are priced almost similarly (the Silky White one is RM3.90 if you're wondering!)! The main difference between these two is that the Silky White one contains
Cyclomethicone
, which is supposed to give the powder a "silky" feel to it. Unfortunately, i think this is the cause of it not being able to control oil as well as the one we're reviewing now. Also, this may be the cause of it not lasting longer as well! It's just my uneducated guess, lol!!
Texture wise, the Silky White one requires a little more work to blend properly. Scent-wise, i don't like either since they both smell basically like talcum powder, lol!
So the conclusion is, the Silky White one is good, but this one is much better! Hehehe!! :P
My $0.02:
I know i HAD to get this powder after reading so many raves about it! And i have to say that i'm NOT disappointed!! :)
Ok, i know this has been a REALLY long review so i'll just skip the blabla and let the picture below do the talking. This is me in Safari Park, Bangkok, after 5 hours of baking in the hot and humid 36C weather:
As you can see, my face still looks pretty matte! Can we say
Amazing
? :D
It's dirt cheap, and it works great, so whats not to like? I'll keep on purchasing this until they *touches wood* discontinue it. Scratch that. I pray that they don't ever stop producing this amazing product! :D