At a Glance:Price:
RM11.75 (approx. US$3.26)
Website:
Nexcare-acnepatch.com
Weight:
36 pcs
Made in:
NA
Likes:
Sucks out the pus from pimples, great way to prevent contamination from touching!
Gripes:
Does nothing for "headless" pimples
Repurchase:
No
Jenn's Rating:
4 Stars! Me Likey! :D
Ingredients:
Polyisobutene, Polyisoprene, Cellulose Gum, Croscarmellose.
Product Description:
You don't have to cancel all your date and hide in the room. Use Nexcare™ Acne Patch to get rid of your acne problem.

Nexcare™ Acne Patch is a water-based material that absorbs the oil secretion and pus from your acne. It also acts as a protective layer that prevents bacteria infection.

With Nexcare™ Acne Patch, you can treat your acne and meet your friends with confidence!

Features:
Waterproof and breathable
Prevents infection
Fast absorption of oil secretion
Soothes burns and aches
Convenient & easy application
Actual Product Pic:
Texture:
This patch feels kinda "springy" and it's thicker than the usual band aids! It adheres to your skin well (make sure that the area's dry before applying!) and it stays on the whole night! The instructions say that you should apply this patch before makeup, but i DO NOT recommend wearing this patch out because yes, people CAN see it from a mile away:
I censored my face because i look really constipated *slaps forehead*
Packaging:
I bought the pack of 36 one. It comes in a yellow cardboard box! The actual patches are found in a sterile pack within:
The patches:
This pack of 36 ones have patches of two sizes, so use them according to the size of your pimple! :D
Time Test:
It took only one night for this patch to get rid of all the pus from my pimple!!
Price & Availability:
This pack of 36 costs RM11.75 (approx. US$3.26). There're also the pack of 7 which costs RM3.80 (approx. US$1.05) and the pack of 18 which costs RM6.70 (approx. US$1.86). They're available at most Watsons outlets.
Usage:
I stick this over pimples that have a "head"!
My $0.02:
I bought this after i tried out the
Garnier Pure SOS Blemish Clear Pen
. While it did work fast to make my zits less angry, it took almost 2 weeks to clear off all my acne, which is really just too long! I've been seeing this around in Watsons for sometime, and so i decided to give it a try!
I'm glad to report that it DOES work wonderfully, BUT ONLY on those pimples with a "head" aka pus aka "riped ones". Within one night, it sucks out all the pus into the patch:
It's not very nice to look at, but you get the point. lol!
However, it does nothing for my pimples after that. Pics to prove: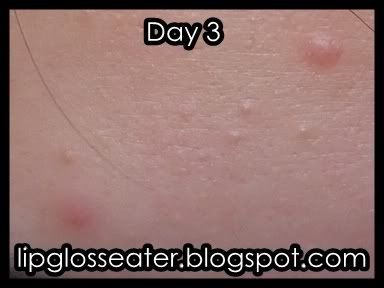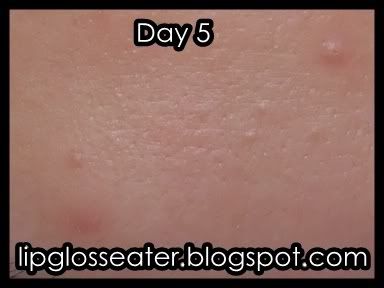 As you can see from the pics above, the "head" disappeared after one application, but 5 days later, those "bumps" were still there!! Bummer...
So my conclusion is, this is a wonderful solution for those of us who LOVE to pop our pimples! Since squeezing zits (though fun!!) causes bacteria contamination and sometimes leaves a scar, this is a perfect way to prevent that yet still gets rid of all that gunk! I will not repurchase this simply because i find that the
Queen Helene Mint Julep Mask
works better and faster to heal my pimples completely!
Read what the other bloggers have to say about this product:
Beetrice from Beetrice's Reviews
Connie from Skin Deco
Kahani from So Loverly
Credits: Product photo from Nexcare-acnepatch.com.