At a Glance:Price:
RM95 / US$21
Website:
Maccosmetics.com
Weight:
150ml / 5 US Fl. Oz.
Made in:
Japan
Likes:
Removes stubborn makeup effectively, gentle on skin, mineral oil free!!
Gripes:
Pump takes some getting used to, clouds your eyes whilst cleansing! :P
Repurchase:
YES!
Jenn's Rating:
5 Stars! HG Stuff!!
Ingredients:
Cetyl Ethylhexanoate, Olea Europaea (Olive) Fruit Oil, PEG-20 Glyceryl Triisostearate, Squalane, Simmondsia Chinensis (Jojoba) Seed Oil, Triticum Vulgare (Wheat) Germ Oil, Oryza Sativa (Rice) Germ Oil, Tocopherol, Chamomilla Recutita (Matricaria) Flower Oil, Citrus Aurantium Amara (Bitter Orange) Oil, Lavandula Angustifolia (Lavender) Oil, Oenothera Biennis (Evening Primrose) Oil, Water / Aqua / Eau, Rosa Canina (Rose) Fruit Oil, Limonene.
Product Description:
An industry-strength oil-based makeup remover that's gentle on the skin. Botanically formulated with oils of olive fruit, evening primrose and jojoba seed and absolutely 100 percent mineral-oil free. Massages onto the skin to loosen all makeup, including waterproof mascara. Emulsifies into a lotion-type liquid with water: rinses off easily, no tissues required - and no residue! Protects with vitamin E. Skin softening and conditioning. Good for all skin types.
Actual Product Pic:
The box it came in: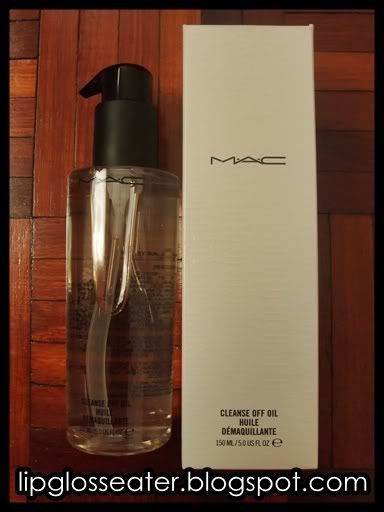 Texture & Scent:
This cleansing oil is, well, oil, so its rather runny and it spreads well on your face. It has a citrusy scent that is unlike any other (undeniably MAC)! lol! Be careful though if you're allergic to Bitter Orange Oil, Lavender Oil or Jojoba Oil!
Packaging:
This cleansing oil comes in a clear bottle with a pump dispenser, which is really great! The pump, however, needs some getting used to! Press too hard, and you'll squirt the oil all over your sink / floor!
The pump dispenser: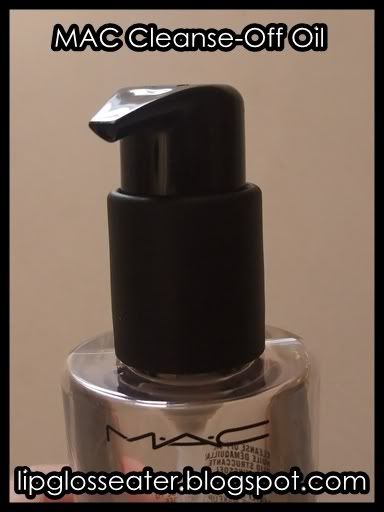 Time Test:
As with all cleansing oils, this requires a little time to massage it about your face. It usually takes me less than 5 minutes to remove all traces of makeup from my face!! :D
Price & Availability:
This cleansing oil is priced at RM95 / US$21, and is available at all MAC Stores / Counters and on
Maccosmetics.com
Usage:
I use this as a facial cleanser to remove my sunblock, as well as a makeup remover! This also makes a perfect brush cleanser, especially for concealer / foundation brushes! :D
Here's a step by step guide on how to use a cleansing oil on your face:
IMPORTANT: Make sure that your face is COMPLETELY DRY, otherwise this wouldn't work!!
This is my makeup plastered face (FOTD
here
):
Step 1: Pump some of the oil unto your palm:
I usually use one full pump to cleanse my face, and two to remove makeup. You may use lesser or more depending on how heavy your makeup is! :D
Step 2: Dip your middle finger into the oil and gently spread it over your eye area. Spend some time massaging the oil around the area, and soon enough you'll see the makeup coming off. Repeat on the other eye when done.
After this step, you may feel that your eyes are clouded up. This is normal! Just wash your eyes with plenty of water (when you wash your face later after Step 4, not now!! :D) and the cloud will be gone! :)
Step 3: proceed to spread and massage the oil all over your face (and neck):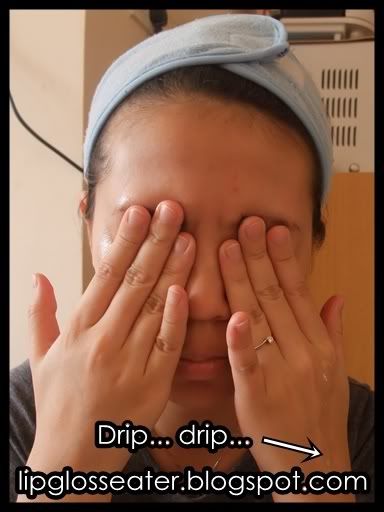 You'll look something like this when you're done massaging your whole face:
Looks like i just stepped out of a coal mine! lol!!
Step 4: Wet your palms: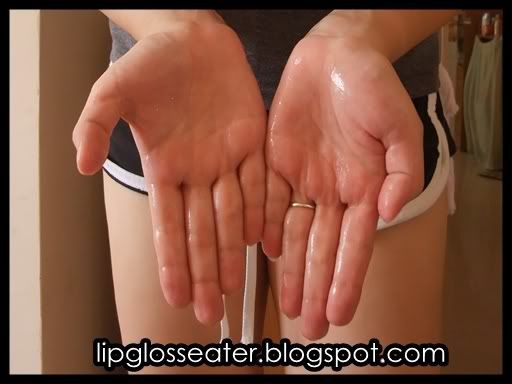 and massage your wet palms all over your face to emulsify the oil: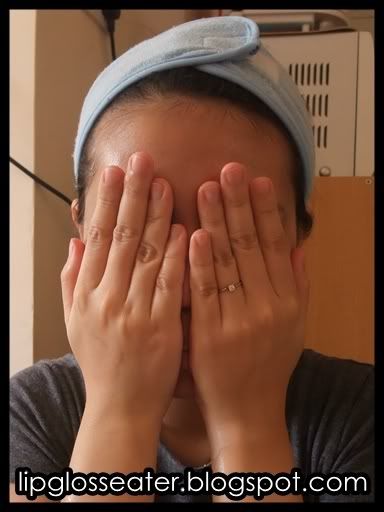 The oil will turn white like this: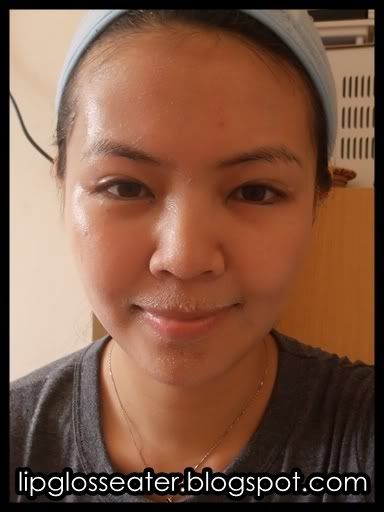 Just wash the emulsion off your face and say hello to a freshly cleansed face: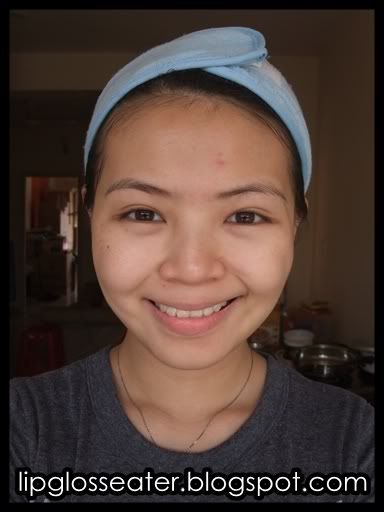 Waterproof mascara, check! Liquid Liner, check! Lipstick, check! All gone! :D I wish i could show you how soft my skin felt after this though!! I can't stop touching my face! hahaha!! :P
Ps: you may follow up with your usual cleanser after this. I don't do that because i find this does a good enough job to clean my face already! :D
Here's another step-by-step tutorial on how to use this cleansing oil as a brush cleanser!
What you need:
1. This oil
2. A kitchen towel or rag (Tissue paper would do if you don't have those two like me).
3. Water to rinse your brush.
Here's my dirty MAC 239 shadow brush that i'm gonna clean:
Step 1: Dispense some oil unto the brush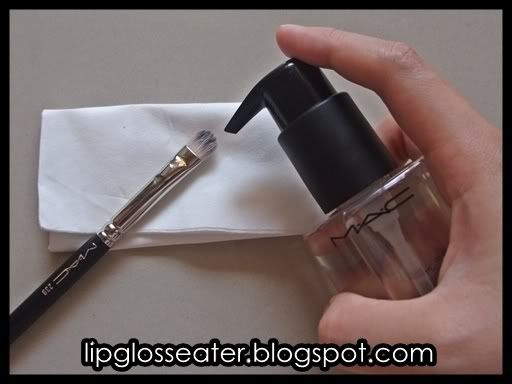 Step 2: "scrub" your brush against the tissue / kitchen towel / rag
You'll see all the gunk coming out of your brush:
ps: you can see the tissue "disintegrating" a little already, thats is why a kitchen towel / rag would be a better choice for this!!
Step 3: Keep scrubbing until your brush looks clean again: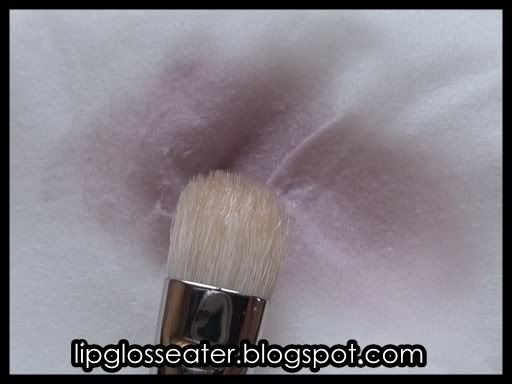 Step 4: Rinse your brush under running water: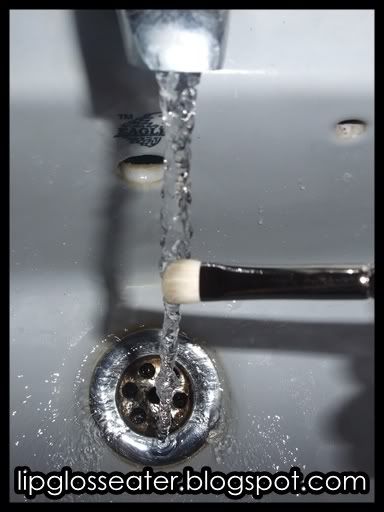 Step 5: Swipe your brush back and forth on a tissue / kitchen towel / rag, making sure that there's no residue left behind. You may want to repeat steps 4 and 5 several times to make sure that your brush is not "oily" :D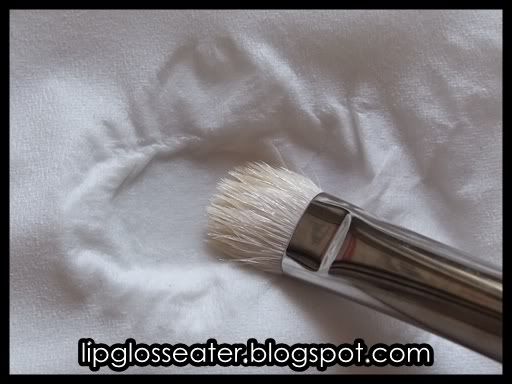 And that's it, say hello to a clean brush: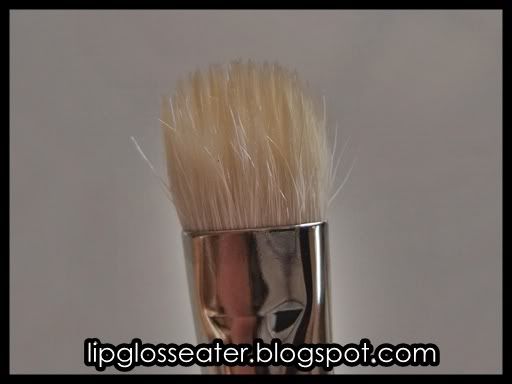 Just to be sure that all the oil / gunk has been removed from your brush, you might want to follow up with the
Mac Brush Cleanser
(or any other brush cleansers / baby shampoo). Remember to always lay your brushes flat, and don't get the ferrule wet whilst washing them to prevent shedding! :)
My $0.02:
I was given a sample of this during the Barbie Loves MAC event two years ago. I was complaining to my MA on how difficult it is to remove the LiquidLast liner and she recommended this to me. True enough, it really takes off EVERYTHING within minutes, and my face felt soooo soft after that!! No kidding!
This also makes a wonderful brush cleanser, especially for those brushes for emolient products like foundation, concealer and liquid liner!
I'll probably repurchase this when i run out because this doesn't contain mineral oil! From that i know, the Shu ones does contain MO so i'm not too keen on trying that out! I guess i'll stick to this then, since it works so beautifully on me! :P
Credits: Product photo from Maccosmetics.com.