At a Glance:Price:
RM100 (approx. US$27.77)
Website:
Lancome.com.sg
Weight:
125ml / 4.2 Fl. Oz.
Made in:
France
Likes:
Removes waterproof makeup effectively, very nice smell!
Gripes:
Leaves an oily film on skin, does not remove glitters well
Repurchase:
No
Jenn's Rating:
4 Stars! Me Likey
Ingredients:
NA
Product Description:
A MAKE-UP REMOVER SOFT AS A CREAM, EFFICIENT AS AN OIL, LIGHT AS A MILK

All skin types, even sensitive.
Rinse off.

Its unique texture melts from balm to oil to milk and gently liberates the skin from impurities and toxins deep inside. Wipe off, or rinse off to discover the transformation of oil into milk – maximum efficacy in a cocoon of softness. Face, eyes and lips.
Actual Product Pic: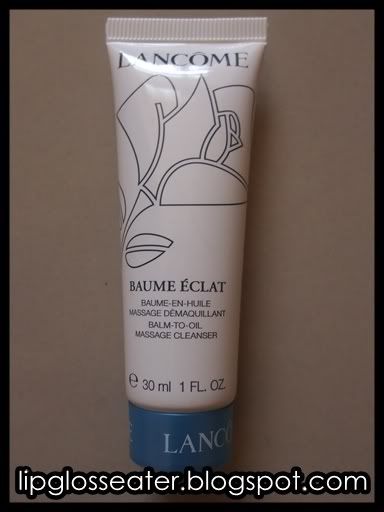 Texture & Scent: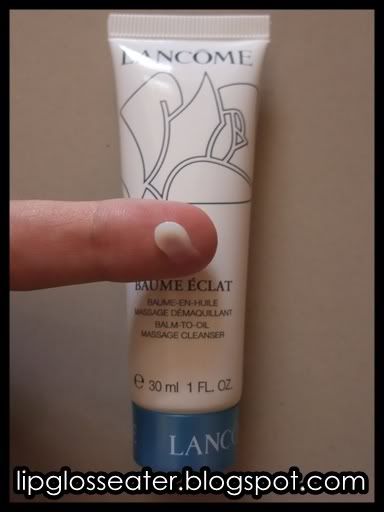 This cleanser starts out as cream, so it's a little solid. After massaging it around, the cream will feel more and more oily, and when it finally mixes with water, it emulsifies. This cleanser has a really lovely scent that i like! However, try NOT to get any of this cleanser into your mouth while washing it, because it leaves a horrible taste in your mouth for a good 15 minutes!! Yuck!!
Packaging: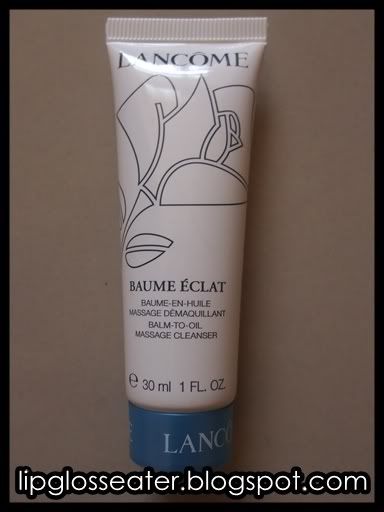 The tube i have is a sample, but it looks somewhat like the real thing. I'm hoping that the real one has a small opening like this one instead of a huge one like the
Neurowhite facial cleanser
: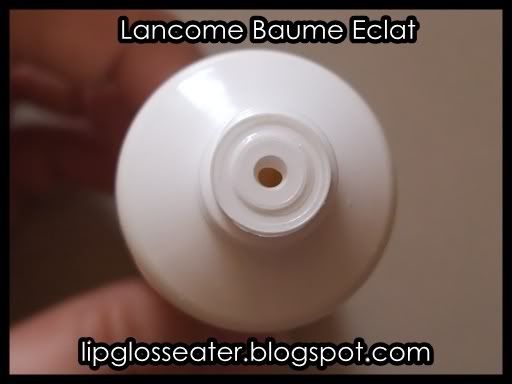 Time Test:
I find that i need to spend more time massaging my face to get rid of all the makeup - typically slightly more than 5 minutes :)
Price & Availability:
This cleanser is priced at RM100 (approx. US$27.77) and should be available at all Lancome counters in South Asia and the UK. It's also available for sale on
Strawberrynet.com
for US$25.50!
Usage:
I use this like a cleansing oil - to remove sunblock and makeup. Do read my
MAC Cleansing Oil review
for a step by step tutorial on my to use this cleanser.
My $0.02:
I was given two very generous samples of this by my very generous SA! :D Much to my surprise, this cleanser really does takes off heavy duty stuff like waterproof mascara and liquid liner!! I like how gentle this is on my skin, and oh, the smell is soooo lovely!!
This is before (FOTD
here
):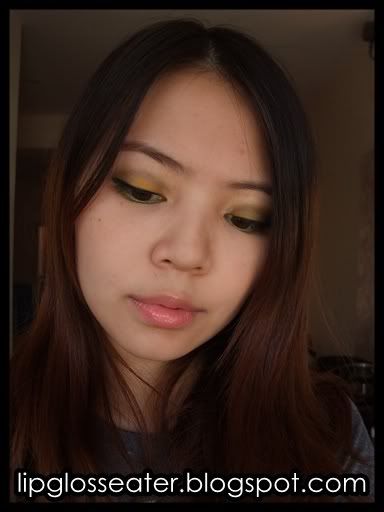 And this is after:
Looks very clean right? However, upon closer inspection, there're still tiny glitters around my eye area that this cleanser couldn't get rid off:
So i would definitely recommend using a makeup remover to take off your eye and lip makeup before using this!
Other than this, i did not like the oily feeling it left on my skin after washing my face too!! Though that oily feeling disappears after awhile, I personally prefer my cleansers to rinse clean! And also like i mentioned somewhere up there, DO NOT get any of this cleanser into your mouth... the taste is HORRIBLE and it STAYS in your mouth!! Yuck!!
Overall i would say that this is a not bad product, but i personally won't repurchase because i feel the MAC one does a better job at removing makeup (and is cheaper too). And oh, before i forget, how can i not post a pic of this: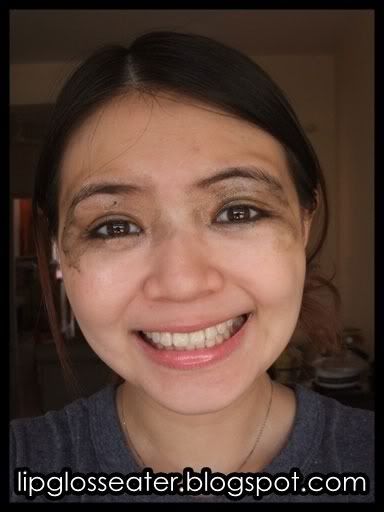 This is how you'll look like when you're done massaging your eye area!! I look like a bandit!! hehehe!! :D
Credits: Product photo from Lancome.com.sg.