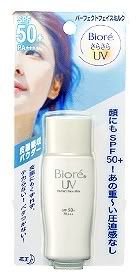 At a Glance:Price:
RM24.90 (approx. US$6.90)
Website:
Kao.com
Weight:
30ml
Made in:
Japan
Likes:
High SPF protection, lovely matte feel.
Gripes:
Contains Alcohol, broke me out!! T_T
Repurchase:
No!
Jenn's Rating:
3.5 Stars! Not a bad product, but just not for me... :(
Ingredients:
Cyclopentasiloxane, Dimethicone, Zinc Oxide,
Alcohol
, Water, Lauryl Methacrylate / Sodium Methacrylate Crosspolymer, Ethylhexyl Methoxycinnamate, Talc, Glycerin, Styrene / Stearyl Methacrylate Crosspolymer, Methicone, Polysilicone-9, PEF-12 Dimethicone, Titanium Dioxide, PEG-3 Dimethicone, Phenoxyethamol, Cetyl-PG Hydroxyethyl Palmitamide, Aluminium Hydroxide, Silica.
Product Description:
Long lasting protection from sunlight and is suitable as a make-up base. A non-oily and non-sticky lotion that helps brighten skin and makes make-up stay longer.

Effectively provides long lasting skin protection from harmful UV rays.
Suitable as a make up base to brighten skin before make up. Formulated with sebum absorbing powder to absorb excess oil and makes make-up stay longer.

A light textured milk lotion and spreads smoothly and is quickly absorbed into the skin, leaving skin looking naturally smooth.
Not scented and no colour added.

Actual Product Pic: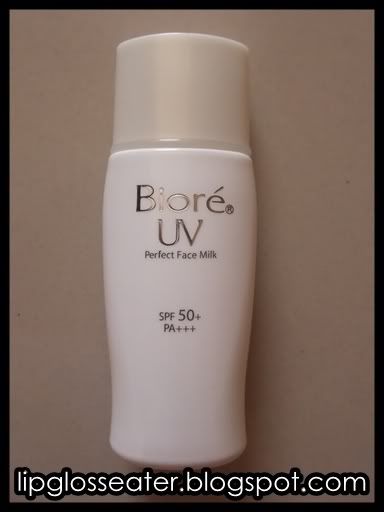 Texture & Scent: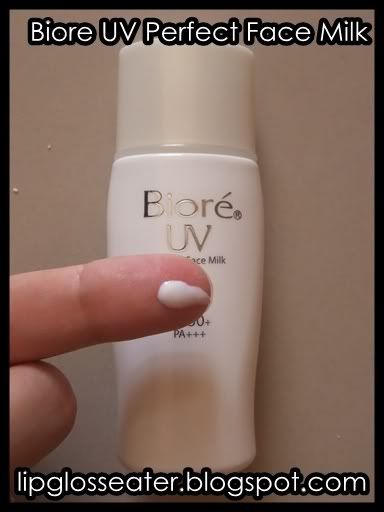 True to its claim, this sunblock is really non-oily and shiny, something i wished my HG
Loreal Sunblock
would be! This sunblock is rather runny, so it spread unto your skin smoothly! The scent of this sunblock reminds me of:
The UHU glue!! XD
It's pretty mild though, so don't worry about getting high!! hahaha!! XD
Packaging: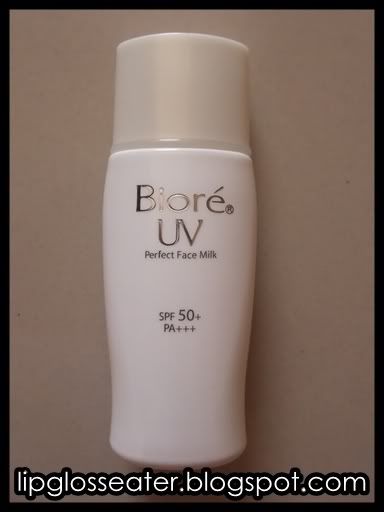 This sunblock comes in a shaker bottle with a twist off cap! I love how tapered the opening is so you have great control over how much product you wanna dispense:
Time Test:
I felt that this sunblock lasted about 6 hours on me before it wears off. But like all sunblocks, do reapply every 3-4 hours if you're under the sun! :)
Price & Availability:
This sunblock is priced at RM24.90 (approx. US$6.90) and it's almost always on sale! :) This is available at most Watsons / Guardian outlets.
Usage:
I use this primarily as a sunblock. Methinks that this will make a wonderful makeup base too, since it does give a smooth matte feel to your skin! :D
My $0.02:
I had high hopes for this sunblock as i've read soooo many great reviews about this! Whilst i love how smooth and matte this goes on, i'm almost heartbroken to report that this broke me out (probably due to the Alcohol in it!)! An old photo that shows those bumps: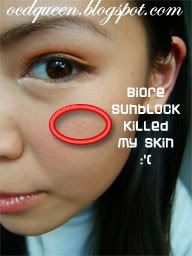 I gave it 3 tries, and it never failed to give me those bumps those 3 times, so into the bin this goes :(
Do not be discouraged by my review though, i've heard many wonderful things about this one! Since this is so cheap, there's no harm trying! :D
Credits: Product photo from Kao.com, UHU photo from Flexcoffice.com.my.