Warning: Quite picture heavy. 56 Kbps-sers beware!
Ok, this is probably OLD stuff to some of you, but poor me only gotta check the MAC Hello Kitty collection out yesterday so you gotta bear with me and read all my blabla k! Nyahahaha!! :P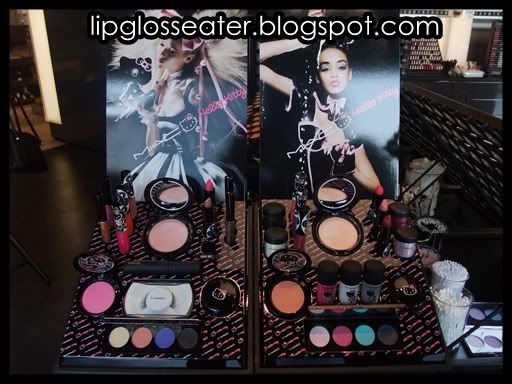 This was launched here in Bangalore on Friday, two whole months and somemore since it's officially launched in the states! *yawns* Thankfully, i wasnt really looking forward to this collection so the wait was alright!
The Hello Kitty collection launch over here was soooo disappointing!! No balloons, no models, no free totes, not even a friggin post card! *sobs* I want a MAC Kitty balloon soo bad! :(
Ok, enough ranting for now, let's go on to the reviews! As expected, this collection was really blah in person! If this wasn't a MAC anniversary one i would've skipped everything and would have an even more impressive "record" of not buying anything MAC (It's been 5 months already, dear Husband!! hehehe...)! The best items from this collection? Definitely the
Tinted Lip Conditioners and the Pigments
!!
Tinted Lip Conditioners (TLCs):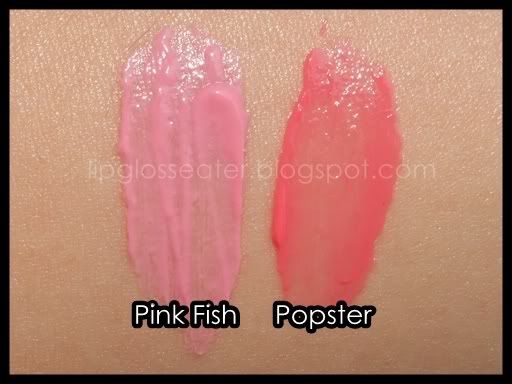 These TLCs definitely lived up to their hype!! They apply soo smoothly, and the colors were GORGEOUS! Nowonder they're flying off the shelves! Pink Fish is a lovely milky pink, whilst Popster is a bright coral! Too bad i'm not a fan of lipbalms in a pot and i don't think i'll have much use for these two since i seldom use tinted balms, otherwise i would definitely bring them home with me (plus
backupS
!!)!!
Pigments and Reflect Glitters:
If you MUST get something from this collection, do get the pigments!! Both colors are reaaaaally gorgeous with great pigmentation and they apply sooo smoothly!! Milk is a lovely lilac color whilst Deep Blue Green is well, Deep Blue Green! lol!! Once again i didn't buy them just because i don't
know how to
use pigments, but be assured that they're really great! :D
The Reflects Glitters are part of the PRO permanant line, but it may as well be LE for those of us who don't have a PRO store nearby! lol! They're super pretty when layered over eyeshadows!!
Lipsticks:

The lipsticks in this collection are definitely sheer, with Cute-ster being the most sheer and Big Bow the most pigmented. There's nothing special about them IMHO, they're definitely skippable! Fashion Mews is missing because they will not be bringing this in locally!! T_T
Lipglasses:

If you think the lipsticks are sheer, the lipglasses are worse! Mimmy and Fast Friends looked virtually identical on my hand if it weren't for the differently colored glitters they each have! I'll have to say that She Loves Candy looks great though!! :D
Palettes:
With the exception of Lucky Tom (which is a little chalky and hard to blend... Lustres go kiss my bottom!), the rest of the colors applies smoothly! I wished they were more pigmented though!!
I'm not sure if i'm the odd one out, but methinks that the colors in this palette clash like nobody's business!! =X Show me someone who can wear all 4 colors out in perfect harmony without looking foolish and i'll retract my statement!! lol!! Yogurt is like, really really chalky! Ewws. Stately Black is not alot better! Actually Romping and Too Dolly are quite decent, too bad they had to be grouped in the same palette with the two other yucky ones! lol!! XD
Beauty Powders:
Pretty Baby is a repromote from the Diana Ross collection. It is terribly chalky and sheer!! The swatch above is achieved after swiping approximately i dunno, 7 times? Ugh! Tahitian Sand is also a repromote from the Catherine Deneuve collection. This one is sooo much better than Pretty Baby! It's quite pigmented for a beauty powder, and it gives a very very faint pearlish sheen to your skin!
Beauty Powder Blushes:
The Beauty Powder Blushes have the most wonderful
est
texture IMHO!! They apply so smoothly, plus they're pretty pigmented! Tippy is a bright blue pink that can look pretty scary if applied too heavily on the cheeks! lol! Fun & Games is a lovely peachy color that would brighten up almost any complexions! :)
Glitter Liners:
The glitter liners are quite pretty actually, though i don't know how practical a pink one like Kitty Power would be! My MA was just wearing Her Glitz alone on her upper lids and i thought she looked great!! :D
Nail Lacquers: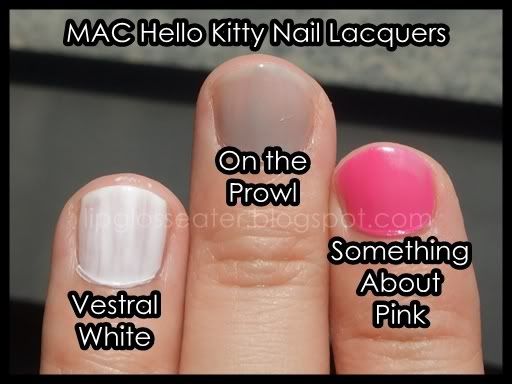 Eh i know my nails are very stubby and ugly, try not to stare at them ok! :(
Like most MAC polishes, these go on a little streaky. I personally loved Something About Pink!! It's such a bright happy shade! :D
After reading all this blabla, you must be wondering which items i got myself right? :D Here's a teaser: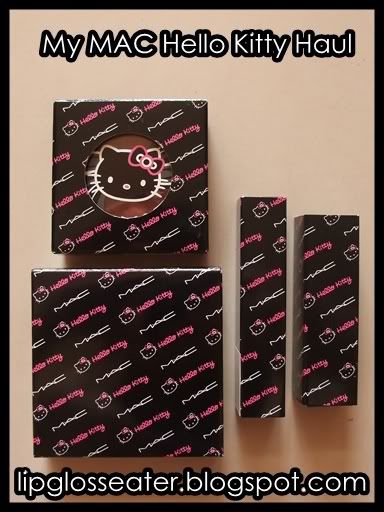 Ahaha, you can probably tell which blush i got... but you gotta guess what other items did i get first before scrolling down to find out!! :D Eh, no checking out my wishlist on the left!! hahaha!! :D
Okla, shall not tease you further! I got the: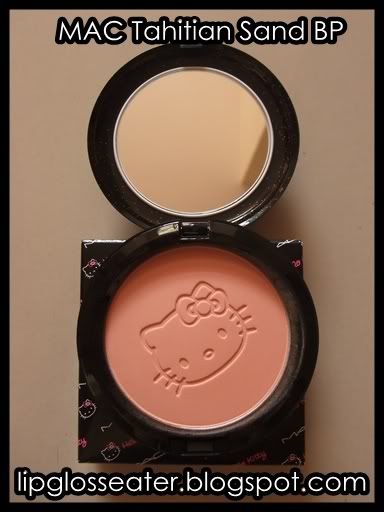 I thought the embossed Kitty was a really nice touch!! :D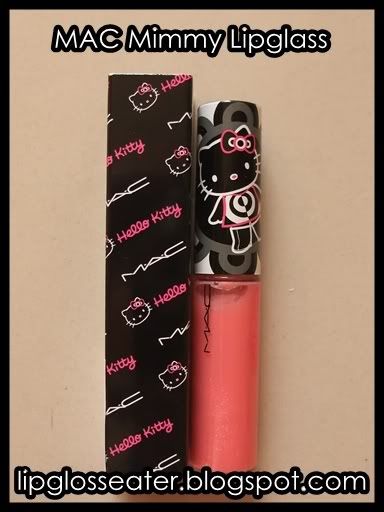 Wait, that's not all!! I bought something else: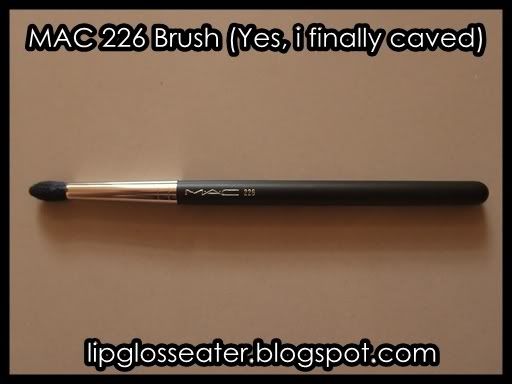 Cloze-up: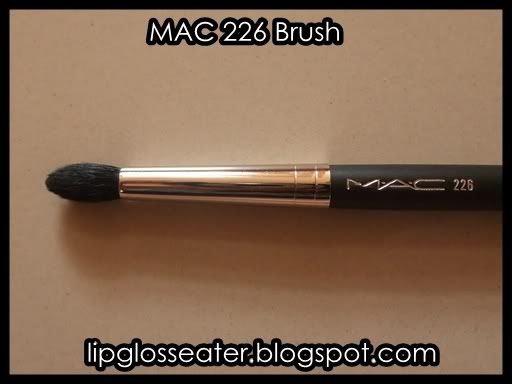 I know i said i wasn't sure whether this will work for my narrow crease or not in my
BBR Review
. But after playing with this for awhile i realised that it does fit my narrow crease! So i brought it back home with me!! :)
One happy family potrait for the record:
And oh, i did manage to meet the owner of MAC Bangalore today, which was pretty cool! :D I'm also thankful to my MA Sabrina for being so patient with me and allowing me to take pictures of everything! :) Most of all, i thank my dearest husband for bringing me there, patiently waiting for me to swatch everything plus help me close back the lids, handing me tissues to wipe my hand, giving me his opinions and most importantly, paying for the stuff!! *hugsssss*
Ok, thats all for the happy stuff! You must be wondering what the bad news is right? The bad news is, that
we will not get the Grand Duos and Sugarsweet collections here in Bangalore
!!! *wails* I know i said i'm going to skip both collections, but i needed to get something from the Grand Duo collection for a friend, and i'm now
CONVINCED
that i
NEED
to own the Bubbles lipstick! lol! The good news is that my MA said she'll try to get those for me (plus a Hello Kitty postcard! :D) if she could when she goes overseas next month, so i'm really looking forward to hearing some good news from her soon! :D
I'm guessing it'll be awhile until my next haul at MAC. Hopefully that gives me more time to ponder and strike out more stuff from my wishlist! lol!!
What was your latest MAC purchase? :D