Sempena (in conjuction of) the launch of Double Dazzle collection (in the US), here're some pictures of the Dazzleglasses i own:
Swatches:
Swatches on lips:
Sugarrimmed: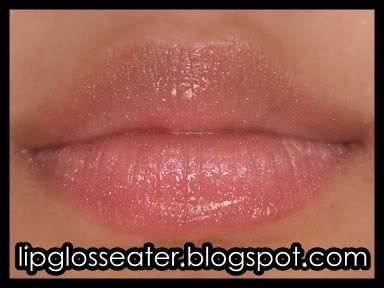 Baby Sparks:
Love Alert:
They look sheer here because my camera cannot capture the sparkles properly, but let me reassure you that they're so much more prettier in real life!! They look DIVINE layered over lipsticks! :D
I know this 3 swatches are not alot but i hope some of you will find these swatches useful! For swatches on everything, do check out the ones done by Christine from Temptalia
here
and
here
! :D If they haven't increased the price, these dazzleglasses should still be selling at RM70 / US$18 each! :)
Click here for the color story.
What do you want from this collection? I'm getting Goldyrocks for sure! I'm interested in getting Bare Necessity, Smile and Moth to Flame, but those will have to depend on how much i like them when i see them in person! Ahhh... hurry up already MAC India! :D
It's Good Friday today! For those of you who celebrate this day, i wish you a wonderful weekend as we comtemplate and reflect on the true meaning of Easter! For those of you who don't, let's TGIF and have a fun-filled weekend ahead! :D